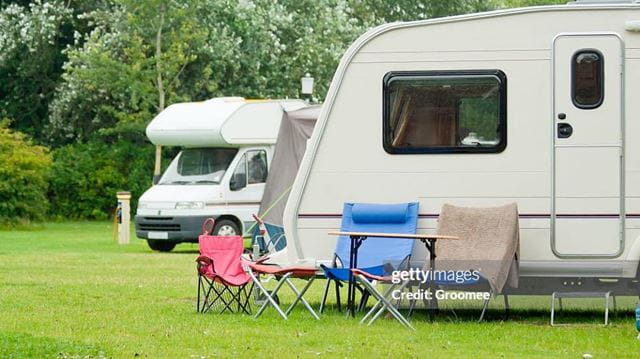 Motorhome and caravan shows provide the perfect opportunity to admire the latest models, mingle with fellow enthusiasts and find inspiration for your next adventure.
In this guide, you'll discover what events are happening in 2024, information about what you can expect to find at each one, along with ticket and location details. So, why not grab your calendar and a pen, and start planning your itinerary
Another way to share your passion for the great outdoors is by joining the Boundless Camping and Caravanning Group. Throughout the year, this friendly community organises over 40 rallies across the UK and Europe, providing great value, great locations and a chance to meet with other enthusiasts. Not a Boundless member yet? Find out more.
---
January 2024
Manchester Central, Manchester, 11-14 January 2024
One of the largest events of its kind in the north of England, this Manchester-based indoor show will feature double the number of vehicles in 2024, along with stands selling everything from awnings to AV equipment, BBQs to bedding. Book in advance to get free tickets.
Stoneleigh Park, Kenilworth, 19-21 January 2024
Now in its fourth year, this huge indoor event sees local and national dealers showing off their vehicles, both new and secondhand. With show-exclusive offers available, it'll be a great opportunity to pick up a bargain. Though entry is free, you'll need to book in advance.
Titanic Exhibition Centre, Belfast, 19-21 January 2024
Held in conjunction with the Holiday World Show, this event provides the chance to browse a wide range of mobile holiday homes, from compact camper vans to giant eight-berthers. Register on the website for access to a 2-for-1 ticket offer.
Westpoint, Exeter, 26-28 January
If you're in the South West, pop down to Exeter's Westpoint, where you can check out the latest vehicles, displayed both indoors and out. Experts will be on hand to discuss your requirements and help you make the right purchase. Tickets cost £7 for adults; kids can enter for free.
---
February 2024
SEC, Glasgow, 1-4 February
Scotland's vast showcase returns, with over 170 exhibitors filling the hangar-like SEC. While there will be a huge range of vehicles to admire and compare, you'll also find information on the latest holiday homes – from luxury lodges to eco-pods. Buy your tickets in advance to save money.
NEC, Birmingham, 13-18 February
The country's largest showcase of motorhomes and caravans sees over 400 exhibitors from across the UK and Europe spread out across 20 acres at Birmingham's NEC. There will also be a wealth of accessories to browse, from kitchen equipment to canopies. Buy your tickets before 12 February to save money (kids go free).
---
March 2024
Great Yorkshire Showground, Harrogate, 15-17 March
Celebrate the coming of spring with a walk around Harrogate's Great Yorkshire Showground. The largest motorhome and campervan show in Yorkshire provides the chance to examine the latest vehicles and accessories, and listen to talks by experts. Money can be saved by booking your tickets online.
---
April 2024
Stratford Racecourse, Stratford-upon-Avon, 26-28 April
With new and used vehicles on sale, live entertainment and a range of food stands, there will be plenty to keep you occupied at this Midlands-based gathering. While the event itself lasts three days, you can camp for up to five days – and all campers get free access to the show.
---
May 2024
South of England Showground, Haywards Heath, 3-5 May
This chilled, three-day festival may have motorhome fans in mind, but there's so much more to do than just browse vehicles and accessories. With a whole programme of live music, yoga sessions and wellness talks, it's a great weekend for people of all ages. Ticket fees apply.
Newbury Showground, Chieveley, 17-19 May
Doubling up as a Sixties weekender, this year's show is a must for those who love mobile holiday homes and music. Book a camping pitch and you'll get four nights of live entertainment for free (day tickets are also available).
---
June 2024
Newark Showground, Coddington, 14-16 June
This Nottinghamshire show is one of the largest and longest-running events of its kind. With hundreds of new and used vehicles to inspect, plus four nights of live entertainment and talks, there's plenty to see and do. Both camping and day tickets are available.
Royal Cornwall Showground, 28-30 June
Where better to be in the middle of summer than in Cornwall? There's so much to see and do at this show, with new and used vehicles for sale, as well as three nights of live entertainment. You can camp for up to five nights (and get access to the show for free) or buy day tickets – either way, you'll have a great time.
---
July 2024
Norfolk Showground & Events Centre, Norwich, 21-23 July
If you like the idea of parking up your motorhome or caravan and enjoying some live music, then head for Norwich for its annual show. This year, the theme is rock 'n' roll, so don't forget to put on your blue suede shoes! Both camping and day tickets are available.
---
August 2024
Three Counties Showground, Malvern, 16-18 August
Another motorhome and music weekender, this annual event is always popular. The 2024 theme is country and western – so park up your vehicle, put on your Stetson and enjoy the vibes. Both camping and day tickets are available.
---
September 2024
Bath and West Showground, Shepton Mallet, 6-8 September
The rolling hills of Somerset provide a stunning backdrop for this annual gathering. Along with a vast number of dealers, there will be a programme of live music and expert talks. Whether you camp for the entirety of the show or buy a day ticket, you're guaranteed a great time.
Lincolnshire Showground, 20-22 September
Many people refer to this show as 'the big end-of-season rally' because they get together with friends they've met over the year for one of the last weekends of fun before the winter. Browse new and used vehicles, enjoy live music – and just generally have a good time. Both camping and day tickets are available.
---
October 2024
Three Counties Showground, Malvern, 4-6 October
How about an autumn break in the picturesque Malvern hills? This show will give you the opportunity to browse and buy vehicles of all shapes and sizes, and enjoy a programme of live entertainment. Camping tickets are available, or you can just go along for the day.
---
Do more with Boundless
Boundless members get access to year-round deals on motoring services, from insurance and maintenance to new car purchases and taxi rides. If you're working or retired from the public sector or civil service and not yet a member, discover more about Boundless membership here.