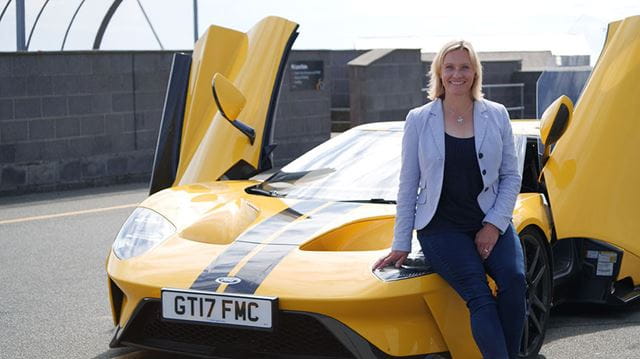 With the new series of Fifth Gear returning to TV screens, host Vicki celebrates by rounding up the best driving experiences she's had on the show to date.
The latest series of Fifth Gear hit TV screens last week, with new episodes arriving on Quest every Thursday at 9pm. Over the past 17 years we've seen host Vicki Butler-Henderson test all sorts of machines from an army tank to a 200mph single seater racing car.
Here she reveals the five best experiences she's had on the show, including getting her mum in a super car and breaking records blindfolded.
---
Lamborghini Murciélago
"Lamborghini made a car with a semi-automatic gearbox that is so easy to use. To help demonstrate this, we needed someone who was very used to automatic gearboxes but who had no experience of driving supercars.
"And so I roped in my Mummy, Valerie, to have a go. And instead of just driving up and down a high street, I took her to Anglesey Test Track in Wales. As you can see, she loved it!"
Watch Vicki's drive in a Lamborghini Murciélago with her mum
---
Lotus Elise S
"The Lotus Elise is one of the world's best handling cars. And so when Lotus launched the 1.8-litre 134hp Elise S, it made sense to illustrate this by turning a normal driver into a faster one. We needed a very normal driver, and so my sister fitted the bill!
"We went to Rockingham Speedway in Northamptonshire and I taught her to brake later and accelerate harder. And had a hoot!"
Watch Vicki and her sister take a Lotus Elise S around the track
---
Discover more of our best motoring stories
Meet the most inspirational and influential women in the history of motorsport
Seven of the world's best off-road and rally driving experiences
---
Ferrari 458 Spider
"I went to Ferrari's HQ in Italy to test its latest convertible, the 458 Spider. It was a glorious day weather-wise, and the scenery was full of rolling hills.
"I was at the helm of the 4.5-litre V8-powered supercar, roaring around some hairpin bends and generally having a cracking time, when all of a sudden I became really emotional and was almost brought to tears by the whole experience. Extraordinary. And wonderful. How can a piece of metal do that?!"
See for yourself how much fun Vicki had in the Ferrari
---

Vicki Butler-Henderson with her Fifth Gear co-presenters Jimmy de Ville, Jason Plato and Jonny Smith.
---
Blindfold Speed Record
"I had tears of another kind when I stepped into the shoes of Mike Newman. We were filming with him on the day he was hoping to break his own Blindfold Speed Record, which he'd previously set at 144.7mph. As well as being a proper daredevil, Mike is blind.
"In a 206mph BMW M5 on an empty airfield, and with a second M5 following in which Mike's dad sat and gave guidance via walkie-talkies, off he went! And boy did he go. He reached 167.3mph. Amazing.
"And then I had a go, wearing a blanked-out visor on my helmet so I couldn't see. I managed 158mph and it proved to be one of the most emotional film days I've ever had because I was simply in absolute awe of Mike."
Check out Vicki's blindfolded driving record attempt
---
Range Rover
"I drove this with my fellow Fifth Gear presenters on board when it first came out. And to quote my television husband, Tiff Needell, this was 'the world's worst off-road driver with the world's best off-road car.'
"We wanted to test the car's wading ability and so headed a place that would do just that. I zoomed into the water with too much gusto and created a massive bow wave that went over the bonnet. And to quote Jonny Smith, sat alongside me: 'We nearly turned it into a £95,000 submarine.' We laughed until we ached!"
Revisit Vicki's hilarious attempt to submerge a Range Rover
---
Watch the new series of Fifth Gear
Join Vicki and her co-hosts every Thursday as they test out the latest models, classic motors and get stuck into some wild challenges. Quest is on Freeview channel 12, BT TV channel 12, Freesat channel 167, Sky channel 144 and Virgin Media channel 172.