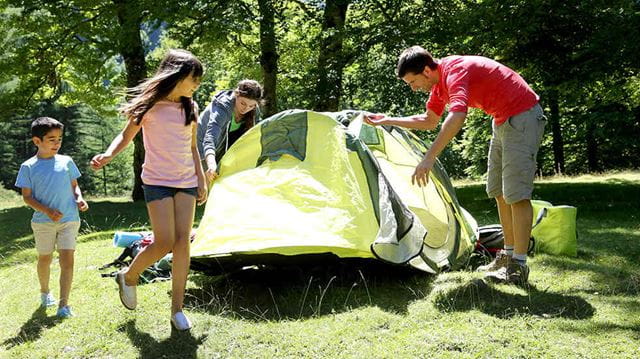 ---
There's nothing the British holiday industry would like better than a huge leap in the number of 'Staycations', and indeed figures have been rising steadily in the UK, with 6 per cent of people choosing to holiday at home in 2014.
But with increased consumer confidence and higher incomes over the past five years, foreign holidays have been winning the popularity contest hands down.
However tourism experts predict that more British holidaymakers than ever will be choosing a 'staycation' post Brexit - and potentially for years to come, providing a much needed boost to the UK economy and tourist trade.
The Camping and Caravanning Club commissioned a survey recently on more than 2,000 UK holidaymakers and found there were many perceived benefits of camping – specifically that camping boosted kids' happiness, mental health and fitness.
The survey found for instance that children who camp in the great outdoors at least once a year go on to do better at school, as well as being happier and healthier.
In fact, more than 4 out of 5 parents thought camping had a positive effect on their children's school education, while 98 per cent said camping made kids appreciate and connect with nature more; 95 per cent said their kids were happier when camping; and 93 per cent felt that it provided useful skills for later life.
Many parents also reported that escaping the scourge of technology (laptops, tablets, mobiles, etc) was a GOOD THING for their children - and one of the major benefits of camping.
The UK has hundreds of beautiful national parks, forests and beaches ready to greet staycationers, and camping gives children freedom, independence and confidence, that much is clear, however other figures show that a vast number of UK parents still avoid camping – and their children never see the benefits.
The Motorhome and Caravan Show runs from October 11-16 at The Birmingham NEC.
Boundless ambassador Julia Bradbury will be there, alongside Olympic cyclist Bradley Wiggins and television presenters George Clarke and Matt Allwright for an action-packed six-day event aimed at all the family.
---
The Top 10 gadgets for reluctant campers
1. Give me shelter
The Coleman Event Dome L shelter (£149)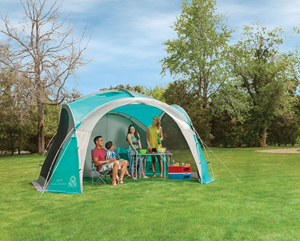 The Coleman Event Dome L shelter is a sturdy structure, measuring 3.65m x 3.65m - a bonus for any long camping trip as it provides shelter from the elements, both good and bad. Strong sunshine, while great for camping, can be too much sometimes and the event dome provides a space that's cool and protects little ones from too much sun.
The shelter comes with four zippable mesh walls that can be tucked into small pockets when not needed, and with two shade walls which are moveable to protect from low-angle sun whilst also blocking out wind – and which keep things dry during showers.
We easily fitted eight people into the shelter during a shower. As for putting the structure up - it took two of us around 15 minutes to set up, and was even easier to take down and put away in its carry case. Flexible fibreglass poles make it more likely to survive stronger winds, and it stood up to some pretty gusty conditions in the night, leaving all our gear inside safe and dry after a storm.
---
2. Give me coffee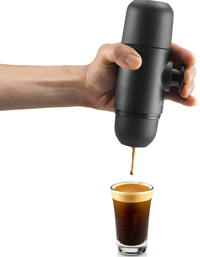 Minipresso Coffee maker (£48)
If espressos are the only thing that turn you from a bear into a human of a morning, then an effective coffee maker is essential for camping. Enter this pocket-sized personal barista, possibly the smallest, lightest handheld espresso machine around. It's an impressive piece of kit, with a semi-automatic piston which operates at exactly the same pressure as traditional espresso machines. Bring a top quality packet of coffee (or even better, coffee beans and an old fashioned manual grinder…) and you'll get one of the finest shots of coffee you've tasted.
---
3. Let there be light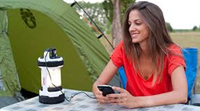 300 LED Twist+ Lantern (£40)
The rugged 300 LED Twist+ Lantern from Coleman not only emits 300 lumens of light (really nice and bright but without the horrible glare of some lanterns) it can also charge your mobile phone or tablet, making it a very welcome addition to any camping arsenal.
Surprisingly the battery takes about six to eight hours to charge (handily, it comes with 2 chargers - wall and car - which fit in a compartment in the bottom.) Fully charged, we found a good 10 hours of battery life is provided, with four different settings of brightness, including a flashing light for emergencies/when you want someone to find you in a dark forest…
The BatteryLock technology prevents the unit from automatically turning on and also disengages the battery to prevent battery drain, while the Lithium-Ion battery means the lantern can be charged via USB at home, in the car/caravan/campervan or in your PC.
coleman.eu/UK/p-26650-twist-300-led-lantern.aspx
---
4. Everything and the kitchen sink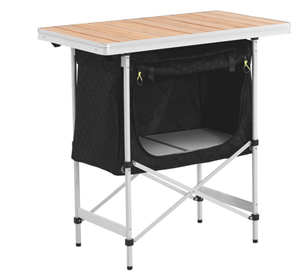 Outwell Regina Kitchen Table (£75)
If you're camping for more than a few days, the inevitable frustration rises if there's no flat surface for food preparation, or for your stove or washing up bowl. Enter the Outwell Kitchen Table, a must have for longer trips when you'll inevitably be cooking at least once or twice a day.
A zip up larder/cupboard makes it easier to see what supplies you've got stashed, and you can keep your pans and utensils in order too.
The Regina has a rather pleasing bamboo surface, which is heat and stain resistant, sitting on its sturdy aluminium body.
The whole thing folds away neatly into a carry bag. Impressed? You soon will be.
---
5. Cool, man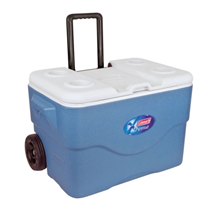 Coleman 50 Qt Xtreme Wheeled Cooler (£99)
Coleman Xtreme coolers are designed to be used on road trips, camping holidays and sporting events, and use 'premium insulation technology' far too technical to sum up here.
Basically they keep anything inside cold on ice for up to five days. As an added feature, the robust lid is strong enough to be used as a seat...
Two durable wheels and a telescopic handle which collapses behind the cooler when it's not in use mean it's eminently more transportable than previous coolers you may have owned.
The size of this particular one means you can easily store around 80 cans of beer too, so an added bonus is the fact it can be used as extra fridge space for special events.
---
6. Music to your ears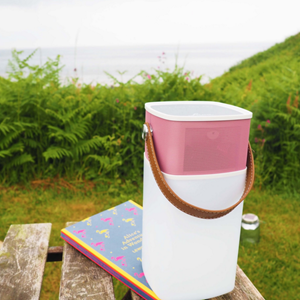 Lava BrightSounds speaker (£40)
A Bluetooth speaker that doubles as a lantern? Yes please. Stream your own music from any smartphone or other device with wireless or Bluetooth connection.
The robust, water resistant design makes it ideal for camping trips (and kids). It's not the loudest speaker around – you need to invest a bit more for one of those top of the range speakers, but at this price it doesn't really matter – and you can colour coordinate with your tent/campervan as it comes in a variety of cool retro shades.
The dimmer allows you bright light as you dance… or a more forgiving soft glow.
---
7. Cooking up a storm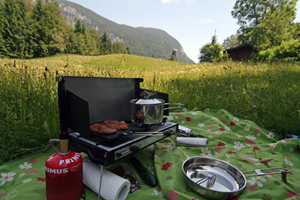 Primus Tupike (£180)
Everything tastes better in the open air. While sometimes you can't beat blackened sausage and baked beans, other times you may yearn for something a bit more, well… Master Chef.
The Primus Tupike double stove is sturdily made, hard wearing, and designed for cooking with big pots for families and groups.

A stainless steel body, side windscreens to keep the burners working in windy conditions, and a die cast aluminium non-stick griddle plate give you freedom to cook a variety of dishes and meats. Can be used with a disposable cartridge or a refillable propane cylinder, this is one of those bits of kit that is a pleasure to use.
---
8. Shower n Go?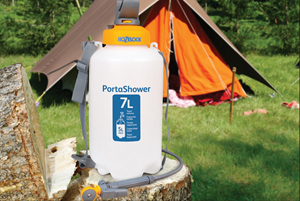 Hozelock Portashower (£30)
Ok so this isn't anything like the real thing, but when you're camping, any sort of shower (if warm) has to be a good thing, no? Even if you just use it to clean the blackberries off the kids' mouths… This compact shower sprayer has many other uses as well as a camping shower, including cleaning other camping equipment, pets, watering plants etc. Bargain.
---
9. Power to the people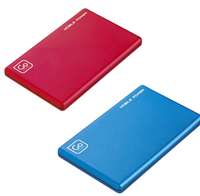 Slim Power Bank (£18)
There's nothing more annoying when you've pitched up and are awaiting guests than finding you have no way of telling people where you're camped. Even if you're having a well-earned break from technology, you still need to be able to contact those you love....
So the Mobile Power supply from Go Travel looked to be a good option for a weekend of camping 'off grid'. Sure enough, the credit card sized device soon made itself invaluable, charging up a smart phone in less than two hours, and boosting a number of other USB devices including a portable speaker for music around the campfire when the guitarist goes to bed.
---
10. Log in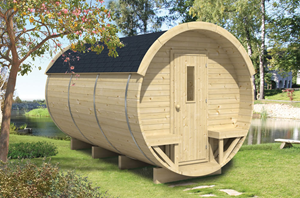 Log Cabin barrel (RRP £4,300)
… or go the whole log and get yourself a log cabin to put at the bottom of your garden so you can 'camp' every day of the year, no matter what the weather holds.
An increasing number of companies now offer basic log cabins suitable for home offices or even accommodation. Log burner optional…