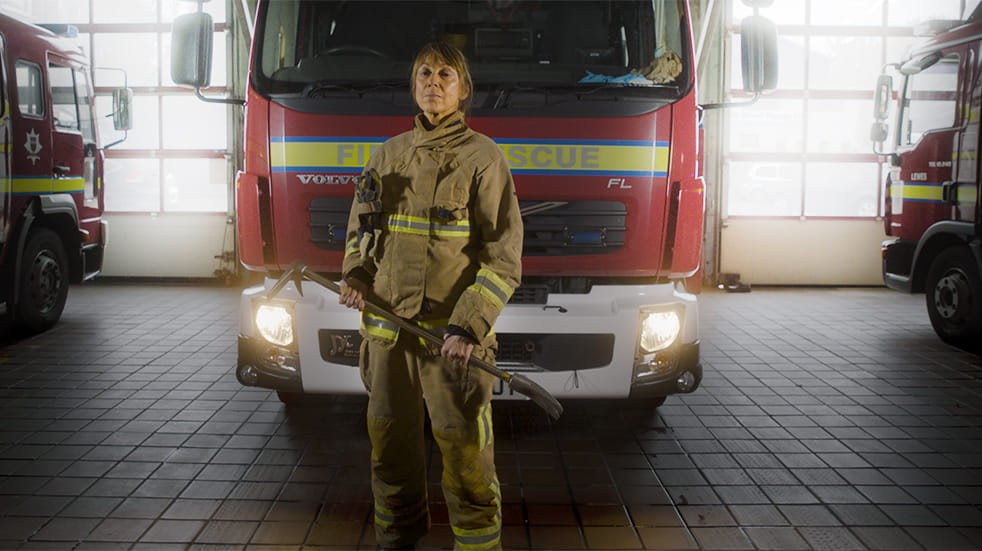 These incredible women are supporting their local communities, advocating for better representation in their sectors, campaigning for better schooling and much, much more.
Encouraging community spirit: Annette Smith, Morecambe Food Bank manager
When she realised just how many people in her local area were struggling due to benefits changes, Annette Smith was unable to sit around and do nothing. She started a food bank based in Morecambe, initially just from a cupboard in her local church. Now the initiative provides food for almost 3000 locals.
With warmth and dedication, Annette has sensitively tackled other problems facing the people in her community who visit the food bank, including delivering food parcels to families at Christmas and negotiating free travel with local bus companies. She and her team also work with domestic violence charities to create packs of essentials for women who have to leave home suddenly, which are also useful for carers and people moving to a new home.
Annette was named Guardian public servant of the year in 2018. Her hope? That one day there will be no need for a food bank in Morecambe.
---
---
Giving women a boost: Cressida Dick, Metropolitan Police Commissioner and Dany Cotton, London Fire Service Commissioner
2018 marked 100 years of women in the police. But the Met's first female commissioner is working hard to recruit more women than ever before – aiming eventually for an equal gender split across the UK police force.
At the moment, just 27 per cent of officers are women. Ms Dick hopes that tackling known barriers for women, challenging stereotypes and increase awareness of the wide range of HR initiatives already in place to support women in the workplace will encourage more women to join. Plus, only three per cent of the Met's officers are women of black and ethnic minorities, but the aspiration is to reach 20 per cent.
Image © Getty.
London fire chief Dany Cotton has also successfully climbed to the top of what is still seen as a traditionally 'male' public-service organisation, and is using her position to boost diversity within its ranks. She believes the fire service is behind even the army and police services, and it's time it caught up by encouraging more women firefighters (aiming for 18 per cent) and more applications from London's diverse communities and cultures.
---
Investing in the future: Andria Zafirakou, art teacher, Alperton Community School
As a child organising her toys into a classroom to play, Andria Zafirakou knew she wanted to be a teacher. And, after just one interview at Alperton Community School, she knew she had to do something to fix the low-income school and help its students thrive.
"The day I came for my interview it was snowing," Andria says. "There were broken windows with buckets collecting the drips. They had no resources, no materials – it was dire, but I came away feeling that I needed to fix it."
"The big issue at Alperton was the environment. The kids had such a poor learning environment and they'd probably never have been exposed to a huge variety of art forms. It was really challenging. We had plenty of tough days, but there were also lots of really good days too. The kids would run into the art lessons and couldn't wait to be taught. And that's how it started to transform the whole school."
Surprised to even be nominated for the 2018 Global Teacher Prize, Andria used the £1m prize money to start a charity – Artists in Residence – to raise the profile of arts education by encouraging practising artists to carry out residencies in schools in deprived areas.
Read the full story of why Andria Zafirakou deserves the Global Teacher Prize.
---
---
Making a difference in politics: Mhairi Black, SNP Member of Parliament for Paisley and Renfrewshire South
The end of 2019 marked 100 years since Nancy Astor became the first female MP to sit in the House of Commons. While Mhairi Black won her seat in 2015 (and was re-elected in 2017 and 2019), it's not a bad time to give a nod to today's youngest member.
Ms Black gave a brilliant and challenging maiden speech, and has continued to campaign on behalf of her constituents and beyond.
Image © Getty.
---
---
Championing diversity: Yvonne Coghill, NHS Workforce Race Equality Standard Director and Deputy President of RCN
Yvonne Coghill was recently awarded a CBE for her work towards racial equality in the NHS – and for good reason. Now the director of the NHS Workforce Race Equality Standard (WRES) and Deputy President of RCN, she's worked for the NHS for 40 years, spending some of her time as a nurse, a health visitor and a mental-health nurse.
After experiencing incredible difficulty trying to secure a director of nursing role, Ms Coghill acted as a private secretary for then NHS chief executive Lord Nigel Crisp, overseeing several projects that gave her an even better view of the lack of diversity within the health service. She saw the need to help more BAME nurses progress through the ranks to management and senior leadership positions, and remains committed to creating a workforce that feels valued, irrespective of background or ethnicity.
---
Now we've profiled award-winning women or those often in the public eye, but there are so many more doing fantastic work in the civil service and public sector. Do you have any inspiring stories to share? Get in touch at hello@boundlessmag.co.uk or on our Boundless Facebook page.
Boundless is here to help everyone make the most out of their free time. We have lots of ideas for how to relax and unwind during well-deserved time off, inspiration for fun days out and short breaks, and ways to save on events and experiences that will create unforgettable weekends for everyone.
To find out how Boundless can support your health and wellbeing strategy, contact our team today: atwork@boundless.co.uk.