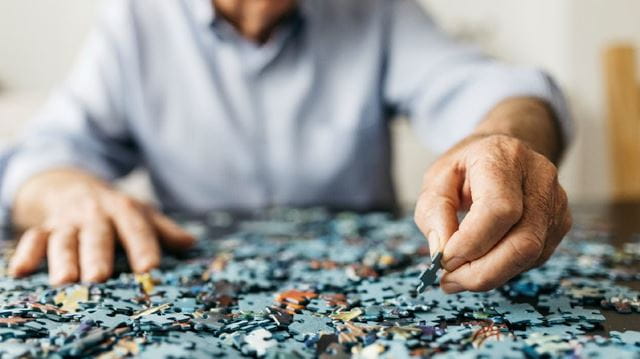 One of life's simplest pleasures, puzzles are not solely the preserve of the very young or very old. And as those in the know will tell you; whiling away the hours with a good jigsaw can be better than any afternoon binge watching tv or scrolling on your phone. That's why we've gathered a list of the most exciting, unusual and challenging puzzles that will convert even the most hardened jigsaw sceptic.
1. For the spiritualist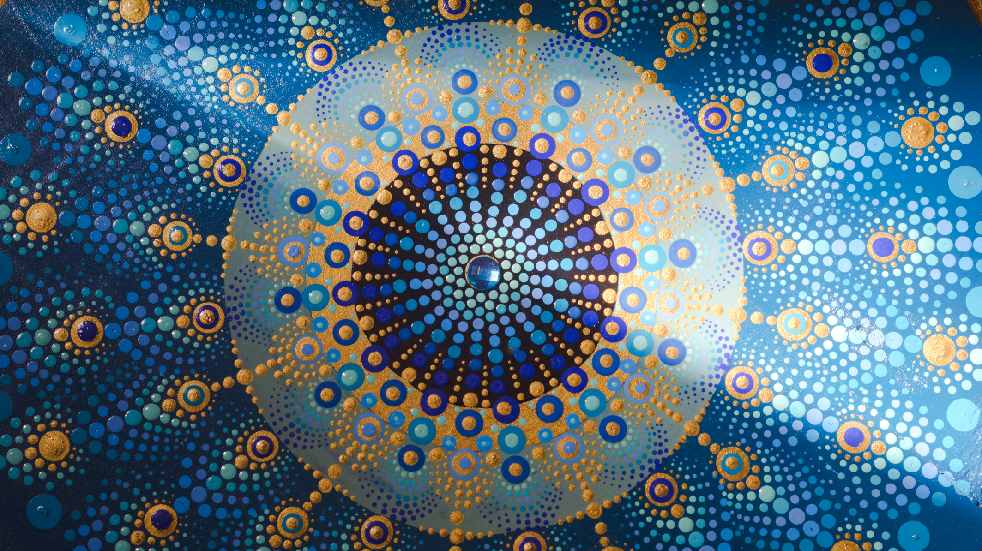 1,000-piece Round Mandala Jigsaw Puzzle
Perfect for those looking for a bit of zen, this Mandala jigsaw will have you hypnotised for hours on end. Historically used as tools to help induce trances and to provide spiritual guidance, the Mandala lends itself perfectly to the meditative process of piecing together a puzzle. And it's not just beautiful to look at, the multicoloured pattern is spread across 1000 pieces, insuring it won't be conquered too expeditiously. Additionally, its round shape means each piece (unlike in traditional puzzles) is uniquely curved, making for an unusual challenge even for the experienced puzzler.
---
2. For a thoughtful gift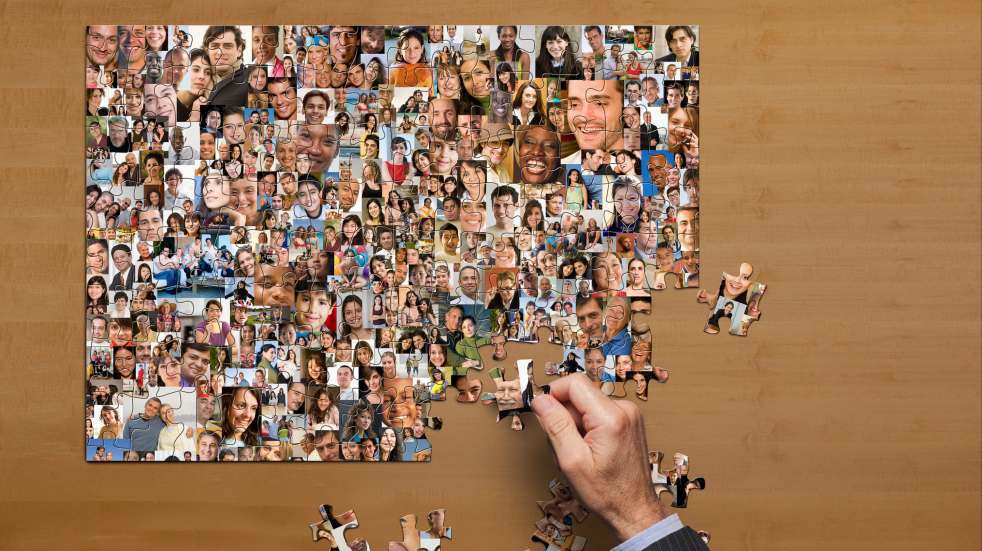 2,000-piece Design A Ravensburger Puzzle
Perfect as a gift for a loved one (who also loves a puzzle), a personalised Ravensburger jigsaw puzzle guarantees high quality. This 2000-piece offering can be customised with an image of your choosing, offering hours of entertainment piecing together a photo of a treasured memory, loved one or even a pet. They're simple to create too, simply upload your chosen picture to the Boots photo app, select your dimensions and Boots and Ravensburger will take care of the rest.
---
3. For the expert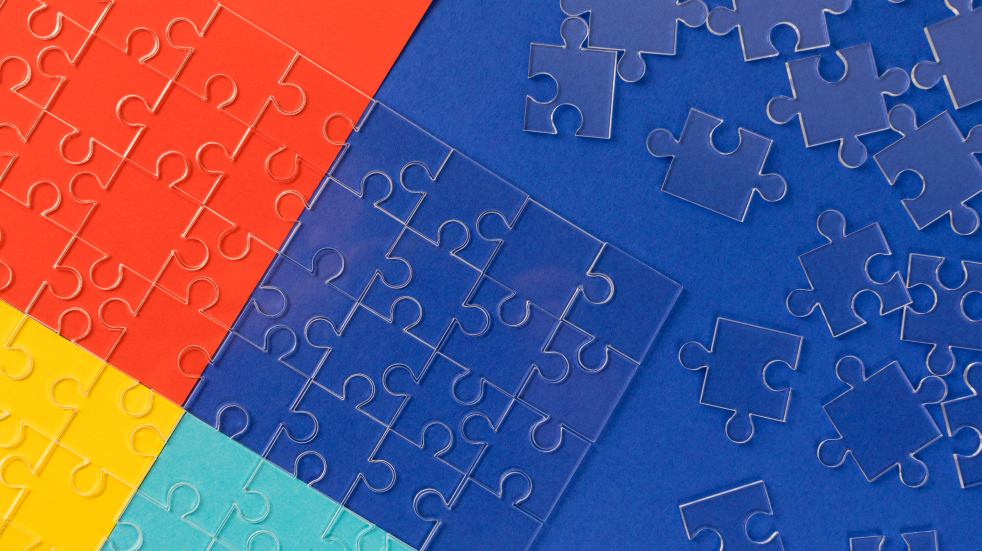 120-piece Puzzle Impossible: extremely difficult clear jigsaw puzzle
If the thought of a 3000-piece mega-puzzle is no longer a daunting prospect to you, then there's no doubt that a new challenge is in order. And while 120 pieces might not sound tough, this clear jigsaw is extremely difficult and (for some reviewers) impossible. Made from transparent acrylic, you'll be working blind with no point of reference meaning you'll be entirely reliant on your shape matching skills to complete it. Perfect for die-hards, this precision laser-cut puzzle is not for the faint of heart!
---
4. For the Rockstar
500-piece David Bowie Heroes Puzzle
What better way to convert a jigsaw cynic than with their absolute favourite album cover in puzzle form? Created by Plastic Head, these 500-piece puzzles are of excellent quality and shouldn't be too challenging for a beginner. With designs covering most of the rock and roll greats (think Beatles, Ozzy Osbourne, Iron Maiden and Queen, to name just a few) there's something here for every rock afficionado. We've chosen David Bowie's classic, 'Heroes' here, but take the time to have a look through all the different 'rock-saws' on their website, you might be surprised by what you find.
---
5. For the sculptor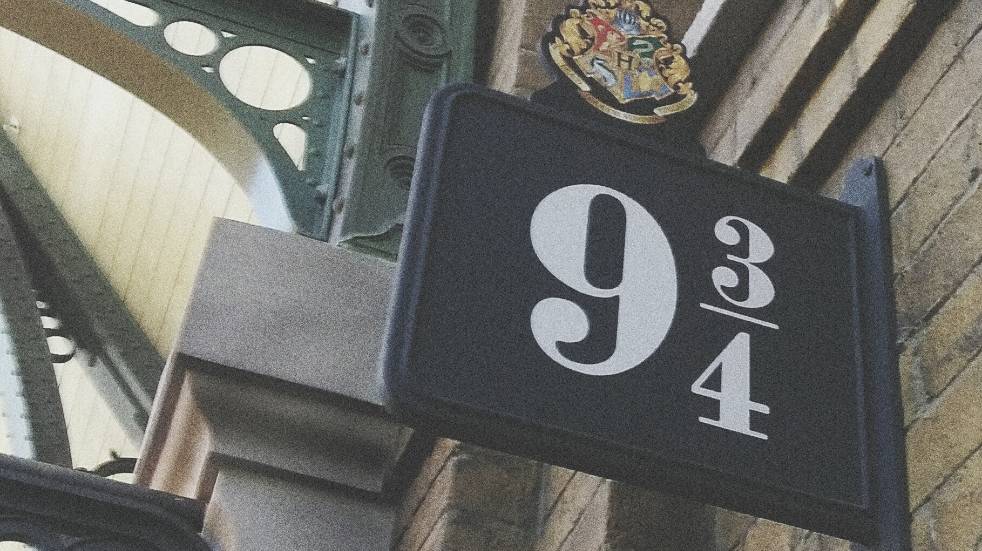 540-piece Ravensburger Harry Potter Hogwarts 3D Jigsaw
If traditional two-dimensional puzzles aren't your thing, this 3D Hogwarts jigsaw could offer an exciting alternative. Suitable for Potter and puzzle fans over the age of 10, this 540-piece marvel includes intricate details that will transport you to the wizarding world when completed. This is model building without the glue, scissors or tools, simply connect the pieces as you would an ordinary puzzle and enjoy the results. A magical way to keep your kids occupied on a rainy winter Sunday.
---
6. For the activist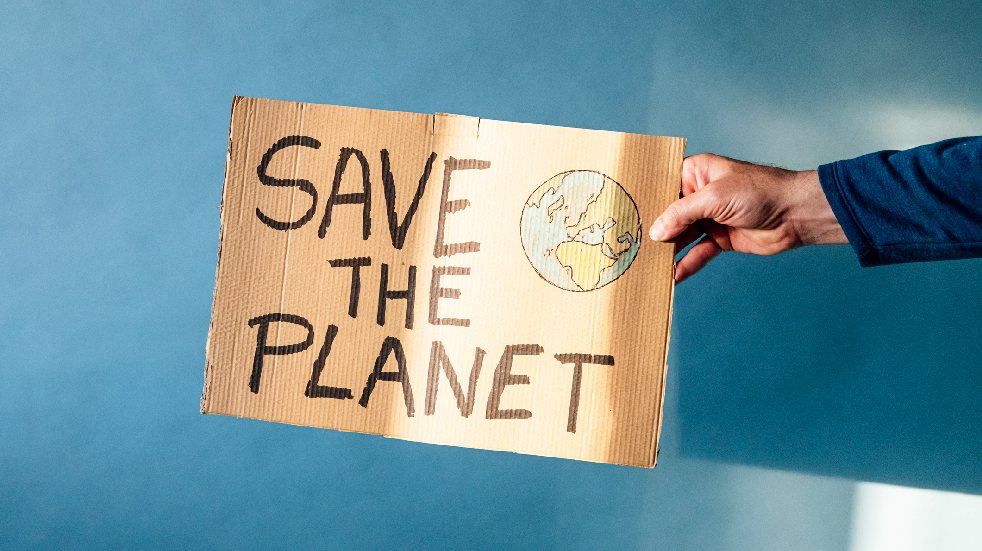 500-piece Climate Action Puzzle
Made from 90% post-consumer recycled greyboard and printed with soy-based inks, this 'Climate Action Puzzle' not only talks the talk, but also walks the walk. A great gift for the eco-conscious, this circular puzzle includes beautiful illustrations by Petra Braun featuring a diverse cast of young activists. Including signs such as "There is no Planet B", "I'm sure the dinosaurs thought they had time, too," and a rendering of a girl who looks a surprisingly similar to Greta Thunberg holding a placard that says, "Protect Respect Love" this puzzle delivers an important message through an unusual medium.
---
7. For the scientist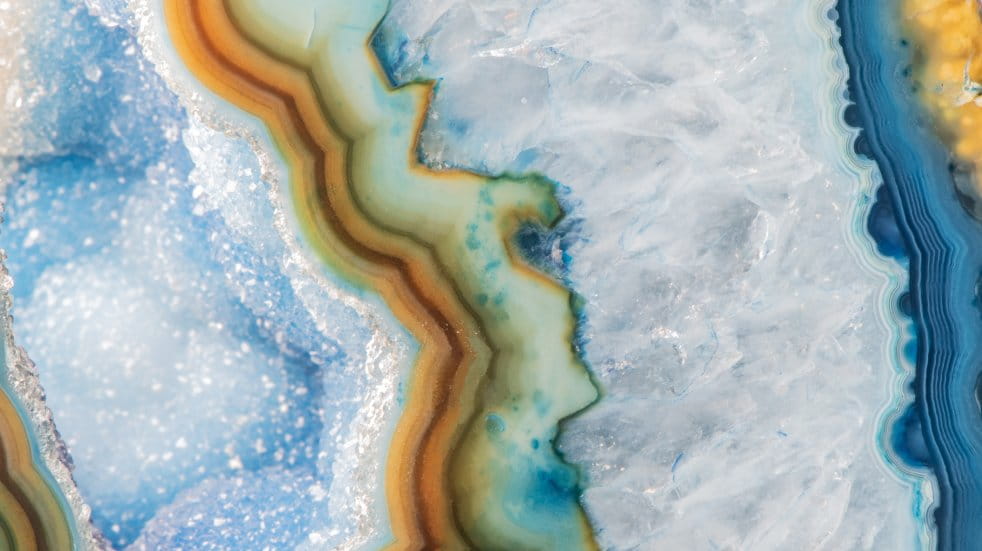 180-piece Geode Puzzle
While £66 might seem a little steep for a jigsaw, once you experience the detail of this unique piece first-hand, the price tag will make a little more sense. With organically shaped pieces (unlike any we've seen elsewhere) that reflect the undulating shapes of the geode, this puzzle from Uncommon Goods is truly a sight to behold. Fiendishly difficult but beautiful when completed, it comes in three different colours (pink, blue and multicoloured), providing a challenge that's well worth taking on!
---
8. For the dog lover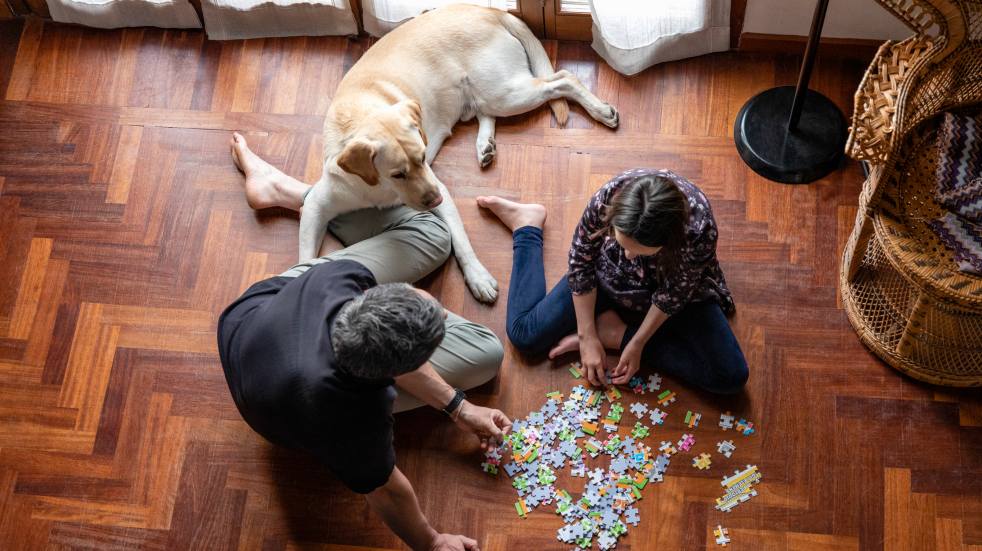 1,000-piece Ridley's Games Dog Lovers Jigsaw Puzzle
A great puzzle needn't be a peculiar shape or material to be enjoyable, sometimes a fun design with charming illustrations is more than enough. And that's certainly the case with this 1000-piece 'Dog Lovers Jigsaw Puzzle' created by Ridley's. Featuring 54 of your favourite breeds rendered in attractive hand-drawn illustrations, you'll be hard-pressed to bring yourself to put it away once it's finished. And if you really can't face tipping it back into the box, why not frame it so that it can be permanently appreciated in your home?
---
10. For the explorer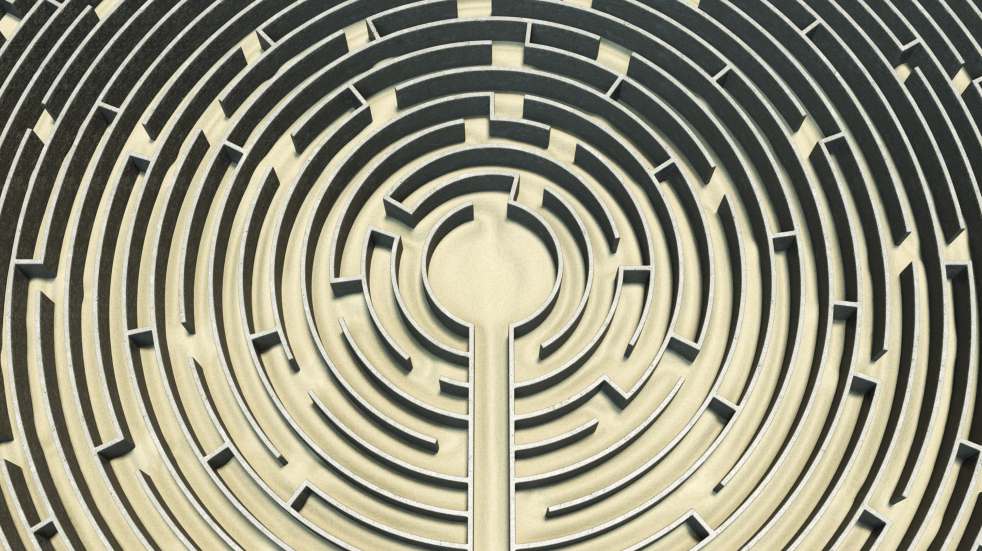 100-piece Round Labyrinth Wooden Jigsaw Puzzle
For something a little different, try out this wooden labyrinth puzzle from Etsy. An innovative design that harnesses the ancient form of the labyrinth to create uniquely shaped pieces, this puzzle offers a different kind of challenge, requiring lateral thinking to be completed in good time. With fewer pieces than others on this list, the labyrinth is well-suited for both beginners and professionals. And with laser-cut pieces, every jigsaw is guaranteed to fit with the precision required to provide ultimate satisfaction.
---
Do more with Boundless
To benefit from amazing savings on everything, from supermarket shops and motoring services to experiences, shopping and more, join Boundless today. To find out how, visit our dedicated membership page.