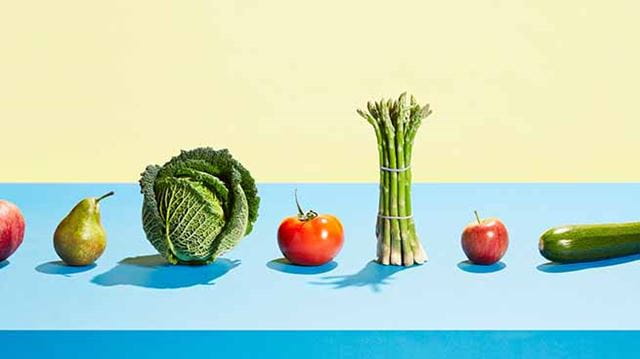 More than half a million people across 209 countries took part in Veganuary 2022, ditching meat, fish and dairy from their diets. The number of people taking on the annual challenge to go vegan through January grows by around 100,000 each year, and over the past ten years, people in Great Britain have cut meat consumption by 17%.
With statistics like these, it's clear veganism is no longer seen as just a 'fussy' fad and is firmly in the mainstream. In a study by plant-based cheese brand Nurishh, the majority of people cited environmental reasons as their biggest incentive for going vegan, with 53% choosing the diet for health reasons.

Luckily for everyone, there's never been a better time to ditch animal products. Most restaurants have full vegan menus or options to swap specific ingredients, while supermarket shelves are stocked full of vegan meat replacements, cheeses, milks and more.

Worried about missing out on your favourite meals? Don't be – there are plenty of easy ways to veganise your go-to dishes. Here are 10 to try today.
---
1 Lasagne – Mushrooms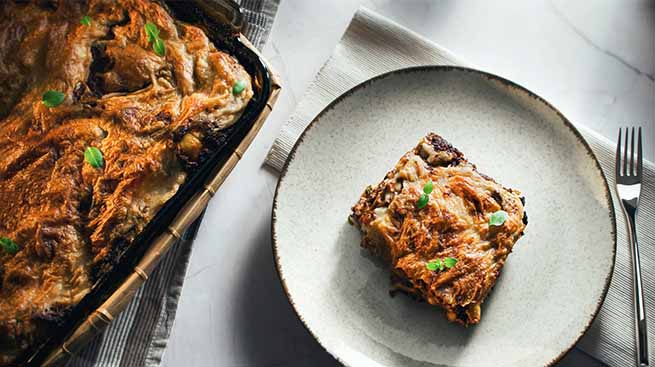 Mushrooms are ideal for swapping into usually meaty meals, with their rich flavour and chunky texture. Chop up your favourite variety with courgettes, aubergines and peppers for a delicious dinner and top with a shop bought white sauce (or make your own, if you're feeling creative.) Beef from non-dairy herds has a carbon footprint of around 99kg of CO2 per kilogram of meat, but swapping for mushrooms will drop that footprint to 0.53kg.
---
2 Shepherd's Pie – Lentils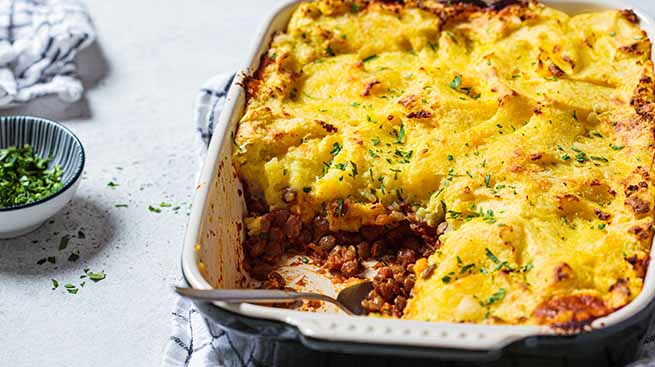 Lamb mince is the usual main ingredient of this staple supper, but switching to lentils could reduce the meal's carbon footprint by 37kg. Alongside carrots, onions, peas and sweetcorn, you could try topping your shepherd's pie with cauliflower and swede mash for a lower-carb option. As Gousto's Registered Nutritionist and Dietician Ellie Bain ads, "lentils are a great source of protein and fibre and use minimal water to grow."
---
3 Beef burger – Beyond Meat burger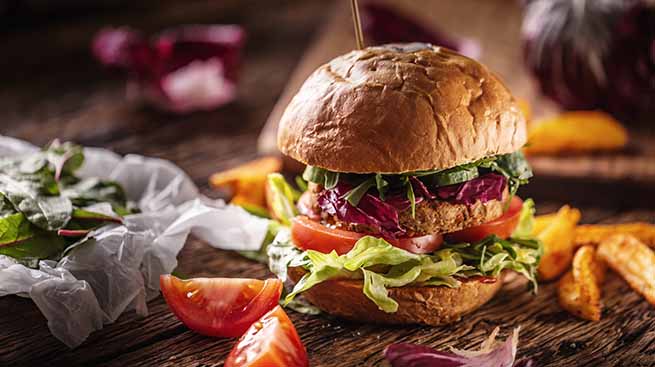 Sometimes you don't even need to change a thing to enjoy your favourite pub lunch – just opt for a vegan burger instead of a beef one and you'll significantly decrease your environmental impact. Beyond Meat's Beyond Burger, which has a whopping 19g of protein, generates 90% fewer greenhouse gas emissions, requires 46% less energy, has 99% less impact on water scarcity and 93% less impact on land use versus a ¼-lb beef burger.
---
4 Fish and chips – Tofu
There's nothing like the smell of a delicious marinated fish supper, but how can you recreate that on a vegan diet? Turns out, it's easy – grab your chosen side vegetables as normal then soak some tofu in a carefully selected marinade, dropping your carbon footprint by around 97kg.
---
5 Chilli con carne – Pulses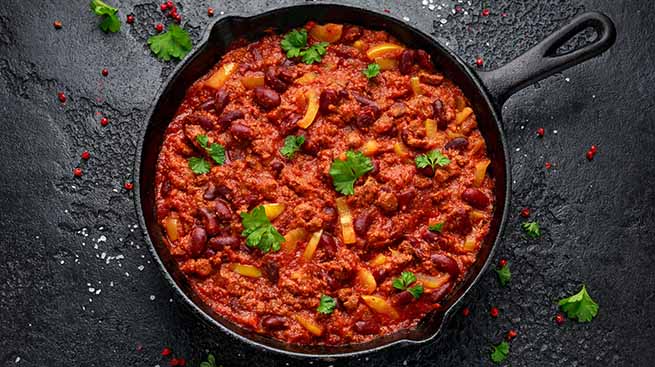 An easy way to make Mexican night vegan is to pack your chilli with beans, pulses and veg. As well as the staple kidney beans, why not add black beans or mixed beans too, as well as red peppers and courgettes? Not only does this pack your chilli with extra vitamins and fibre, but drops your carbon footprint by up to 97%.
---
6 Margherita pizza – Vegan cheese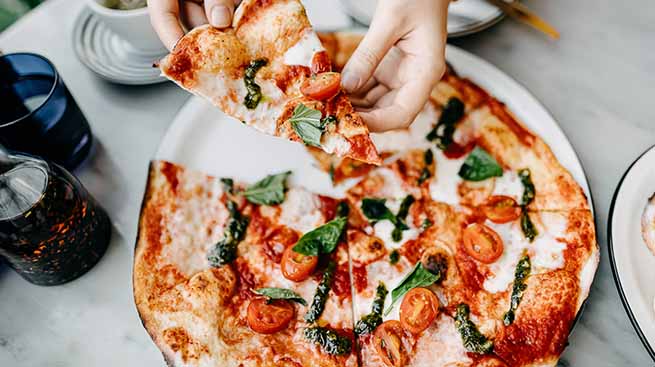 With pizza topping the list of foods many non-vegans would miss the most, it's an important one to get right. Luckily, vegan cheese has come on leaps and bounds, and can now melt, stretch and taste like your usual mozzarella. Dairy products are also a vital swap if you're concerned about the environment – one study found that going vegan had significantly more impact on reducing your carbon emissions than adopting a vegetarian diet, although going veggie is a great step in the right direction.
---
7 Duck pancakes – Jackfruit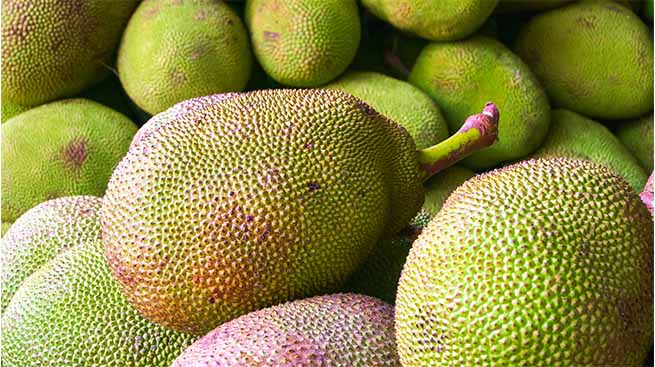 High in vitamin C and one of the few fruits rich in B vitamins, jackfruit is a healthy alternative to pork in your favourite slow cooked dishes, whether you eat it with a roast, in a bun or simply with a side of veg. Just add plant-based mayonnaise, now available in plenty of supermarket vegan sections.
---
8 Chicken tikka masala – Cauliflower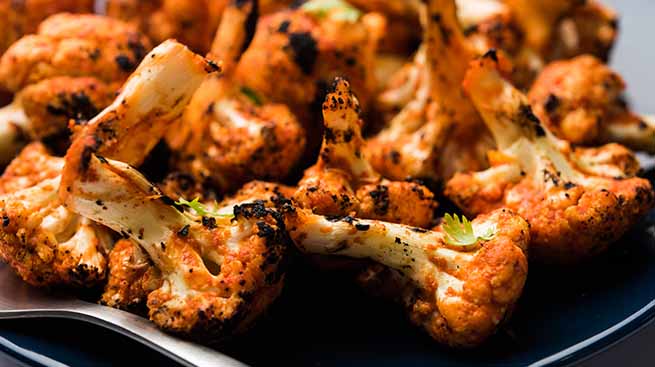 While cauliflower isn't going to exactly replicate the taste and texture of chicken, it's a healthy swap that works in pretty much any Indian dish. Dropping your carbon footprint by around 90%, you could also whip up crowd-pleasing aloo gobi, creamy lentil and cauliflower curry or whole charred cauliflower with plenty of spices and yogurt. Yum. And if you can't bear to part with chicken in your curry, why not try making your own seitan, when it's done well it's hard to tell it apart from real chicken!
---
9 Beef wellington – Butternut squash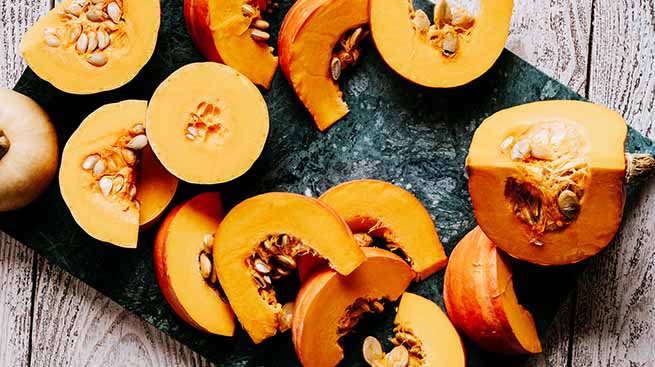 With so many meat replacements on the market, it's easy to replicate this Sunday classic – just make sure to use vegan pastry. But if you're feeling more adventurous, or just want to pack this hearty dinner with more vitamins, try slicing a butternut squash in half and stuffing it with spiced vegan sausage meat, spices and vegetables for a twist on the Wellington. Butternut squash is also a great swap to have on hand for if you don't love mushrooms.
---
10 BLT – Carrot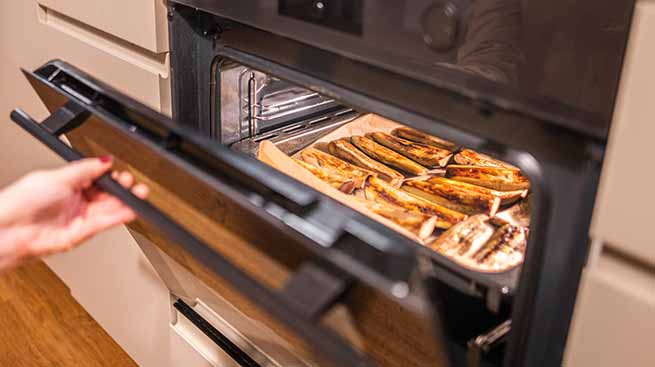 This one might take some getting used to, but the health benefits of swapping bacon for crispy carrot are undeniable. Lower in fat and with antioxidants, carrots will also drop your carbon footprint significantly. Overall, working more vegetables into your diet will increase your fibre intake, benefit your gut and even increase biodiversity by spreading out the demand for certain crops, Gousto's Ellie Bain explains. What's not to love about that?
Carbon footprint statistics courtesy of Justine Butler at Viva!
---
Do more with Boundless
Working or retired from the civil service or public sector? Get exclusive savings at supermarkets and discounts at your favourite restaurants. Plus, dozens of other deals on days out, holidays, experiences and more! To find out how, visit www.boundless.co.uk