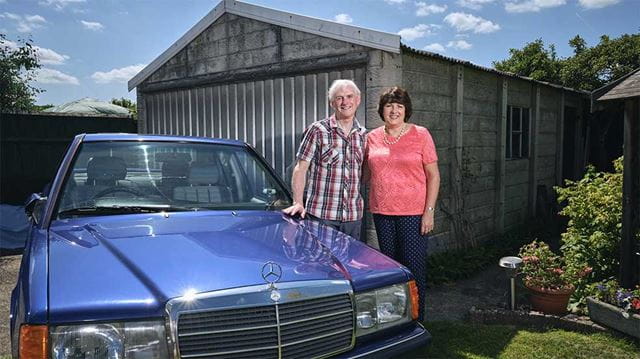 Whether it's an authentic wartime Austin or a modified 1970s Harley, owning a classic car or bike is a pastime that can bring a wide variety of benefits.
As well as getting to drive or ride a beautiful relic of the past, you'll be given the opportunity to attend events and make friends with people who share your passion for these awesome machines.
And if you're a member of Boundless, you can also join our Classic Vehicle Group, which brings enthusiasts together through regular rallies, shows and online gatherings.
Here, members of the group proudly show off their prized possessions, and explain how these golden oldies have made a difference to their lives.
Passing a passion for classics to a new generation
Bob Tyler, 1957 Austin Healey 100/6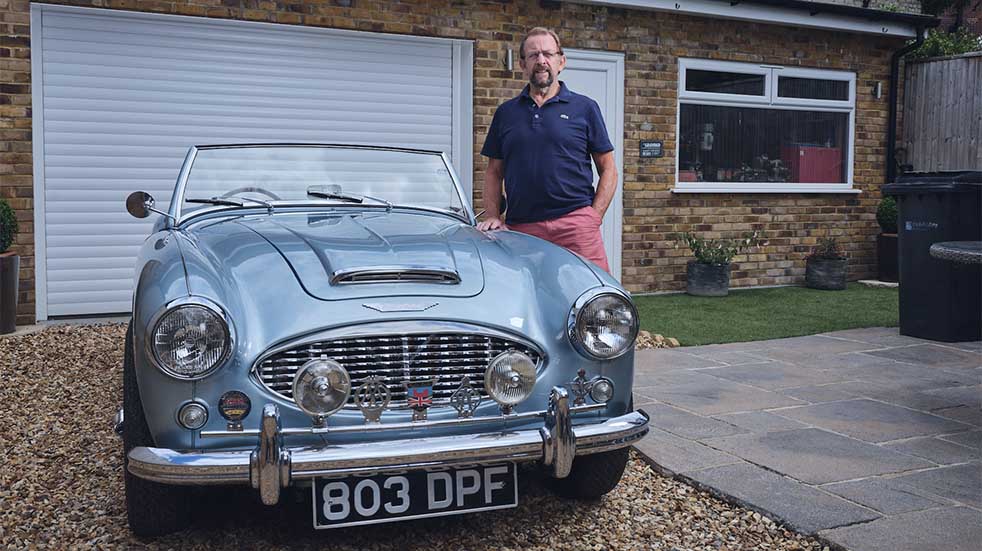 When I spotted my 100/6, it was love at first sight: I couldn't resist those iconic colours. That was 12 years ago – it's still magnificent and now back in pristine condition after a bit of work. Austin Healeys have always been part of my life: in the '60s I was a mechanic in a garage that specialised in them. Of course, in those days they were still producing the Big Healeys. That's the funny thing about classics: for us, they were just normal cars, whereas to my sons they're positively ancient.
I'm restoring a Frogeye Sprite at the moment and it's coming together nicely. Before lockdown, it had just been shot-blasted and looked like a Swiss cheese for all the holes it had in it. But I've spent months welding and repairing it, so now it's looking better.
In usual circumstances, all of that work would probably have taken me an entire year. It's quite a special model, with a Shorrock supercharger on it: quite different from my 100/6, which is more of a 'gentleman's car', great for pootling around country lanes with the Boundless Classic Vehicle Group and going for pub lunches. It's always good to meet other members and swap some stories and tips.
Every two years, I head to Le Mans for a classic track day with Matthew, my eldest. We cross the Channel and drive to the circuit in a convoy of about 150 vehicles: you've got Lamborghinis, Ferraris, A35s, Minis... anything you can think of. We have a long weekend there and it's well worth the drive to get out on the track. They wave you off, and you just put your foot down. What a buzz! Of course, this year's event was cancelled, but we'll be back next summer.
My wife and I married 48 years ago and drove off on our honeymoon in a Mk II Austin Healey, so I'm thrilled that Matthew now enjoys the cars too. He's pretty handy with the mechanics and it makes me so proud to see him behind the wheel of the 100/6. It breathes new life into it, doesn't it?
• Read our guide to restoring a classic car
Returning to an old pastime for a new chapter in life
Graham Holt, 1957 BSA A7 Shooting Star 500cc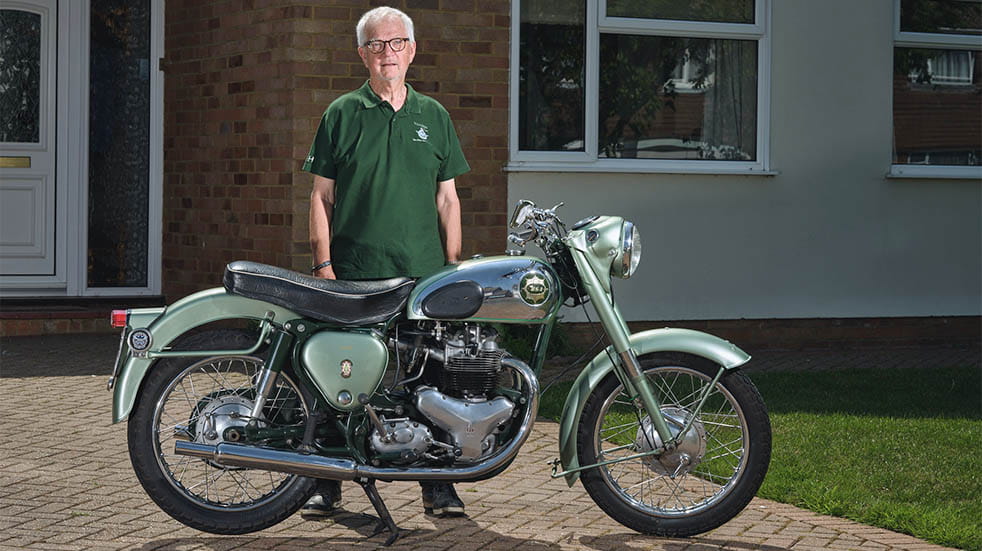 Riding a motorcycle makes me feel alive. When you're on the open road, facing the wind with the view up close, it's unbeatable. There's no bike I'd rather be on than a classic BSA; I've loved them for as long as I can remember. Indeed, I've only ever owned BSAs. My father was a talented engineer, mechanic and metalworker who learnt a great deal from his own father and, in turn, passed much of his knowledge to me.
I spent my entire youth on bikes and my late wife loved riding on the back of them. However, we sold them when we started a family. It was the right thing to do, but she always knew I was hankering after buying another. She passed away a few years ago and not long afterwards I spotted the bike of my dreams for sale – a classic two-tone green 1957 A7 Shooting Star. It was almost like it had been waiting for me and I absolutely had to buy it.
It had a few problems to start with: it had been restored to look beautiful, rather than to ride. Before long, I'd got the tools out – back to fixing and tinkering just like the old days. In hindsight, I was rather over-confident in my abilities – but I got it together and I can't tell you how wonderful that first ride was.
Since then, I've ridden it alongside friends on modern bikes – Hondas and Yamahas, that sort of thing – and it holds its own. But the engine needs some work now, so I bought and rebuilt another bike. It's a bitsa: basically a BSA 500 twin, built in 1962 and now with a 1954 engine, silencers that look like they've been imported from the USA, plus a TLS front brake. I'm sure it's got some stories to tell...
Through the Boundless Classic Vehicle Group, I've exhibited the Shooting Star at the Birmingham NEC and Silverstone. It's rare to find a group that's so inclusive, with such a wide-ranging appreciation for all classic manufacturers. But for me, the real perk of this group, and of the Thames Valley Group too, is the thrill of riding with others. It reignites something in me – it's absolutely amazing.
• Read about the virtual vehicle shows that have been happening during lockdown
This car is only improving with time
Keith and Viv McGill, 1993 Mercedes 190 LE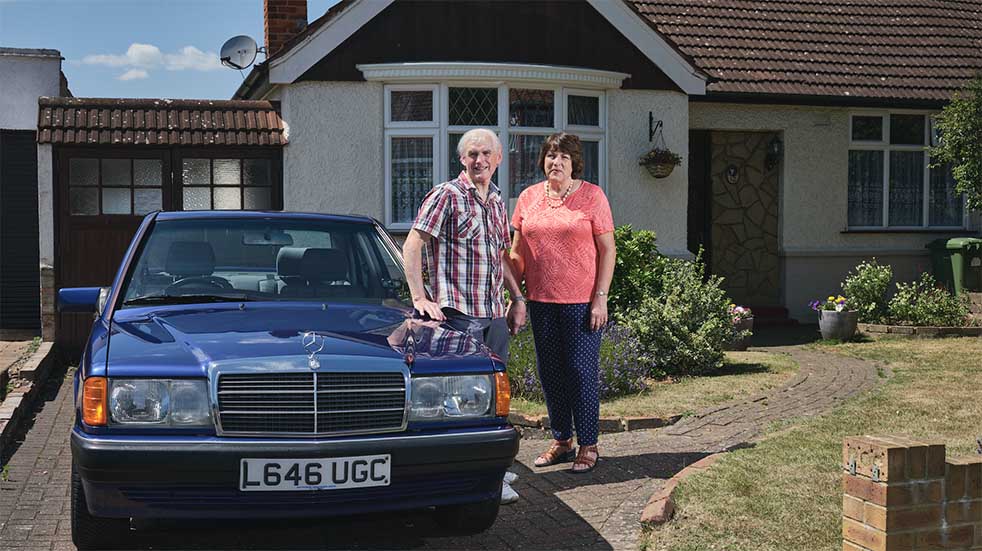 The great thing about the Boundless Classic Vehicle Group is that it very much has an 'all are welcome' policy when it comes to marques and vintage. We've attended its events in both of my classic cars: the 1959 Volvo 122S Amazon, which is the oldest one of its model on the British roads, and the Mercedes 190 LE, which is considerably younger. Without fail, we always have a great day.
When I married Viv, she knew the Volvo came with me: I'd bought it in July 1971 when I was 18 years old, for the princely sum of £40. When we got together, I was restoring it – a project that lasted for decades.
The Mercedes, however, came along in 2000. It was a limited edition, one of the last that they made and only seven years old when I bought it, so definitely not a classic yet. However, that's my secret for growing your collection: get a lovely vehicle, keep it in good condition and let it age gracefully.
Now the Mercedes is 27 years old and it's still a real pleasure to drive: smooth, reliable and very well built. We've enjoyed some lovely runs in it with the Classic Vehicle Group, including many Three Shires, Sussex Spring Sprees and Kent Russet Runs. They're well organised and always take in some beautiful countryside, with a sociable lunch and lots of interesting things to see. With the Volvo, we've also been to a few local shows with the group, such as the Whitstable Classic Motor Show and the Darling Buds of May.
I don't have any formal training in car mechanics but my dad taught me a lot. He had a 1939 Austin 10 and a Wolseley 1500. With classic cars, you can see how they work, whereas I think modern cars require a degree in computer science before you can start fixing anything!
For Viv, the group is more of a social thing: she'll be chatting to friends while I'm off looking at the cars, so we both get a lot of enjoyment out of it. Getting all the cars together is always spectacular: they're so distinctive and it's wonderful to see them polished and gleaming.
• Maintain your car with the help of our expert tips and tricks
Want to join the Boundless Classic Vehicle Group?
Got a classic or an almost-classic vehicle? This friendly group organises days out and events, as well as offering a platform (online or at the meets) to swap tips and stories or simply share your passion for vehicles. Click here to find out more.