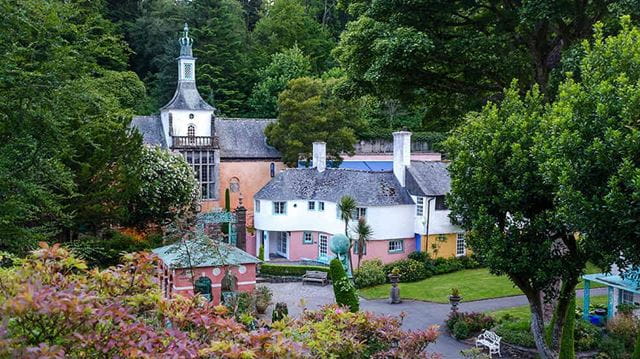 From canal boat trips to sleepovers in a fairytale castle, there are tonnes of fascinating experiences to be had in British towns and countryside.
1. A little bit of Italy in Wales
The architect Sir Clough Williams-Ellis started building Portmeirion, a little Italian-style village that just happens to be in north Wales, in 1925 and it proved to be his life's work: it was completed in 1975, just three years before his death.
Since the 1960s, it has been most famous as the location for the TV series The Prisoner – but it was already a must-visit place in the 1930s, with Noel Coward among the famous guests. But, as well as being a photo opportunity, Portmeirion has always been a holiday village at heart: it has a hotel and 14 holiday cottages and makes a unique base for exploring Snowdonia.
---
2. Drift off into the clouds
If you could pluck a house straight from the pages of a fairy tale, this would be it. Originally a water tower, this remarkable building in Thorpeness, Suffolk, has been converted into a 70ft-tall luxury holiday home, with room to sleep up to 11 and a cavernous open-plan games room on the top floor, overlooking the beautiful Suffolk coast.
---
3. Take to the water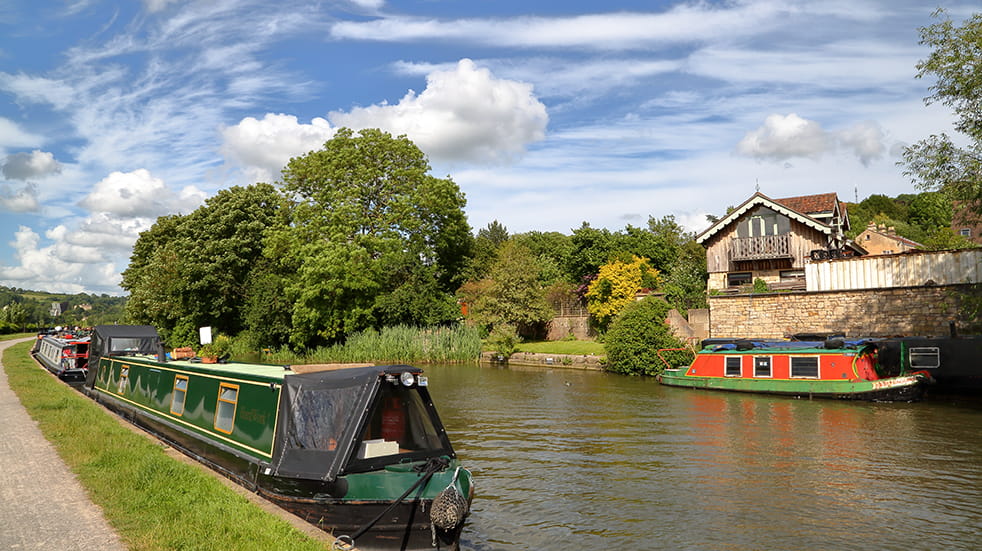 Enjoy life in the slow lane with a canal holiday – perhaps navigating from Bristol to Bath on the Kennet and Avon Canal (a weekend's trip). Avon Canal links the Bristol Channel with London, allowing canal boats to through some spectacular landscapes including Wiltshire and the rolling Cotswolds at a leisurely 4 miles per hour.
Or if you're looking for something a little more challenging, perhaps attempt the 137-mile trip along the Grand Union from London to Birmingham (which takes more than a week).
---
Read more of our expert travel advice
---
4. Explore a Second World War lookout tower
Built on the orders of Jersey's occupying German forces during the Second World War, the six-storey Radio Tower offers panoramic views from its 360-degree observation platform/lounge/diner and has now been restored as a three-bedroom holiday let by Jersey Heritage.
Set on a cliff top overlooking Corbière lighthouse on Jersey's south-west tip, the tower sleeps six and costs from around £33 per person per night. While you're there why not pick up a Jersey Heritage pass, which wil allow you to check out Jersey's Mount Orgueil Castle and Elizabeth Castle, and the varied and interesting museums littering the fascinating island.
---
5. Cosy up in a luxury treehouse
With prices from £250 a night, it's not cheap but, then again, a luxury hotel suite perched in the treetops is a pretty unique setting. Secluded and idyllic, the Treehouse at Harptree Court near Bath, is a once-in-a-lifetime experience that takes the idea of 'glamping' to a whole new level (quite literally). Lots of nice attention to detail – a copper bath, a welcome hamper of local goods – has helped it win rave reviews from visitors.
---
6. Drive Scotland's answer to Route 66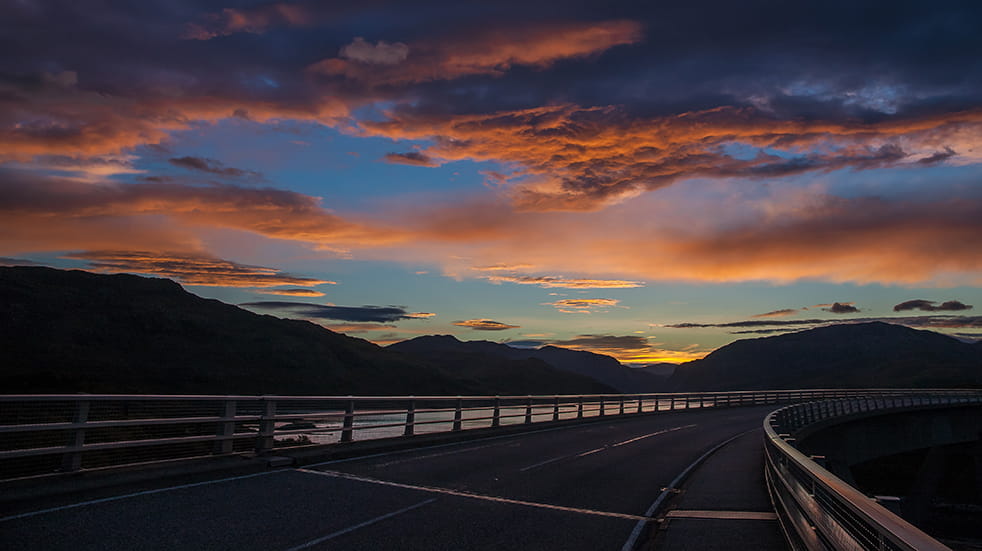 Launched in 2015, the North Coast 500 is a circular route round Scotland's most northerly and remote roads. Starting and finishing in Inverness and taking you as far as John O'Groats, the UK mainland's most northerly village, the NC500 is promoted as Scotland's answer to Route 66. There's over 500 miles of beautiful Scottish coastal scenery to enjoy and a website with suggestions of sights to see and stops along the way.
This was one of our 50 great drives this year – check out the rest of the UK's best road trips.
---
7. Try life on a Welsh farm
Wake up in the middle of the Welsh countryside and go and collect fresh eggs for your breakfast... Cwmcrwth Farm in Carmarthenshire offers a great base for an away-from-it-all break. There are three family cottages to choose from sleeping up to six people.
On the farm itself you get to feed pigs and donkeys. And, at the right time of year, you can bottle-feed new-born lambs. If you can convince yourself to leave your farmyard surroundings there are lots and lots of Welsh castles to explore (start just three miles from Cwmcrwth at the nearby Dryslwyn), plus lots of walking and biking opportunities.
---
8. Go fishing
Stay in a cosy, converted fisherman's hut, right on the beach in Whitstable. We've been: it feels like you're miles from anywhere when, in fact, there are tremendous seafood restaurants and a bustling little town within five minutes' walk. Sample user review: 'The nicest room we'd ever been in... You can hear the clanging of the beached boats and the swish of the sea all night.'
There are lots of huts to choose from, most of which sleeping around four people.
---
9. Paint the Lake District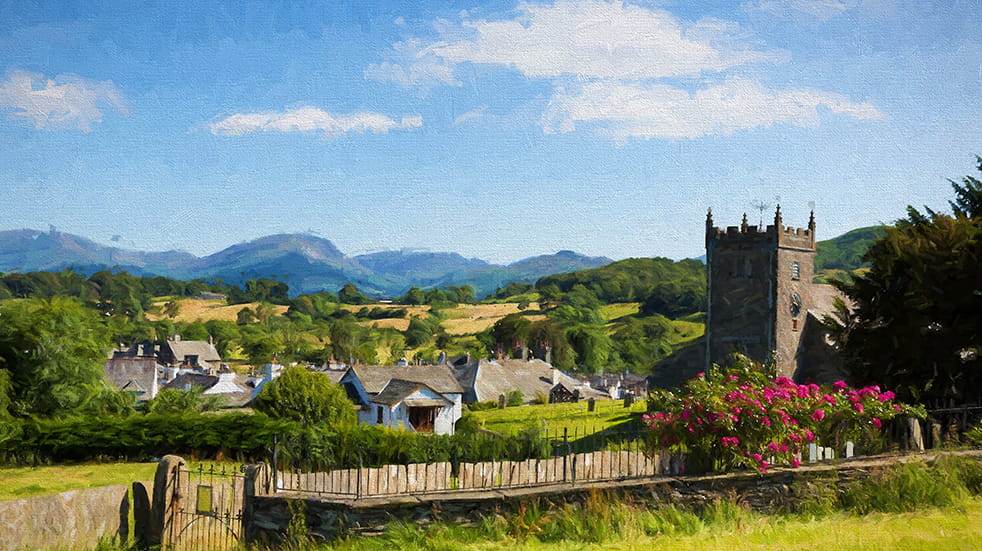 Engage with some of the UK's most beautiful scenery as you learn to paint watercolours on location in the Lake District. Artist Jane Ward offers painting holidays to small groups, including both beginners and those looking to improve. At the end of a hard day's art, you go back to stay at the fabulously located Glenthorne Guest House in Ambleside.
---
10. See dolphins in the wild
You don't need to go abroad to see dolphins, whales, sharks, seals and porpoises in the wild: the're regularly sighted in the Hebrides. Sea Life Surveys specialise in wildlife trips from their base on the Isle of Mull. starting with short trips in sheltered waters to see white-tailed and golden eagles, common seals, harbour porpoise and coastal seabirds such as guillemots and shags.
You can also spend seven hours at sea for a better chance of seeing minke whales, basking sharks, common dolphins and more. While nothing is certain with such trips, the organisation's first minke whale encounter is usually in April, and they start seeing common dolphins in May. Both species appear regularly throughout the season until trips finish in October. Basking sharks are less reliable but can be seen in July and August.
---
11. Holiday in a lighthouse
Just two hours' drive from London, the once-derelict West Usk Lighthouse, overlooking the Bristol Channel, has been beautifully re-imagined as a holiday home. Bedrooms have either four-poster beds or waterbeds and there's even a sauna. And they've got a Tardis and a life-sized Dalek as well. Seriously. Unusual enough for you?
---
12. Join the have-yachts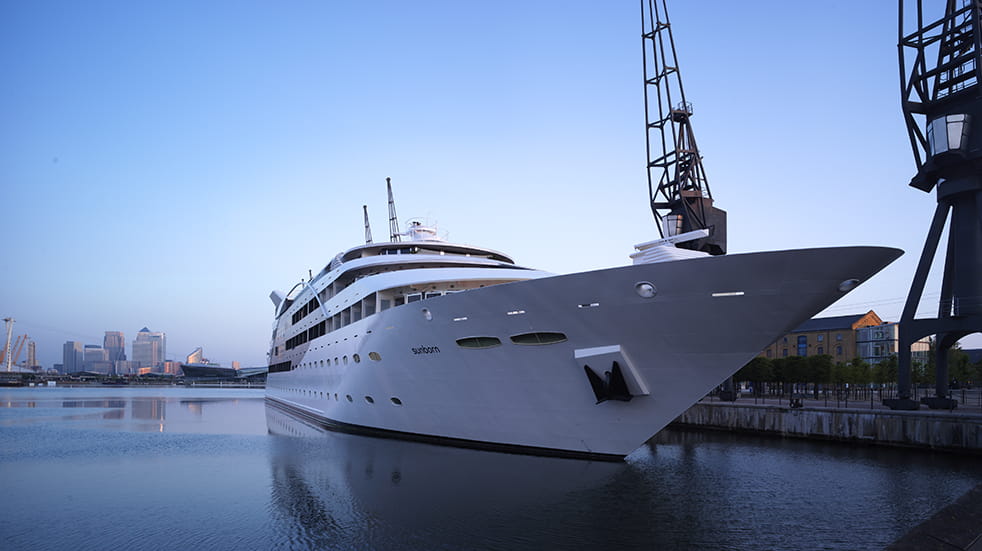 If you fancy holidaying like the super-rich, then how about a night on the Sunborn yacht, a 108-metre vessel moored at the Royal Victoria Dock in London? Spend the day taking in the sights of the capital, before returning to the yacht for fine dining in the restaurants with views across the lights of the city.
---
13. Cosy up in a log cabin
Swallowtail Hill Farm in Rye, Sussex, has been actively developing biodiversity for more than a decade – meaning there's plenty of bird life, butterflies and barn owls in the area, alongside regular farm animals.The kids can feed the goats while you learn to drive a tractor. Out in the woods and fields, there are several equally idyllic accommodation options, including Hansel and Gretel-style cottages-on-wheels and cosy log cabins.
There are a range of six cabins, cottages and huts, sleeping from two to four people and costing from £100 per night.
---
14. Drink at Britain's most remote pub
This holiday takes getting away from it all to a whole new level. The Old Forge Pub in Knoydart, West Scotland, is 18 miles from the nearest road or a seven-mile ferry trip across the water, making it mainland Britain's most remote public house. Surrounded by mountains and forest on the shore of Loch Nevis, The Old Forge is famous for its super-fresh seafood, ales brewed at Glenfinnan micro brewery and raucous ceilidhs, with a variety of accommodation ranging from self-catering apartments to wild camping.
---
15. Stay in a Napoleonic fort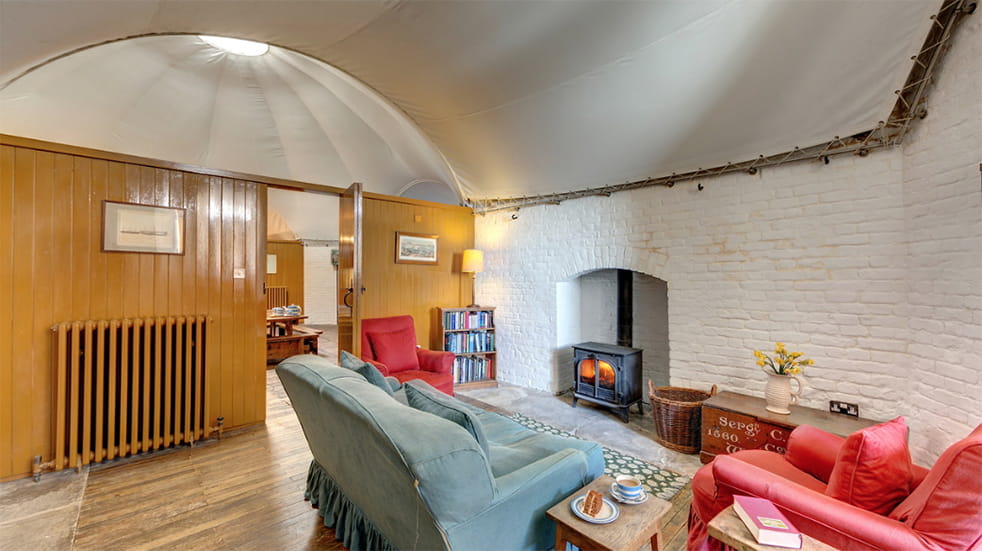 Many of the mini castles built around the coast to keep Napoleon out 200 years ago have now been converted into holiday lets, including the Martello Tower on the coast at Aldeburgh, Suffolk. They make for spacious interiors, great sea views (of course) and unique holiday experiences.
The picturesque coastal town of Aldeburgh is a 10-minute walk away along a shingle beach. Sutton Hoo, the Anglo-Saxon royal burial site and Framlington Castle, a magnificent 12th century fortress and one-time refuge of Mary Tudor are half an hour from Aldegburgh.
---
16. Hide away in a… helicopter?
Ream Hills Holiday Park in Lancashire offers the most interesting of places to stay - a 1982 Xray Zulu 676 helicopter, equipped with a flatscreen TV and a kitchen with microwave and mini fridge. You'll sleep in the tail of the converted military 'copter, and there's room for kids on a pull-out bunk. Weekly prices start at £790.
The hosting holiday park (where you'll need to use the nearby toiled and shower block) nestles in idyllic Fylde countryside. You can wakeboard, paddle board or canoe on the nearby lake, and Blackpool is just four miles away.
---
17. Make history
Or, at least, help uncover history. Orkney archaeology tours offer you the chance to spend a week at the north Scotland archipelago under the expert guidance of professional archaeologists. They will guide you over Neolithic and Viking sites as well as more modern digs. Only available to a maximum of eight people at a time, this is a real hands-on experience with the opportunity to see 'live' excavations.
---
18. Try out a luxury American trailer
A little slice of vintage Americana, three miles north of Dartmouth, Devon. Stay in a luxury, silver Airstream trailer – it has all the retro cool of a vehicle built in 1956, but has been refitted with all mod cons, too, including flat-screen TV, WiFi, power shower, underfloor heating and air conditioning. Proper glamping.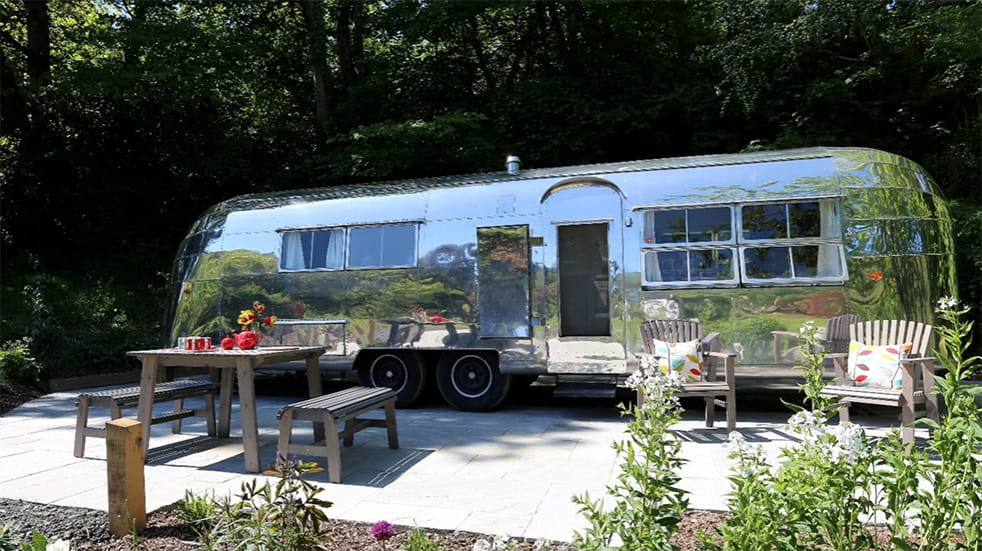 19. Create your own fairy tale
Clytha Castle is a fairytale-style folly in the middle of the Welsh countryside that has been beautifully restored as holiday accommodation, sleeping up to six people.
If you ever leave the dream accommodation, you'll find great walking countryside nearby. The Usk trail is just on your doorstep, while the heady heights of the Black Mountains and Breacon Beacons are fairly close by car. You can also visit Wales' national coal mine museum (Big Pit), as well as Tintern Abbey.
---
20. Make it through a Bear Grylls family survival course
Don't expect a cosy camping weekend cooking sausages over a campfire. On this Bear Grylls survival course, you'll be daubed in camouflage paint, purifying water in a sock and wading through mud up to your neck – but it's got to be somebody's idea of fun, right?