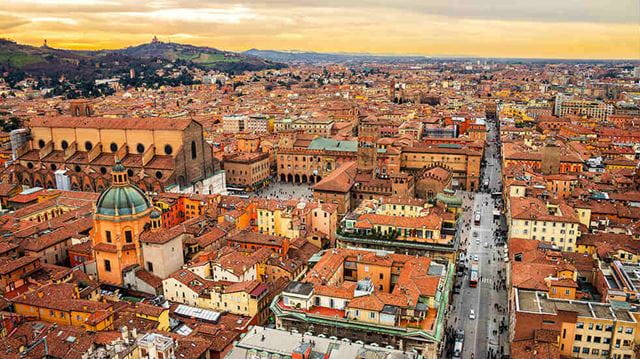 Florence, Genoa, Venice and Rome will all feature, but one that might not is Bologna. Which is a shame, because the capital of the Emilia-Romagna region has three alluring nicknames attesting to its history of gastronomy, politics and learning: la grassa (the fat), la rossa (the red, which also references the city's red-brick medieval buildings), and la dotta (the learned), and for the visitor, it's a combination that makes a city break here one of the most pleasant in Italy.
Bologna's architectural highlights are on a par with Florence; its lifestyle is vibrant and cultured; its 100-plus museums are eclectic and eccentric, and its hundreds of restaurants serve arguably the best food in northern Italy.
With so much to do it can be hard knowing what to choose in a weekend break, but our short guide will give you a mouthwatering taste.
---
1. Take an architectural walking tour
Physically, Bologna is notable for one thing above all else; its miles of elegant porticoed streets that act as vast umbrellas and parasols protecting locals and tourists alike from the blazing sun in the summer and the rain and occasional snow in winter.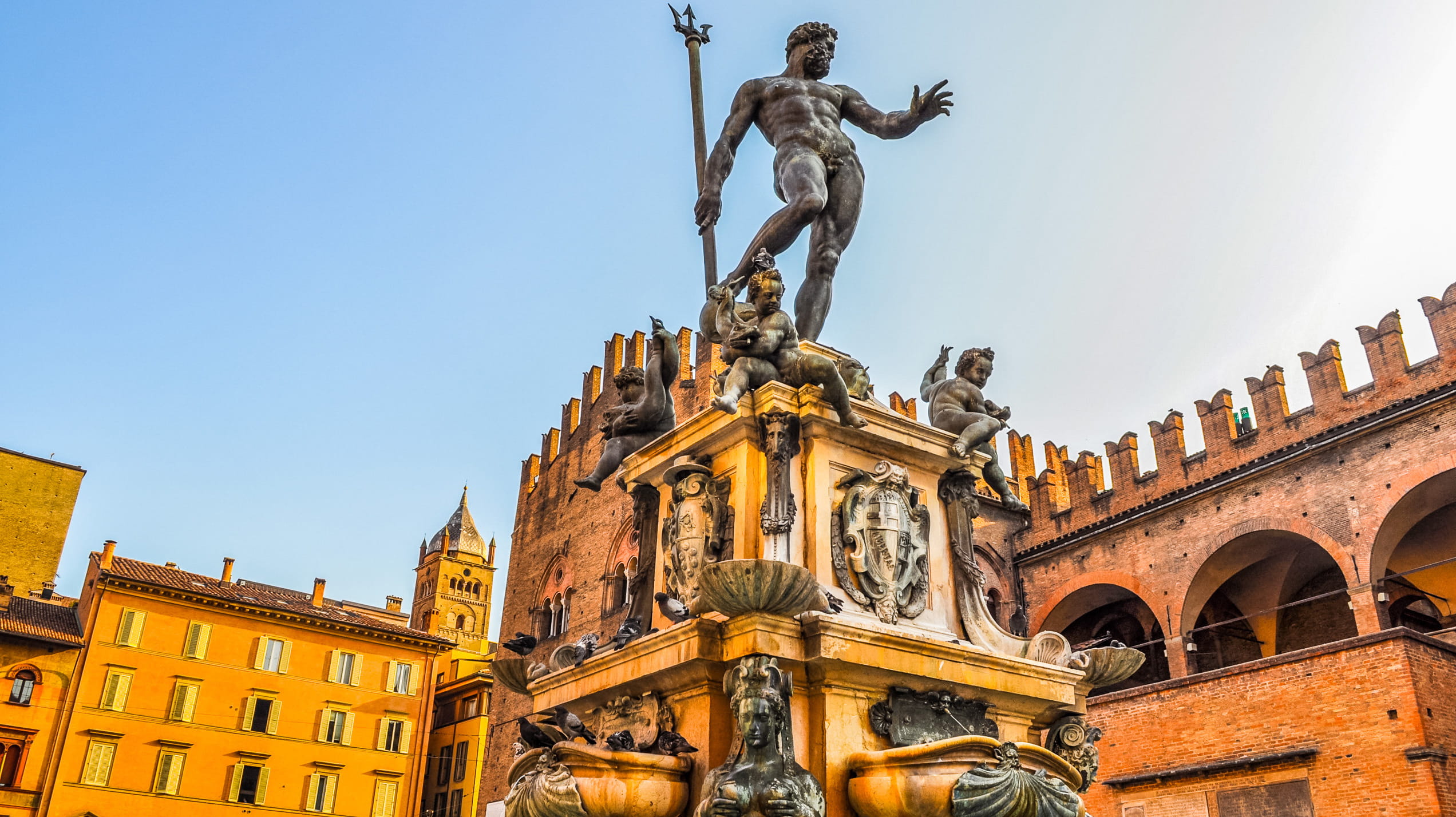 They were born of a 15th-century population explosion that forced families to enlarge their homes by extending the first floor out over the streets and underpinning them, first with wooden columns, then with brick, marble and concrete ones.
Combined with classically elegant and perfectly proportioned piazzas and palaces, they make the city quite special, with centuries of civilisation revealing themselves literally layer by layer. There are numerous walking tours that peel away these strata, the best of which are those booked by the tourist board in in the city's main square, piazza Maggiore (below), home to Giambologna's 16th-century fountain of Neptune (above) and hard by the Torri Pendenti medieval towers.
If you like to be guided around museums, there's even a museums walking tour; the Genus Bononiae (http://www.genusbononiae.it/), which takes in eight museums in a tour that links architecture and artefacts together in a magical mix of musical instruments (San Colombano), ecclesiastical matters (Chiesa di Santa Christina), frescoes (Palazzo Fava) and artworks (San Michele in Bosco).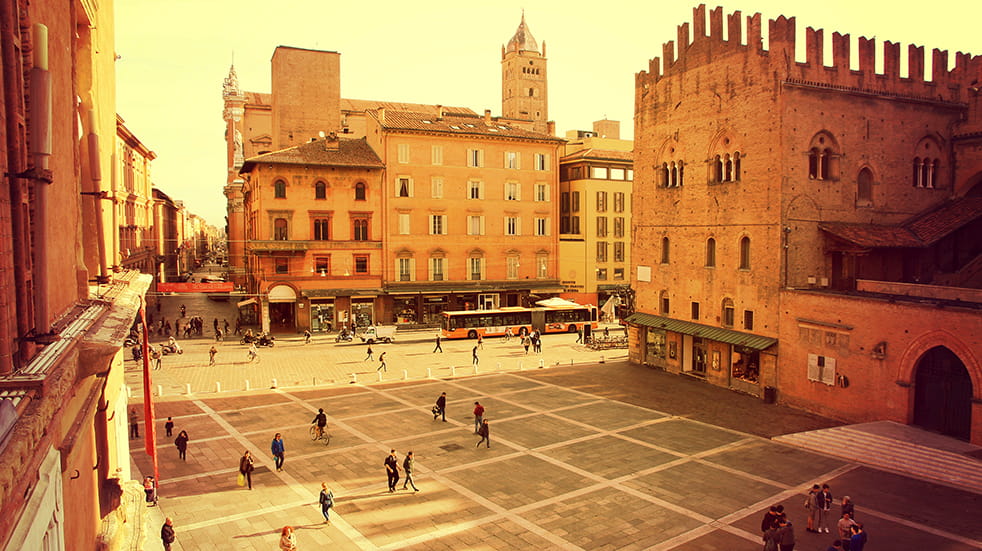 ---
2. Spend a day shopping
You could come to Bologna and spend the entire time in churches and museums, but don't pass up the chance to lose yourself in its jumble of streets and alleys, ogling the amazing things you can buy in them.
The medieval streets of the Quadrilatero (below), just off the Piazza Maggiore, are a great place to find both beautiful produce and avuncular shopkeepers; your inner Instagrammer will be revealed by botteghe, whose glass-fronted cases, chiller cabinets and outside displays are piled high and spilling over with the most tempting-looking salumi (cold meats), dairy produce, fresh filled tortellini and all kinds of fruit and vegetables.
At Tamburini, the best bottegha in town, buy beautifully packaged gifts for friends; at Culatello, prosciutto and a selection of 90 cheeses for yourself, and at Majani, gorgeous chocolates for both. In the glitzy shops lining Via Farini and Via dell'indipendenzia you'll find everything from Italian designer goods to high-street chains.
More interesting are the antique shops on the Strada Maggiore, and the nearby Via D'Azelgio, home to numerous boutiques and perfumiers. And don't miss a trip to one of its many markets – the weekly Saturday one centred around Piazza VIII Agosto offers a great insight into the city and its citizens.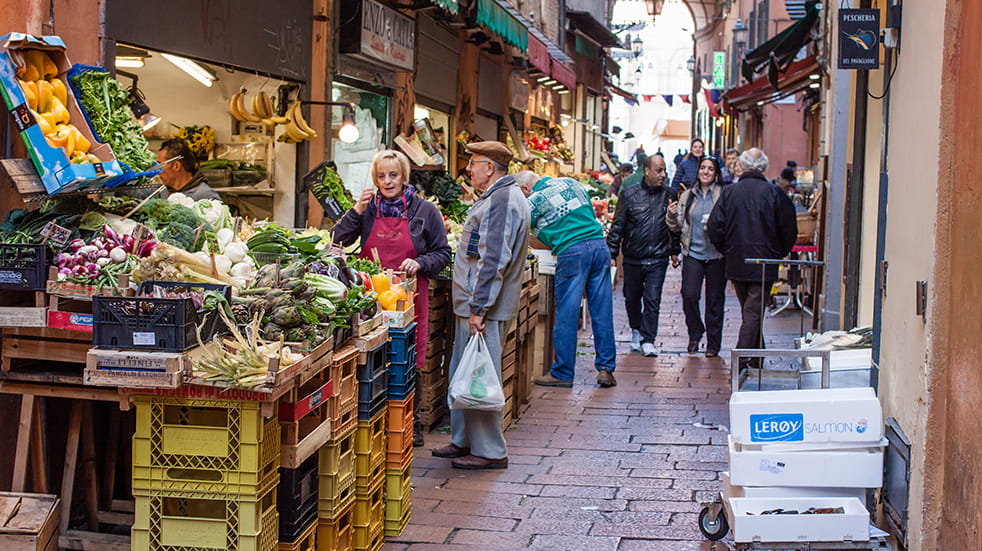 ---
3. Attend a super supper club
To visit la grassa and not indulge in the local passion for food would be to miss the point of the city entirely.
One great way to experience that passion is to eat at the home of a cesarine (cesarine.it) – a word that doesn't directly translate, but broadly speaking means 'mamma'. Here, for around €50 – 70 for a meal including wine, food enthusiasts serve traditional Bolognese feasts of perfect home-cooked food and lots of advice, tips and discussion about the produce, the cooking and the provenance of dishes.
Things you might get to sample include strozapreti (ropes of pasta made with flour, water, Parmesan cheese and egg whites beaten together), stecchi fritti alla Bolognese (skewers of nuts, veal or pork, chicken livers, sausage, tongue, truffles, and cheese, fried in breadcrumbs), tortellini in brodo (tiny ravioli filled with pork, nutmeg, Parmesan, mortadella and prosciutto served in a beef and chicken broth), or, at Christmas, certosino (a loaf-shaped sweet bread made with honey, nuts, jam and chocolate).
What you definitely WON'T be served is spaghetti Bolognese – instead, if you're lucky, you might get tagliatelle al Ragú: silky pasta strips smothered in meat and tomato sauce.
---
4. Visit some very unusual galleries and museums
The impressive art collection at the Pinocoteca Nazionale (Pinacotecabologna.beniculturali.it.) spans 500 years of important Emilian art, and should be top of any visitor's list.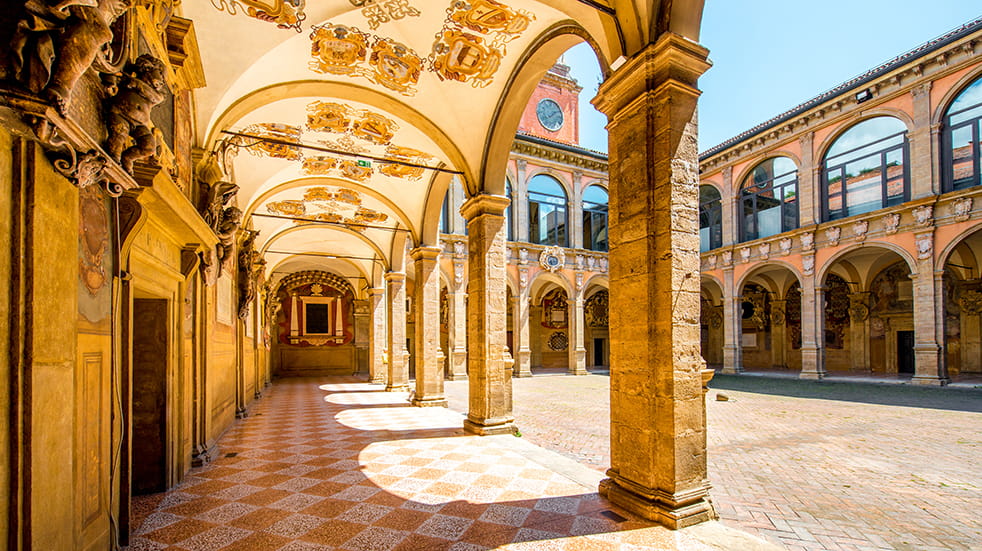 But equally arresting are more esoteric spots like the 17th-century Teatro Anatomico (archiginnasio.it), housed in the 16th-century Palazzo Archiginnasio (above). This anatomy/lecture hall is an evocative reminder that the world's first public dissection was performed in the city in 1315.
If it provokes a desire to learn more about the city's history, the Museum of the History of Bologna (genusbononiae.it) tells you everything you need to know, via a free English-language audio guide.
And the cluster of museums in the university quarter shouldn't be missed; fans of old-school natural history museums will swoon over the dusty vitrines and huge glass cabinets stuffed with stuffed animals, bones, casts and the like at the Anthropology Museum (http://www.sma.unibo.it/).
Back in the town centre, MAMbo (the Museo d'Arte Moderna di Bologna) lures everyone who is interested in modern and experimental art to a great space which last year was the only museum in Italy to host the V&A's brilliant David Bowie show, and has a permanent collection which engagingly documents the history of Italian art from the First World War to the present day.
---
5. Eat and drink like a local
Wherever you go in Bologna, come 5pm you'll see the tables of its bars begin to fill with a luminous warm gold cocktail that has taken cities around the world by storm in the last few years – the Spritz.
A bitter but moreish mix of Aperol (a liqueur similar to Campari) and Prosecco, it's a great way to work up an appetite for dinner at spots like Trattoria La Montanara (trattorialamontanara.com, +39 051 221583), which serves some of the best Bolognese food in the city, or courage for a sampling of tripe at Trattoria del Rosso (trattoriadelrosso.com, +39 051 236730); though if you've a less adventurous palate or are on a budget, the menu del giorno might be a better bet.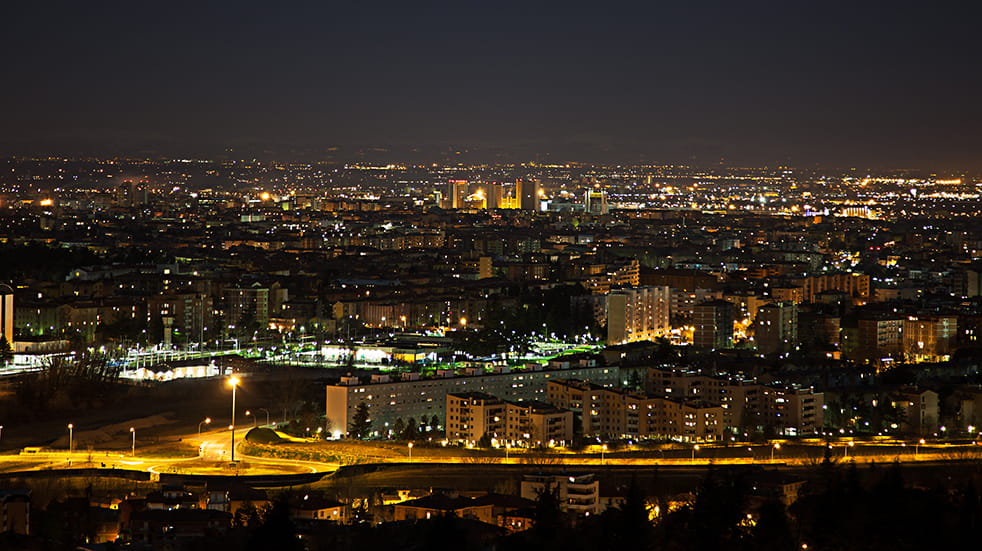 If you're on a budget, better still is staying in one of the bars, where between around 6pm and 8pm, or aperitivo time, generous buffet-style selections come free with a drink. Don't discount the bars levying a small aperitivo charge; they're usually the more generous with the dishes, both in terms of quality and breadth. (Above, Bologna at night.)
For dessert, don't miss a bombolone – a doughnut filled with crème anglais – at the lovely pasticceria Colazione da Bianca (colazionedabianca.it/) or Bar Pasticceria Santo Stefano (facebook.com/PasticceriaSantoStefano), just two doors away.
End your perfect Bologna evening by joining the locals for a passeggiata (stroll) and an ice-cream at Cremeria Funiviat (cremeriafunivia.com).