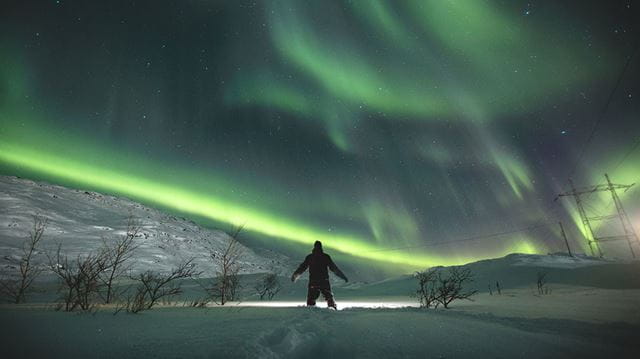 Most people's idea of a winter holiday will involve sitting on a tropical beach, lapping up the sunshine.
However, if you can cope with the colder weather, there are some majestic experiences to be had in locations that experience the more traditional wintry conditions around this time of year. b
From humpback whales to Himalayan railways, Christmas markets to cascading waterfalls, five well-travelled writers share memories of treasured winter getaways.
Wild ice skating in Berlin
by Rory MacLean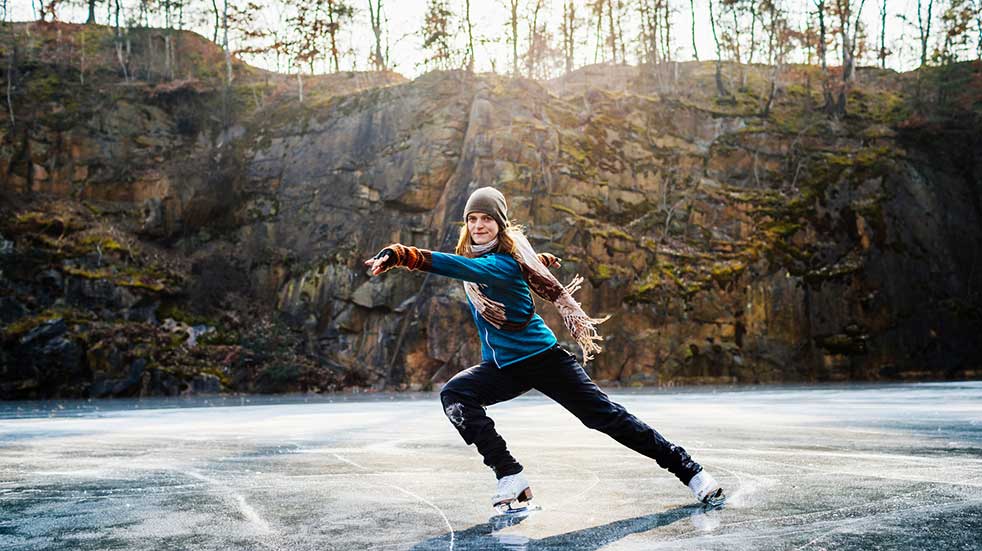 Among Berlin's greatest pleasures is the proximity of the outdoors. To the west of the city – starting at the end of the U3 U-Bahn line – spreads a lattice of pristine waterways and lakes: urban Krumme Lanke, curving Schlachtensee, narrow Templiner See with its dozens of intimate beaches, and idyllic Großer Glienicker See, surrounded by soaring pines and once cut in half by the Wall. In summer it is a place best discovered by bicycle: step off a train in Wannsee or Potsdam, wheel west along bankside cycle paths, find a quiet cove and dive into the water.
Come winter, Berliners put away their bikes and pull on thermal long johns. I head with many of them to the Glienicker See to skate across the lake's glassy surface. In the brilliant sunshine, youngsters play hockey around members of the local ice anglers' club, who pretend to catch fish while indulging their real enthusiasm for mulled glühwein. Families pause over steaming flasks of hot chocolate. Once I watched in disbelief as a scuba diver broke an access hole in the ice and – with a companion uncoiling a safety line – dropped under the ice sheet. When he emerged 20 heart-stopping minutes later, I asked him why he undertook such a dangerous sport. "Es macht mir Spaß," he replied with a nonchalant Berlin shrug. "It gives me pleasure."
This being Germany, the thickness of the ice is measured meticulously by city officials who announce when lake skating is safe. For those who fancy a less wild experience, the city's rinks open for the season. Top pick is Wilmersdorf's Horst Dohm Eisstadion, an ice rink surrounded by a 400-metre ice track, just a breathless glide away from the Hohenzollerndamm S-Bahn station. On weekends, bare-headed teenage girls swoop around children in helmets and elbow pads. Fit young bucks in baseball caps shoot past them, skating backwards with easy grace around the outer ring. At times, the Eisstadion can resemble a vast and animated open-air dance floor. On weekdays during the school term, Berlin's rinks are taken over by dapper pensioners who sally forth with upright elegance, as well as busy bands of pivoting, spinning and jumping trainee figure skaters.
I've known three Berlins: West Berlin, where I made movies with David Bowie and Marlene Dietrich; East Berlin, where I researched my first book, Stalin's Nose, and today's united capital. At the end of a winter day's writing, I go skating with notebook in hand. To my mind, there are few more exhilarating pleasures than sailing across the ice as it shivers and sings beneath one's silver-bladed feet. In so many places – and so many unexpected ways – Berlin stimulates the imagination. It is a place where one feels incredibly alive.
Rory MacLean divides his time between Berlin, London and Dorset. An award-winning author, he's written 14 books including Berlin: Imagine a City (W&N) and, most recently, Pravda Ha Ha: Truth, Lies and the End of Europe (Bloomsbury).
Chasing auroras in Swedish Lapland
by Lola Akinmade Åkerström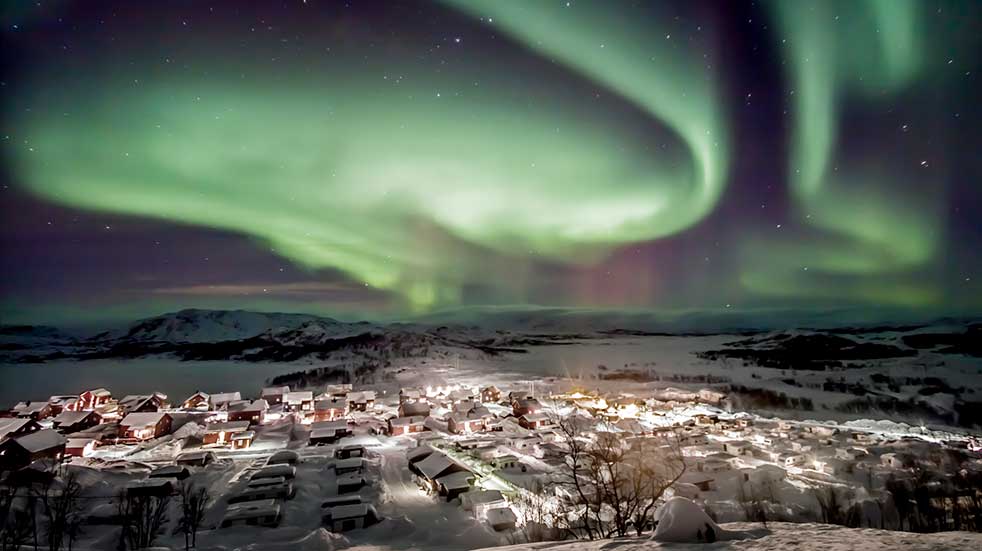 There is a moment, standing out in the inky dark night, when I lower my camera. My need to document ceases and I just stop and stare, completely enchanted. As curtains of green and red light unfurl and gyrate across the sky above me, my initial screams of elation have turned into quiet reverence. Such is the power of the elusive Aurora Borealis.
From the remote Aurora Sky Station perched along the gentle slopes of Mount Nuolja, I see Sweden's northernmost village, Abisko, twinkling like glow worms next to Lake Torneträsk below me. During the day, the Aurora Sky Station is a magnet for skiers who ride up its chairlift to ski down the mountain. But once night rolls around, those same lifts leisurely carry travellers and light-chasers alike up to the mountain to scan the skies for one of nature's grandest displays: the Northern Lights.
I'm in one of the very best places in the entire world to witness this phenomenon: Abisko National Park, which stands roughly 900 metres above sea level and has a scientifically proven 'blue hole' – a patch of sky over Lake Torneträsk that remains clear, giving the region its own microclimate. This provides Abisko with clear skies and arguably the best viewing conditions in the Nordics for a high probability of catching the lights.
To visit northern Sweden in the throes of winter is to experience rustic seasonal activities, explore its Arctic tundra and learn about its indigenous Sámi culture, which spans thousands of years with historical stories about the lights.
After flying into Kiruna, the Aurora Sky Station is about an hour's drive north, while just a short distance to the east is the Torne Valley region, with many opportunities to connect with backcountry nature. The village of Jukkasjärvi is home to the world's first ice hotel and at nearby Nutti Sámi Siida, Nils Nutti leads experiences inviting travellers into the Sámi culture on his own terms.
At his lodge, I get up close to dozens of revered reindeer in a corral while thousands more remain out in the tundra. I go reindeer sledding across frozen lakes and eat roasted reindeer meat called souvas while sitting around the fire in a traditional tipi (lávvu). I listen to Nils explain that, for centuries, many Sámi believed that life came to earth through a big white male reindeer that descended from the sky riding on the auroras.
The Sámi have always taken their cue from nature. Nils can tell what type of weather is coming the next day based on how the auroras are gyrating – how the lights dancing across the sky with shifting patterns can let us know if it's going to be windy or a calm day. And witnessing those mesmerising lights once more above his tipis as they stand invitingly warm against their indigo dark surroundings is a treat. Watching them shimmy above snow-coated pine forests and frozen streams the next day feels like winning nature's lottery.
I see them every single day until I leave Swedish Lapland, pondering how I got so lucky.
Lola Akinmade Åkerström is an award-winning travel author and photographer for several high-profile publications, such as National Geographic Traveller, The Guardian, Sunday Times Travel and The Telegraph.
Moved by nature in Antarctica
by Travis Levius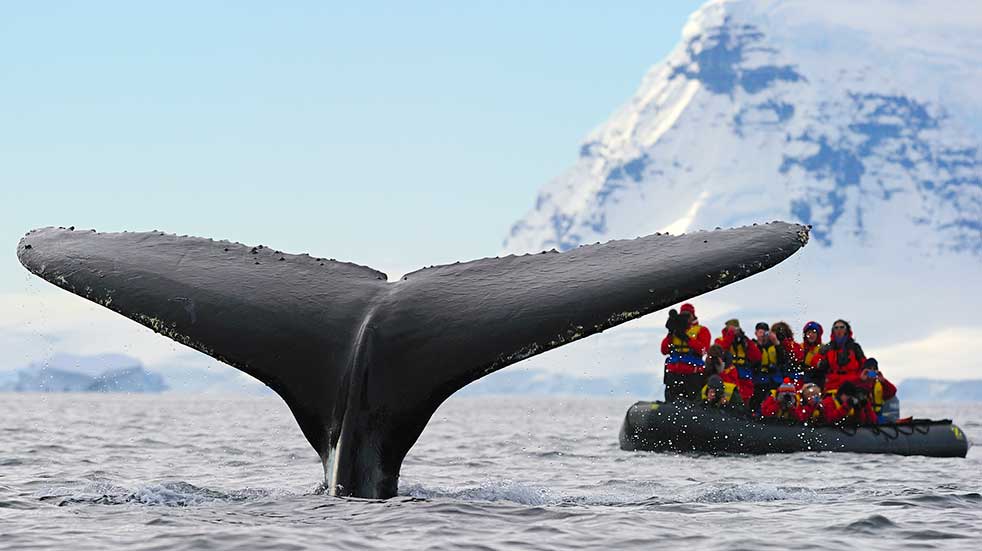 Two things to know about me: I don't like cold weather and I despise early mornings. However, the offer of a week-long voyage around Antarctica – aboard an icebreaker-class superyacht, Legend, with EYOS Expeditions, as opposed to a regular cruise ship – was reason enough to disregard these truths. Thankfully, most of the locations and activities can be replicated on nearly every commercial vessel sailing round the continent.
Antarctica is a land of superlatives – the world's driest, the coldest, the most extreme – but many who've encountered this frigid Shangri-La would declare that 'the world's most beautiful' should appear on that list too.
Imagine rugged snow-crowned mountains framing bays and straits, which are sprinkled with dazzling, shape-shifting blue-hued icebergs thrashing about like floating baubles. (Michelangelo is no match for the sculptural prowess of wind and water.) Add to this scene hundreds of elephant seals guarding their coastline turf and, in the sea, pods of slick onyx-skinned orcas and humpback whales so formidable in size that they could topple your 12-manned tender with the flick of a tail.
When outside, armoured in thick, thermal layers, you inhale: the crispest air of your life has embraced your lungs. There are no other humans. There is no superfluous noise. But rather than the ability to hear a pin drop, you hear the thunderous, echoed splash of just-fallen glaciers, and the cutesy yaps of distant gentoo penguin colonies ashore.
On any given cruise, there are several ways to explore and interact with Antarctica's endless and volatile beauty. After a few island visits, for instance, our group sets foot on proper continental Antarctica at Neko Harbour, with waddling penguins lining the icy beach completely unphased by our presence. Minding their snow-carved superhighway network, we hike atop packed snow up a hill for a panorama embracing bright skies, majestic peaks, sea and ice. The more adventurous of us skip the downward return hike and slide down a side of the hill a few hundred meters tall, quite similar to those penguins on their sloped passageways.
Other remarkable moments are innumerable: volcanic rim hikes led by erudite expedition leaders; being 'chased' for miles by seven killer whales nipping at the yacht's aft; mind- and body-numbing polar plunges (I call these intensely refreshing) and diving into the ocean in a glass submersible to witness sponge life and bright pink jellyfish hundreds of metres beneath the surface.
Never have I been so moved by nature or had my finite sense of scale and attitude on mankind's sovereignty so challenged. I used to roll my eyes at travellers who would say a trip changed their life – until Antarctica made me one of them.
After quitting his teaching job in Atlanta to pursue the unknown across the pond, Travius Levius somehow stumbled upon a career that's taken him to over 30 countries and all seven continents. Now, he's a freelance writer, editor and content creator loosely based in London, and shares his adventures on Instagram and YouTube (@MisterLevius).
Christmas in Niagara Falls
by Phoebe Smith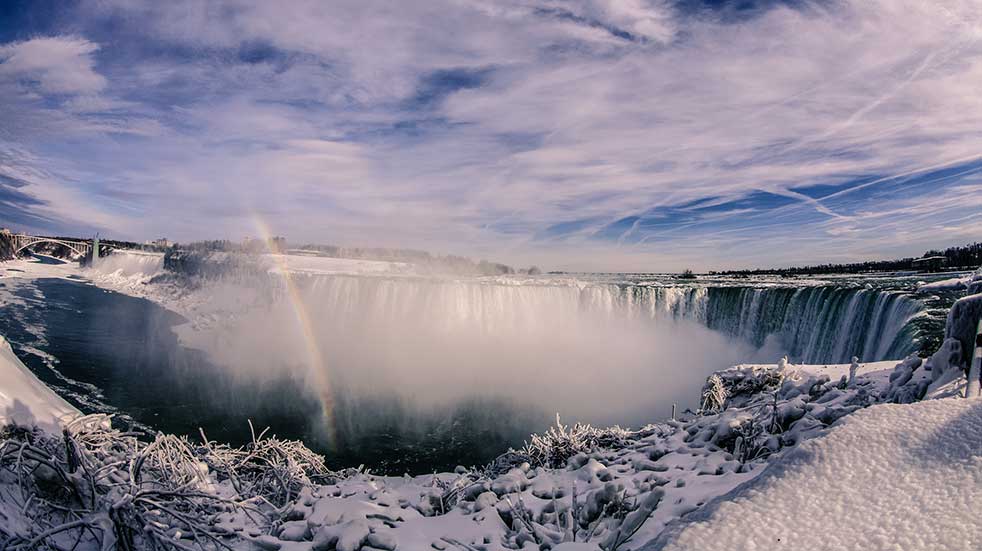 Colours dance in the sky as I make my way towards the water. It's only a little after 5pm, but darkness has already crept in early here in the province of Ontario. I watch as my breath forms clouds into the frozen night air, muting the bright shades of light being projected onto the most famous cascade in Canada. Under my boots the sound of salt on tarmac pops and cracks, allowing me to take reassuring and bold strides despite the layer of frost that encases the ground.
When most people picture Niagara Falls – the trio of waterfalls at the southern end of Niagara Gorge, which sits on the border between Canada and the USA – they imagine it in all its summer glory. However, to enjoy this natural wonder in prime season comes at a cost, and that is sharing its magnificence with lots of other people.
Come winter, when the tour buses cease and the boats moor up for the season, the number of visitors dramatically reduces – but there is still much to see and do for those prepared to buck tradition, as I did, and head there for the festive season. There's outdoor ice skating, Christmas markets, special shows in the nearby casino and an impressive display of more than three million illuminations that make up the Winter Festival of Lights, spanning more than 8km around the area.
As mesmerising as many of these attractions are, it's nature's own exhibit that truly steals the show for me. Often, huge swathes of the Falls actually freeze, transforming the entire spectacle into an elaborate water and ice sculpture.
Earlier in the day, I'd visited the decidedly quiet 'Journey Behind the Falls' attraction, descending 125 feet down the great curtain of water to observe it both from below and behind. Following a particularly memorable cold snap, one of the viewpoints offered only the sight of a thick wall of ice, behind which the thunderous roar of the free-flowing water that had escaped solidifying echoed loudly in the tunnel.
Watching it by day, with the surrounding grass and foliage caked in thick snow, resembling icing sugar on a Christmas cake, was mesmerising – but I'd wanted to see it at night too, when a series of changing lights are directed onto the tumbling water, transforming it into a gushing rainbow that seems to land directly on a cracking and creaking giant sheet of ice floating below.
The wind chill makes my face sting, but enjoying such a rare sight of an iconic landmark, with virtually no other people crowding around me, convinces me that when it comes to Canada, and the Niagara Falls, winter is definitely the most wonderful time of the year.
Phoebe Smith is an award-winning travel writer, photographer and broadcaster, as well as host of the Wander Woman Podcast, which has been lauded by publications including The Guardian and Globetrender.
Wintry pleasures in Darjeeling
by Monisha Rajesh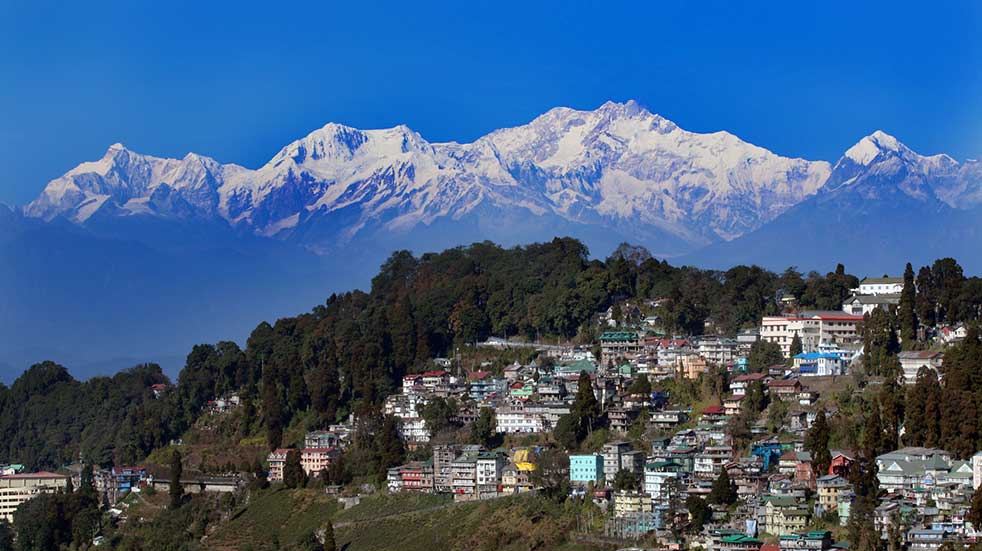 A murmur of excitement runs through the group of strangers milling around, huddled in soft Nepali shawls. In the grey-blue darkness, vendors wind between the crowd clanking vats of tea, their breath hovering on the air. It is just before 4am and the chirp of bulbuls heralds the daily ritual on Darjeeling's Tiger Hill.
And then it begins. A hush falls as a small apricot sun appears on the horizon, staring like a beady eye. Rising from a bed of clouds, it cracks open the skies and the Himalayas emerge through the dawn haze, jagged and swelling in size. Fired with fresh morning light, their snowy heads glow pink. Slowly their bodies are revealed, the clouds disperse and the sun settles into place. The day has begun.
Once a summer retreat for the rampaging British Raj, Darjeeling is now a year-round favourite of Indian families tasting tea, browsing bazaars and shopping for Tibetan trinkets. But for me, the best time to visit is in winter. One January a few years ago, I wound up the hill on the infamous Toy Train [the Darjeeling Himalayan Railway] to take a wintry break. Beginning in the foothills at New Jalpaiguri Junction, the little blue steam train took just over seven hours to ascend, twisting and turning around forests and fields as families sang Bollywood tunes and waved at cyclists from the windows. Trundling so close to shopfronts you could reach out and stroke the fruit, the train criss-crossed the main streets alongside cars and carts, pulling into the shed with a sigh and a hoot.
Stepping down, I saw that the winter light was softer than the brazen sun of summer, pine forests sparkled with frost and the town was wonderfully free from crowds. But it was cold. Travellers often assume that India means constant heat and humidity, however Darjeeling is a hill station surrounded by mountains and swirling with mists, and my boots and scarves served me well. Inhaling the scent of wet magnolias, I bought bags of hot samosas and warmed my fingers on their crisp pastry, winding through alleys strung with prayer flags. On the edge of town, bent-backed tea-pickers stood waist-deep on the slopes, their baskets strapped across their heads. Pausing to watch them work, I could hear the sweet sound of singing as mothers took it in turns to watch each other's babies.
At night, I pulled on my hat and gloves and trudged into town, where coloured lights were strung from the patchwork of rooftops, and hurricane lamps lit up the dark. Monks wearing thick socks in sandals swept by, bundled in rich red robes, and I ducked into a curtain-covered doorway housing no more than a handful of rickety wooden tables and warm with the aroma of fried pork momos. Over a bowl of hot thukpa – noodle soup – I enjoyed the quiet hum in the café of friends sharing plates of sticky doughy dumplings and locals sharing gossip. Now it seems like a lifetime away, but even if I can't travel there soon, I can always close my eyes and taste that thukpa, smell the magnolia and see those snow-capped peaks.
Monisha Rajesh is the author of Around the World in 80 Trains (Bloomsbury), and also contributes to Conde Nast Traveler, the Independent, The Sunday Telegraph, The Guardian and the New York Times.
Get money off your winter break with Boundless
Save up to 10% with Barrhead Travel
Barrhead Travel offers a wide range of holidays and tailor-made breaks in Europe and worldwide. From all-inclusive deals to last-minute offers on flights, Boundless members can contact the team for the latest advice and guidance on travel. Click here to find out more.
Save £10pp with Warner Leisure Hotels
Warner has a choice of unique places to stay, including Studley Castle in Warwickshire and Corton Coastal Village in Suffolk. Boundless members get free holiday protection (terms and conditions apply). Click here to find out more.
Photos: Getty Images