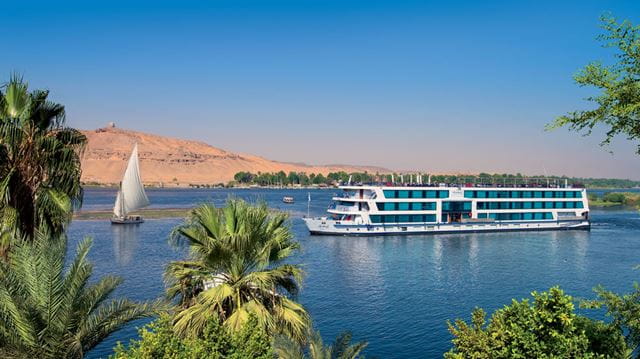 As Kenneth Branagh's remake of Death on the Nile goes into production and Lonely Planet names the Southern Nile Valley its best-value destination for 2019, now's the time to visit this mighty river
Now that Egypt's political situation has stabilised after several years of unrest, visitors are once again returning to this, the oldest of ancient civilisations and a visitor attraction for more than 2,000 years – the latest figures show an increase of 45% in travellers from the UK.
A Nile cruise is one of those classic travel adventures that everyone should do at least once in their life. Besides, a river cruise is one of the easiest ways to see Egypt's highlights. The Nile is Egypt's heart: without this life-giving river there would be no banana plantations, vegetable fields or ancient settlements because the land around the Nile is essentially uninhabitable, composed mostly of sand.
The Nile Valley is home to more than 90% of the country's population, while the desert hinterland, punctuated by palm trees and clumps of papyrus, is visible beyond the green strip that constitutes the river bank. Scenes here are biblical in nature – men grind maize as they have done for millennia, black-robed women carry water jars on their heads and egrets flock to the water's edge.
---

Need to know
When: The best time to visit Egypt is between October and February, when it will still be hot, but not so humid. April and May are also pleasant, though they can be unpredictable.
What to pack: Essentials include a sunhat, sunglasses, insect repellent and plenty of good sunscreen. Loose, cotton clothing is ideal and comfortable closed-toe shoes are a must as you'll be walking on rocky paths and uneven ground.
The on-board routine: Sightseeing tours tend to start fairly early in the day before it gets too hot, so your days get off to a prompt start, then afternoons are spent sailing and relaxing. There may be more sightseeing tours in the evening.
Food and drink: Make sure you drink only bottled water, which will either be available free or on sale during your cruise.
Shopping: Haggling over prices is a fundamental part of shopping in Egypt. The key is to go in low and work your way up – but do have a maximum amount in mind before you start.
How to dress: Both men and women should dress modestly when visiting historical sites – you'll be travelling in a conservative, Muslim culture.
Photography: Tourists must buy a ticket for their camera and pay a fee to take photographs inside tombs and museums.
Travel insurance: It's common sense really, but don't even think about travelling without taking out a comprehensive travel insurance policy.
Safety: Check the latest advice before you travel at the government's Foreign Travel Advice service.
---
120 miles of history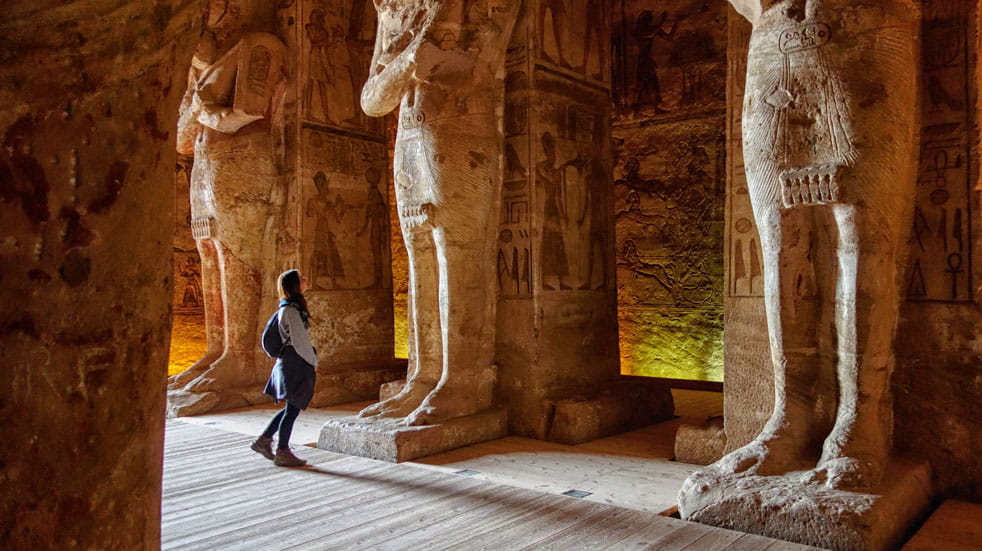 Most Nile cruises ply the route through the Southern Nile Valley – a region named by Lonely Planet as a best-value destination for 2019. The 120-mile section of the world's longest river wends its way from Luxor to Aswan or vice versa, a journey of three or four days, with all the main tour stops being reasonably close to the Nile's banks.
This fascinating route takes in archaeological highlights including the famous Valley of the Kings. This eternal resting place of pharaohs and other elites from days of yore provides a glimpse of the ancients' view of death. Its most famous occupant is Tutankhamun, famously discovered by Howard Carter in 1922. The treasures buried along with him were taken to the Egyptian Museum in Cairo, which houses one of the greatest collections of antiquities in the world, but have recently been moved again and now reside in the new, partially opened Grand Egyptian Museum near Giza.
Luckily for us, those kings of old all tried to outdo one another so the Valley has a glut of temples too, including the complex at Karnak, arguably Egypt's grandest monument of all those broadcasting the legendary wealth of the pharaohs. Film buffs may recognise it as a location in Death on the Nile (the temple featured was Amun). Edfu, further along the Nile, is the second largest temple after Karnak and the best-preserved. Its craftsmanship is exquisite and many antechambers ensure it's a hit with children too.
Luxor and Aswan, bookending this stretch of the Nile, are both key destinations for anyone remotely interested in ancient Egypt. Luxor exudes an air of old-world elegance, has extensive souks and feels like a huge open-air museum with all its temples and antiquities. It used to be called Thebes, the City of a Hundred Gates, and was capital of Egypt. The more relaxed town of Aswan at the southern edge of modern Egypt is surrounded by elegant islands and has a riverside corniche lined with restaurants.
For those who want to see even more of what the Nile has to offer, including the Pyramids of Giza and the enigmatic Sphinx, the popular route between Luxor and Cairo has reopened, which means that tourists with time to spare can enjoy a longer cruise, delving deeper into Egypt's world-renowned glories along the way.
---
Escape to other sunny locations
Discover the quieter side of the Costa del Sol
Walk the Camino del Baztán in northern Spain
Find out what we think you should see and do in Madeira
---
Nile highlights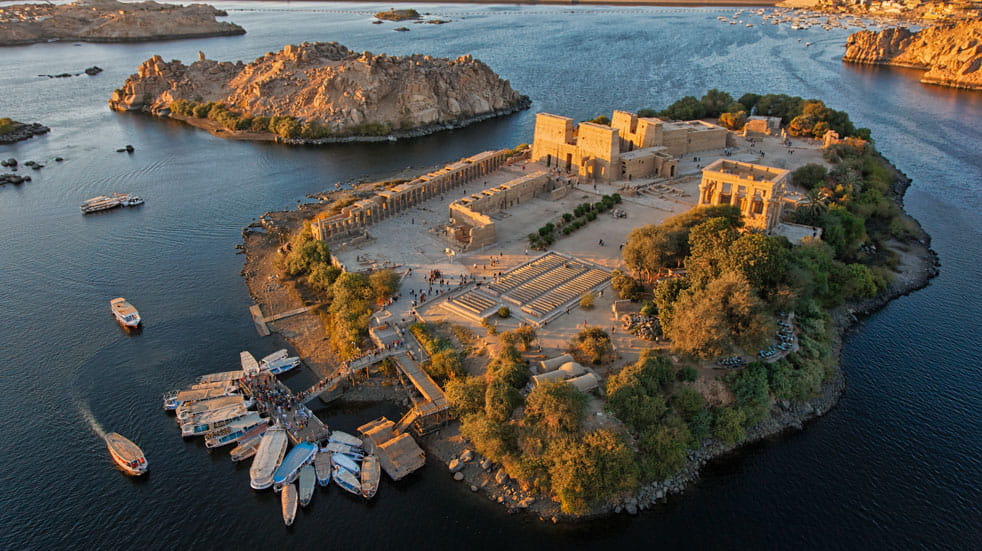 When you think of Egypt, the Pyramids and enigmatic Sphinx no doubt spring to mind. These astonishing 4,000-year-old feats of engineering inspire awe in all who see them and include the Pyramid of Giza, the only remaining example of the seven ancient wonders of the world. First-time visitors are often surprised at how close these sights are to the city of Cairo.
The power represented by the Valley of the Kings, burial place of Egyptian pharaohs, is palpable even today. A modern visitor centre on site will help you get the most from your visit.
If your cruise starts at Luxor, an early port of call will be Karnak Temple. The sheer scale of this ancient complex is mesmerising – in fact it's almost a small town in its own right – and it has some of the best examples of symbolism.
Another enormous edifice, and possibly the best-preserved with its intact roof, is the Temple of Horus at Edfu, dedicated to the Falcon God.
Luxor Temple is in the middle of town and boasts gloriously intricate carvings.
The ancients paid homage to crocodiles at Kom Ombo because this part of the Nile was infested with them and they thought that building a temple would placate the beasts.The two temples at Abu Simbel, famously moved 200ft from their original site to make way for the Aswan Dam, are dedicated to Pharaoh Ramses II and his wife, Queen Nefertari.
Aswan's attractions include El Nabatat Island, which has a botanical garden created by Lord Kitchener in the 1890s.
---
Slow travel or modern ship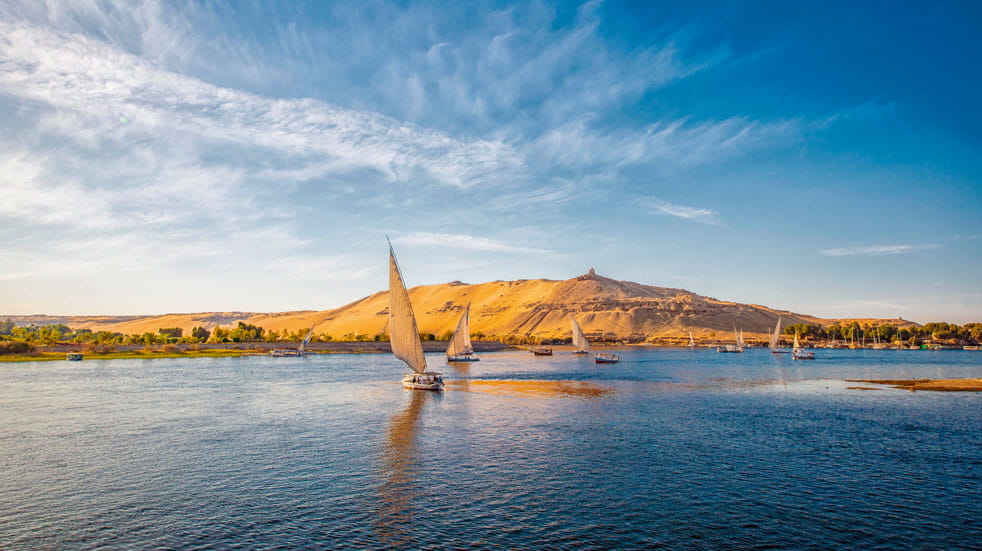 Vessels cruising the Nile come in different guises, with prices to match. At the less expensive end are the no-frills feluccas, which carry up to ten or 12 passengers and have basic facilities. Guests sleep on deck under the stars – sleeping bags can be rented or guests can bring their own – and a crew of local sailors prepare daily meals. These vessels have plied the mighty Nile since ancient times, and tend to appeal to eco travellers and those who like authentic experiences, as well as those on a limited budget.
More glossy are the dahabiyas, replicas of traditional 19th-century wooden sailing boats similar to barges, which usually hold a maximum of 20 or so guests. Like feluccas, they have no engines and depend on wind power. Besides a soupçon of yesteryear glamour, they have more amenities than feluccas, including en-suite cabins and sometimes a small library. This is slow travel at its best, which means the journey from Luxor to Aswan can typically take six or seven days. You'll be following in Florence Nightingale's wake if you choose to sail on a dahabiya – she sailed along the Nile in one.
If you prefer your cruises with creature comforts, you may prefer to opt for one of the bigger, more luxurious, modern ships. These generally have more spacious cabins with air conditioning – an essential for those who travel during the stifling summer months – and a swimming pool or plunge pool. Some also have a small gift shop and gym.
Don't expect glitzy entertainment on board though – there are no casinos, Broadway-style shows or suchlike on a Nile cruise ship. Where entertainment is offered, it's often in the form of local singers or belly-dancing shows. Most cruise companies, however, do employ the services of an Egyptologist, who is on hand to guide groups around the ancient sights visited along the way and also gives lectures on board.
Whatever mode of transport you choose, you'll feel as though you've slipped back in time as you witness centuries-old scenes and historic sites. There's simply no better way to discover them than by cruising this ancient waterway, the river Nile – a tradition that is itself thousands of years old.