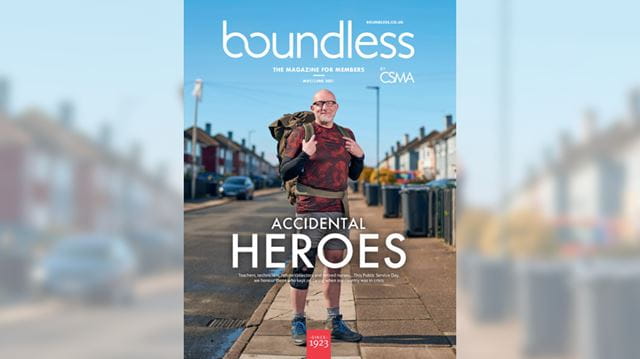 Cast your mind back to the first lockdown and I'm sure you'll recall the outpouring of gratitude towards Britain's public sector: the hospital staff working tirelessly to restore their patients back to health; the teachers adapting and innovating to ensure our children and grandchildren remained educated and motivated; the essential workers keeping our nation fed. We decorated our windows with rainbows and stood on our doorsteps, banging pots and clapping for carers for weeks on end, knowing the debt of gratitude we owe will long outlast the pandemic itself. Which makes the timing of 2021's Public Service Day on 23 June even more pertinent, falling two days after the planned date for restrictions to be lifted in England. Please join us in giving heartfelt thanks to members of the public sector once again this year – find out how you can make your voice heard at boundless.co.uk/publicserviceday.
Meanwhile, in this issue of boundless, we honour 21 individuals from the public sector who have gone to extraordinary lengths to support their communities and their countries over the last 18 months. Dan Read addresses a raft of questions about electric vehicles as he takes the Volkswagen ID.3 out for a (local) spin. And the results of the 2021 Boundless Photography Competition are finally in! Plus, ways to get into walking, useful gardening kit and advice around travelling abroad in a post-Brexit world.
So please enjoy reading the magazine. And remember, saying thank you costs us nothing, but doing so can mean everything.
Until next issue...
HEATHER GLANVILLE, ASSOCIATION CHAIR
Login and enjoy the read!