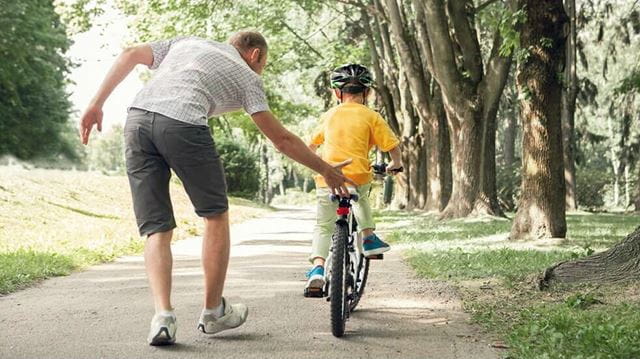 Riding a bike is one of the best ways to see the world with your family, but getting into cycling can be daunting. We guide you through the main considerations for starting to cycle with your kids.
What type of bike should I buy?
There are three types of bike that you're most likely to encounter; road bikes, mountain bikes and hybrids.
Road bikes are built around drop-style handlebars and place your body in an aggressive position for quick handling and high speed.
Mountain bikes are designed for off-road riding and feature flat handlebars, suspension, sturdy frames and treaded tyres.
A hybrid is best thought of a mash-up between a road and mountain bike, with the upright riding position, wide spread of gears and flat bars of a mountain bike mixed with the lighter frame and faster rolling wheels of a road bike.
Hybrids are the most versatile and beginner-friendly option, but seek advice from a bike retailer before committing.
Kids' bikes are typically a simpler affair and are sized depending on age.Preschool-aged children will start with dinky 12"-wheeled balance bikes, moving to progressively larger wheels as they grow.
If you're unsure of what size bike is best for your child, it's best to visit a bike shop and try out a number of different sizes. Don't be tempted to size-up so your child can 'grow in' to a bike — a bike that's too big will be very hard to handle and steer.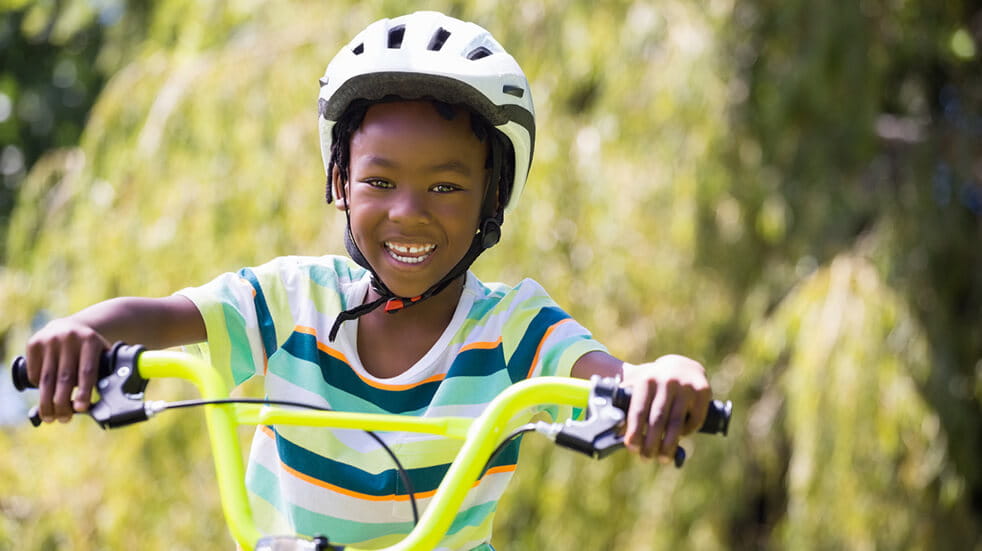 How much will a new bike cost?
The sky's the limit, but you should expect to spend about £200 as a minimum for a well-equipped and high-quality adult's bike. £100 will you get you a similarly high-quality kids bike.
As a general rule of thumb, simple is best when it comes to cheap bikes — additions like suspension may seem attractive, but on budget bikes they are at best useless, and at worst, downright dangerous.
Where should I buy a bike and cycling kit?
If you're just starting out, visiting a well-respected and well-stocked local bike shop is always your best option. You may pay a bit more than when buying online, but the sage advice on offer and peace of mind knowing that your new bike will be well set-up will save you a lot of stress in the long run.
Buying a very cheap bike from a supermarket or similar may be tempting, but these are best avoided — quality is usually very low and it will only cost you more money in the long run. Buy well and you'll only buy once!
Ensuring you are on a well-fitted bike is a job a supermarket or online shop also can't fulfil — a cheap bike that fits you perfectly will always ride better than an ill-fitting superbike.

How to take your kids riding
For kids aged between six months and four years old, a child seat is the best option. These usually mount onto the back or top tube of a bike.
Tag-along bikes or hitches that convert a regular kid's bike into a tag-along are another great option for children aged four or over, who are confident riding their own bikes but can't ride longer distances. Trailers are another option for less-confident kids. If you really want to embarrass your kids, you could even consider a tandem!
Larger retailers such as Halfords and more established independent shops are most likely to have a good stock of kids' seats, tag-along bikes and trailers.
Your essential cycling kit
It's worth investing in a well-fitting helmet. It's not the law to wear a helmet in the UK, but wearing one is advisable if you plan on riding among traffic or venturing off-road.
Bringing along a pump and a puncture repair kit (and knowing how to use them!) on a ride is also wise if you want to avoid a long walk back to the car. Padded shorts are also a good investment if you want to ride long distances.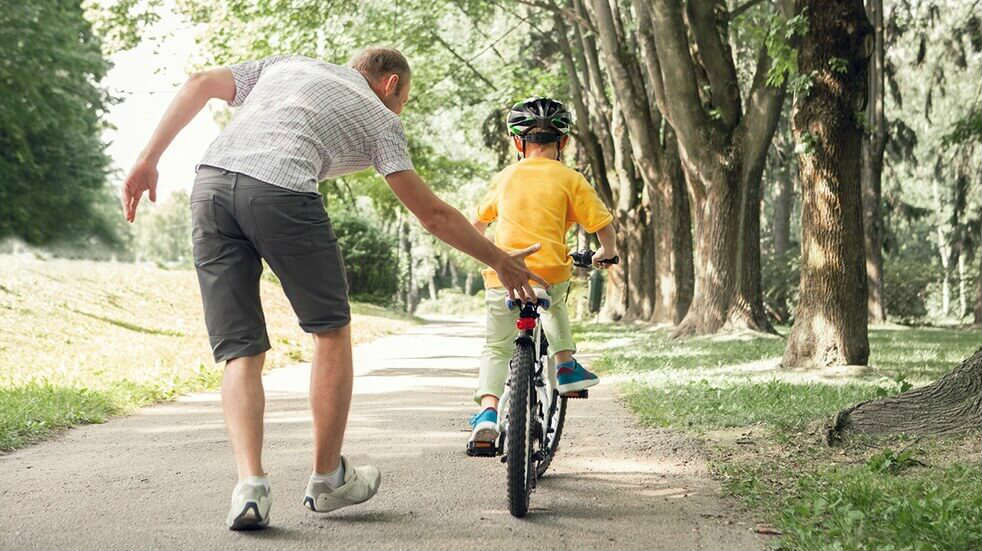 Where to ride with your family
If you haven't been on a bike in a while or are riding with young children, start in a park or on a cycle path before hitting the open road.
If you don't feel confident enough to head out by yourself just yet, check out Let's Ride, a series of supported traffic-free cycling events organised by British Cycling.
Sustrans and Cycling UK are the other two main national cycling charities and their websites are full of useful suggestions for routes on the UK's surprisingly widespread network of cycle paths.
Need some more inspiration? Check out our top five recommended days out on the bike.