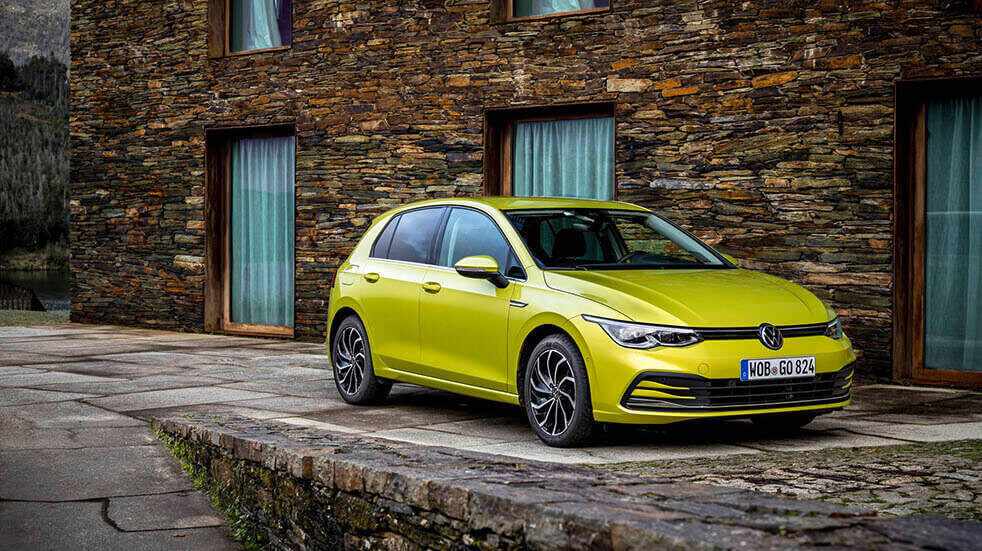 Looking for a new car? Our motoring expert, Paul Horrell from Top Gear, rounds up the best drives you can get right now, with something for every budget.
Hatchback: Volkswagen Golf
The new version of the car that needs no introduction needs, for the most part, no introduction. It's a Golf, with all that implies. The styling is beautifully executed yet free of attention-seeking flounce. The driving experience is easy, accurate and refined. The engines use modern technology to achieve good results on little fuel. (Petrols with DSG double-clutch transmissions get mild-hybrid generation. Diesels have new systems to cut emissions – and VW will be scrutinised for this, of course.) But in one way – the dashboard – it's transformed. Almost all switches, knobs and instruments have been swept away in favour of screens. They bring wow factor and connectivity, but I'm not sure it's always worth the learning curve. What was wrong with a volume knob?
The spec: 1.5TSI 150
Engine: 1498cc 4cyl petrol, FWD, six-speed manual
Power & torque: 150hp, 250Nm
0-62mph: 8.5 seconds
Top speed: 140mph
Fuel economy: 47.1-49.6mpg (WLTP)
CO2: 112g/km
Price: £26,090 (range starts at £23,875)
---
Crossover: Ford Puma
Ford has a small crossover, the Ecosport, and a family crossover, the Kuga. The Puma sits in between. A small-family crossover, I guess. Its dimensions are canny, with decent passenger room and a big boot that includes a hose-out section for your wet, sandy, muddy or snowy gear. Oh, and you can also zip off and machine-wash the seat covers. But the cabin doesn't feel utilitarian. It's classier than the rival VW T-Cross's and the electronics are easy to use. Too many small crossovers are a dirge to drive, but this one comports itself well. The suspension holds its discipline over bumps and through corners, and the steering is rewarding. Engines are petrol-only and all are improved by mild hybrid assistance that subtly helps response and economy.
The spec: ST-Line X 155 MHEV
Engine: 999cc 3cyl petrol, FWD, six-speed manual
Power & torque: 155hp, 240Nm
0-62mph: 9.0 seconds
Top speed: 124mph
Fuel economy: 51.4mpg (WLTP)
CO2: 96g/km
Price: £23,645 (range starts at £20,545)
---
Family estate: Audi A4 Avant
To face the new BMW 3-series, the A4 is heavily revised, with more chiselled shapes on all four sides. Inside, Audi has swapped the old controller wheel (which I slightly miss) for a touchscreen infotainment system. The A4's fittings and furniture are superbly crafted so it feels rock-solid. Audi's famous quattro four-wheel drive features alongside the big engines, but this lowish-powered petrol one (inexplicably badged 35TFSI) doesn't need it. The front tyres can easily cope. It's accurate enough in curves, and trucks on down motorways with resolve. But for comfort's sake, avoid the harsh springs and noisy oversized tyres of the S-Line trim. The Avant comes as a saloon, too, but why not choose this roomy, stylish and versatile estate?
The spec: 35TFSI Sport S-Tronic
Engine: 1984cc 4cyl petrol, FWD, seven-speed auto
Power & torque: 150hp, 270Nm
0-62mph: 8.9 seconds
Top speed: 140mph
Fuel economy: 42.2mpg (WLTP)
CO2: 127g/km
Price: £35,375 (range starts at £32,150)
---
Crossover: Peugeot 2008 SUV
This car will sell on design. The decorated and chiselled exterior opens into a cabin with plush materials and fancy displays. The driver's instrument screen projects some of its graphics onto an angled Autocue-like screen so that they float in apparent 3D. But it's also a sensible family car. Though based on the 208 supermini, substantial added wheelbase and height bring a bounty of rear seat room and boot space. It's an enjoyable thing to drive, thanks to punchy little engines and perky steering, but it also absorbs bumps and noise well, and the seats are snug. As well as petrol and diesel options, there's a smooth all-electric one. It's more expensive on the monthly payments but cheaper to run, so ownership cost roughly balances.
The spec: GT Line 1.5L BlueHDI 100
Engine: 1499cc 4cyl diesel, FWD, six-speed manual
Power & torque: 102hp, 250Nm
0-62mph: 11.4 seconds
Top speed: 115mph
Fuel economy: 54.4-62.7mpg (WLTP)
CO2: 96g/km
Price: £26,500 (range starts at £20,150)
---
Supermini: Vauxhall Corsa
You've likely driven a Corsa, if only as a learner or renter. The new generation is less rounded in silhouette than of old, but a much more rounded car overall. Vauxhall is now owned by Peugeot, so this Corsa is related to the new 208. But you wouldn't know. It has a more conservative design and interior, set off with a less flamboyant but more easily mastered layout for its instruments and controls. And it affords a more mature and considered way of going down the road. It feels bumps but isn't knocked about by them and stays stable in faster driving. Although it drives like a bigger car, the new Corsa is relatively compact for a supermini, which means it's not that roomy in the back, but on the other hand is easily parked and economical.
The spec: SRI 1.2 Turbo
Engine: 1199cc 3cyl petrol, FWD, six-speed manual
Power & torque: 100hp, 205Nm
0-62mph: 9.3 seconds
Top speed: 121mph
Fuel economy: 47.9-52.3mpg (WLTP)
CO2: 96g/km
Price: £18,700 (range starts at £15,750)
---
Family: Land Rover Discovery Sport
Hasn't this been around for years? On the face of it, yes. But while Land Rover has retained the external panels, it's diligently changed almost all of the underneath parts and the driver interface. Despite the name, this is not a sporty vehicle, but it now steers neatly, rides smoothly and accelerates quietly – if not, in the case of the D180 SE tested, quickly. It remains as indefatigable as a hippo in the face of mud or rocks, and easily tows big trailers or caravans. The backlash against 4x4s is rooted in reality, but at least this one can share each litre of fuel among five adults plus two children, or among fewer people and a huge load. It has an amazingly versatile interior full of useful storage and thoughtful everyday design.
The spec: D180 SE
Engine: 1999cc 4cyl diesel, 4WD, nine-speed auto
Power & torque: 180hp, 430Nm
0-62mph: 10.1 seconds
Top speed: 125mph
Fuel economy: 38.0-40.9mpg (WLTP)
CO2: 155g/km
Price: £43,175 (range starts at £31,575)
---
New car discounts with Griffin
If you're thinking of buying a new car, our partner Griffin has a range of exclusive offers for Boundless members. Go here to find out more.