A snowball's throw from the Swiss/French border and an hour's drive south-east from Geneva, you'll find the cosy little ski resort of Samoëns (pronounced 'Sa-mwah').
Located in the Grand Massif, one of France's largest linked ski areas, Samoëns has got used to neighbouring areas like Les Trois Vallées (including celebrity-favourite Courchevel) hogging the limelight, but maybe it's time that changed.
Yes, compared to the super-resorts criss-crossed by hundreds of runs, Samoëns is the baby of the pack, but this compact resort has much to offer, not least outstanding views of the legendary 4810m Mont Blanc, a historic village with a lovely story to tell, and a ski experience to keep the whole family happy, as we discovered on a recent visit.
With a new 1100-room capacity Club Med Hotel set to open its doors at the end of 2017, the slopes here will soon be a lot busier but, mercifully, the resort attracts a refreshingly bling-free (and chilled après-ski) crowd.
Here's our pick of five things to do if you visit.
---
1. Snow business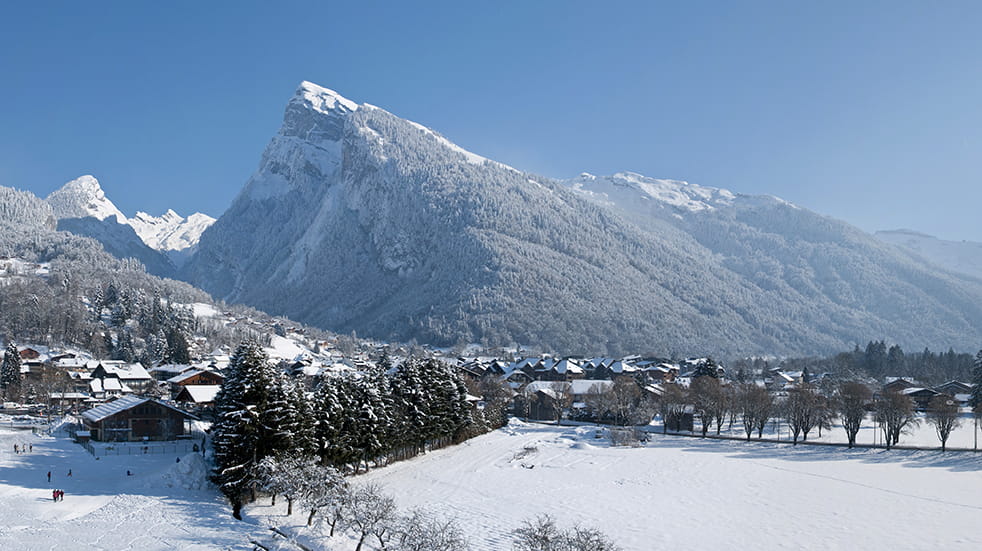 Chances are pretty slim of a disaster-movie-style-super-snow-storm blitzing the UK, but if you wanted to prepare, you know, just in case, Samoëns offers more white-stuff activities than you can shake a ski stick at.
The Grand Massif area in the French Alps boasts 144 ski runs today and winter tourism first developed here around 100 years ago, when locals started to replace the clunky planks fixed to their feet with the new-fangled skis that had carved their way from Norway, created by artisans in Telemark.
Around 25,000 snow lovers descend on the resort during the winter season: a particular draw is the resort's extensive nursery slope area, featuring a snow garden, lift access and no tricksy stairs to climb, so children and adult newbies can enjoy a serene start (hopefully) while they find their ski legs.
The family-orientated resort, located in the Giffre valley, and surrounded by seven dramatic mountain peaks (including the totemic Creyeux, the 2210m 'high crest' that keeps a protective watch over the valley) also links to other resorts, including Flaine, which offers plenty of red and black runs for the more advanced skiers in the group.
---
2. Wheelies in the mountains
If you can imagine a snow-bound activity – however outlandish it might seem – chances are you can do it in Samoëns.
Take E-Fat biking. This is essentially mountain biking with the chunkiest, fattest wheels and an electric motor to deliver extra 'oomph' to get up the snowy slopes.
We took a whirl with start-up company Mountain Spirit (mountainspirit-sports.com) and followed daredevil co-owner Bertrand on an atmospheric night ride between Samoëns to nearby Morrillon.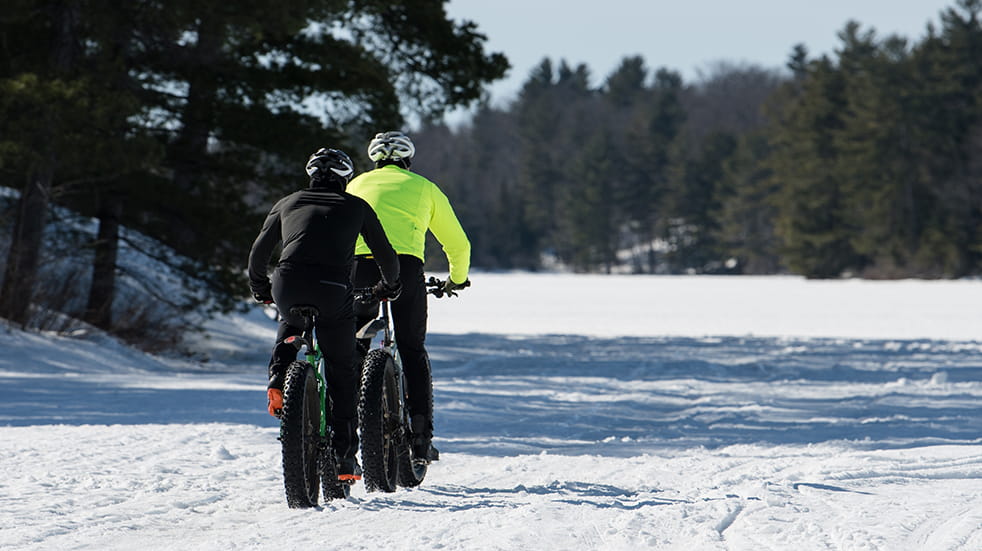 Once you get the hang of the different speeds – ranging from gentle 'Eco' to what-it-says-on-the-tin Turbo –it's a LOT of fun and a beautiful way to take in the landscape from a different perspective.
Following the frozen Giffre river, our headlights illuminating patches of winter-wonderland forest, no sound save for the snow squeaking under the weight of the bike's tyres and the cracking of ice, was a memorable experience. We gave the optional pit stop for hot, spiced red wine a miss, for fear of swerving into the river, but thought the 49 Euro ticket price very reasonable for such an adventure.
---
3. And breathe…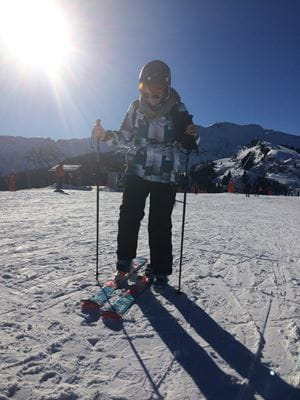 Afghan walking is a style of movement that's been around for centuries: Nomadic tribes on Afghanistan's high plateaux first perfected the technique to help them cover huge distances at high altitudes without becoming fatigued.
Over the years, this once essential life skill has mellowed into a kind of mobile meditation, as our passionate guide Claire Philipczyk explained when she shared knowledge gleaned from eight years of practice with our group.
After strapping on plastic snowshoes (tip: don't try and walk backwards without fully lifting up your heels), we started our ascent. Breathing gets shallower and harder at altitude; a fact that's easy to forget with Mont Blanc and her hypnotic beauty on the horizon, quickening the excited walker's pace.
It's all about moving with less effort and yoga devotees might get the hang of it more quickly as it uses the same breathe-through-the-nose technique, in different combinations, to suit the terrain. So 3-1-3-1 for steep stretches (3 breathes in, 1 out) and 6-6-2 for flat and downhill stretches. And it works: released from worrying about gasping for the next breath frees you to truly appreciate the glorious 360 degree beauty.
(Pictured: Rachel gets to grips with her skis)

---
4. Food, glorious (mountain) food
Little-known fact: calories consumed 1000m above sea level don't count*. And it's just as well because the hearty Savoyard fare served up in the Haute-Savoie region favours ingredients including cheese, cream and cured meats, plus plenty of bread.
Tiny, homely Fandioleuse restaurant (on Chemin de la Cour) in the heart of Samoëns village is where to head to for a local speciality, Soupe Châtrée. Its rough translation as 'castrated soup' is a reference to the thick crust of Tomme cheese and baguette that is shattered to reach the delicious oozy, unctuous oniony and wine-infused liquid underneath.
Another speciality is Grolle, a drink passed around in a multi-spouted ornate wooden bowl at the end of the meal. The fuzzy feelings created by the warmed, spiced Grand Marnier, coffee and Grapa mix soon explains why it's known as a friendship coffee...
*Until you get home.
---
5. Meet the oldest resident
Planted in 1438 in the village square, the lime Tree – Le Gros Tilleul – is Samoëns' most ancient tenant and also signifies the beginning of democracy here, so is regarded with much affection by the locals.
They're also justifiably proud of their 'frahan' history: the world-famous stonemasons who worked during the 17th century, making use of the countless surrounding limestone quarries and who were commissioned to work on some of the greatest projects of the period, including Napoleon's canals at Saint Quentin.
The industry has long since died out, though the fruits of their labour can be seen in many of Samoens' beautiful buildings, and the brotherhood they formed, La Société des Maçons – originally as a philanthropic organisation – still lives on today, hosting tours throughout the year.
---
For more information on Samoëns, visit
www.samoens.com
or call the Office de Tourisme de Samoëns, +33 (0) 4 50 34 40 28
---