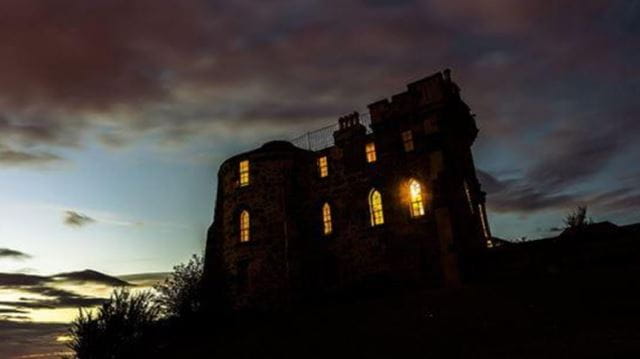 Looking for haunted places to visit? Thanks to its long and bloody history, the UK is a world-class spot for spooks. From Cornwall to Scotland, you're never far from a haunted house. Or a haunted castle. Or a haunted village.
Whether you're fascinated by the paranormal, curious about history, or just looking for some thrills and chills on your next weekend away, there's nothing like a ghost story to liven up your break. Many spooky places get an extra-monstrous makeover at Halloween, but you can enjoy macabre goings-on all year round.

Here's our rundown of some of the most ghoulish getaways in the UK, including historic properties to visit, cities to explore, and (gulp) haunted hotels to stay in. And remember, Boundless members can save up to 57% on admission tickets to theme parks, attractions, zoos, aquariums and destination days out – find out more about joining.
---
Haunted places in London & the South East

Hampton Court Palace, Surrey
The blood-curdling screams of Catherine Howard, the mournful spectre of Jane Seymour... if you believe the legends, Hampton Court Palace (above) still bears the scars of its tragic Tudor past. In the 1500s, Henry VIII's Richmond 'pleasure palace' was his royal epicentre; a court of exuberance, extravagance – and execution. Its 'Haunted Gallery' is so-called because the shrieks of Henry's fifth wife, Catherine Howard, have reportedly been heard there. Meanwhile Jane Seymour, his third wife, has been sighted on the Silverstick Stairs – which led to the room where she died. Of course, it wouldn't be a haunted house without a Grey Lady: that's Sybil Penn, Edward VI's nurse, whose nearby tomb was disturbed in the 1800s. With a fertile imagination, Hampton Court is thrilling at all times of the year, but Halloween brings an extra frisson – such as after-dark tours and fireside ghost stories.
Pluckley, Kent
The quaint and peaceful village of Pluckley in Kent has a reputation for being the most haunted village in Britain, even holding its own Guinness World Record for having between 12 and 16 ghosts. These ethereal figures include a screaming man, who may have worked at the village brickworks and is said to have fallen to his death, and a highwayman stabbed with a sword and pinned to a tree at the aptly named Fright Corner. Other ghosts said to haunt the area are that of a schoolmaster found hanged by his pupils, and of an old woman who used to sit on a bridge, smoking her pipe, drinking gin and selling the watercress she'd gathered from the stream. She's reported to have burnt to death after accidently saturating herself in gin and setting herself alight with the pipe she smoked.
More haunted days out nearby…
London is unsurprisingly full of phantoms. Popular ghostly spots include Highgate Cemetery and the Tower of London (for obvious reasons), but many pubs also have creepy credentials, including The Spaniards Inn in Hampstead (with links to Dick Turpin) and the Ten Bells in Spitalfields (Jack the Ripper).
---
Haunted places in the South West & Wales

The Tudor House Hotel, Tewkesbury, Gloucestershire
Dating back to the 16th century, the Tudor House Hotel (above), overlooking the River Avon, is dripping with history, with oak beams, open fireplaces, an original priest's hole, a secret garden, and an oak door with axe marks from Oliver Cromwell's soldiers. It's claimed that a few spectres have appeared to visitors over the years. A 'Grey Lady' is said to walk the corridors, vanishing upon reaching a doorway. She's believed to be the ghost of a maid who once worked here and who, after cruel treatment by her mistress, leapt from a window and plunged to her death in the garden below. Reports also suggest that the hotel is frequented by a drummer boy, who's awoken many a guest in the middle of the night with his loud kettle drumming.
Tintagel, Cornwall
Tintagel village, on North Cornwall's rugged Atlantic coast, is well located for aspiring wizards wanting to visit the magical Merlin's Cave, found just below Tintagel Castle. Legend has it that the wizard Merlin – said to have inhabited the cave – found a baby King Arthur washed ashore there. There are many holiday cottages and B&Bs catering for weekend guests.
Wookey Hole Caves and Glastonbury Tor
The historic village of Wookey Hole in Somerset is an option for holidaymakers seeking a mystical break. Guests can visit the ancient limestone Wookey Hole Caves, which date back over 50,000 years, and take part in a number of Halloween activities, such as meeting the legendary Witch of Wookey. Further afield, guests can visit the ancient spiritual site of Glastonbury Tor. The Tor's maze pattern, similar to Cretan labyrinths, was created for ritual purposes long before the Druids are said to have used it in their rites and initiation ceremonies, and the Tor today is variously called a magic mountain, a faeries glass hill and 'Grail Castle', among other terms.
Craig-Y-Nos Castle, Powys, Wales
Maybe it's the shared anticipation, but there's something strangely bonding about ghost hunting. So, for your next evening out, look to South Wales's Craig-Y-Nos Castle, where Victorian Gothic grandeur sets the scene for an all-night paranormal investigation. You're in for a busy evening: it once served as a tuberculosis hospital whose ill-fated patients are now rumoured to roam the corridors, while the spectre of a former owner lingers in the basement theatre. The experience caters for private groups, and blends 'scientific and spiritual' experiments until 3am – with a two-course dinner, comfortable bedrooms and a cooked breakfast to shake off the spirit world.
More haunted days out nearby
In Devon, both Buckland Abbey and Berry Pomeroy Castle are believed to harbour ancestral spirits – as is Dunster Castle in Somerset. The National Trust's Dinefwr in Carmarthenshire is a suitably Gothic pile with a lively past. In the pretty Cotswold town of Wotton-under-Edge, The Ancient Ram Inn is a former hostelry and ghost hunters' favourite that's acquired a reputation as 'the most haunted building in England'.
---
Haunted places in the Midlands and the East of England

Warwick Castle
The ghostly past of Warwick Castle (above) is, in truth, a bit flimsy – 17th-century owner Sir Fulke Greville did meet a grisly end following a stabbing, but that was in London not at his imposing country seat. But it's easy to suspend your disbelief at Halloween, when the castle is decked in a tangle of cobwebs and pumpkins, with a live-action cast of (friendly) phantoms, zombies, warlocks and even a headless horseman. Interactive activities include potion making in the Witches' Den, storytelling and spells in the Spooky School, ghastly encounters in the dungeon and ghost hunting tours of the castle itself. Each attraction is rated ages 0-9, 10-12 and 12-plus, and there's a colour-coded map so you can avoid – or seek out – the scariest bits.
Coombe Abbey hotel, Warwickshire
Originally built as a Cistercian Abbey in the 12th century, Coombe Abbey has been restored to its former glory by its current owners. Set in 500 acres of parkland, overlooking formal gardens and a tranquil lake, it has seen many reports of paranormal goings-on, including a hooded monk believed to be the ghost of Abbott Geoffrey, who was brutally murdered in 1345 and who allegedly wanders the grounds. Footsteps along the cobbles, doors slamming shut and the feeling of not being alone in your room have seen some guests depart hurriedly in the middle of the night. There are reported sightings of a horseman riding near the lodge house, and a woman in Victorian dress riding a bike. Medieval banquets, murder-mystery weekends and Halloween events are all available.
The Maids Head Hotel, Norwich
With a history of hosting influential characters, such as Queen Elizabeth I, The Black Prince and Catherine of Aragon, it's hardly surprising that people claim to have seen some spooky sights at Norwich's Maid's Head Hotel over the years. A woman believed to be a former maid has been seen moving around the hotel silently, followed by the smell of musty lavender. The ghost of a man reckoned to be one of the former mayors of the city has also been seen in the courtyard of the hotel. Regular events include Halloween gatherings and murder-mystery nights.
Bull Hotel, Long Melford, Suffolk
Originally built in the mid-1400s, the Bull Hotel is your picture-perfect haunted house, with sagging timber beams, armour over the fireplace and Hogwarts-like candelabras illuminating the dining room. Legend has it that the spirit of yeoman farmer Richard Evered – who met a tragic end within the hotel's walls in 1648 – still roams its corridors. Evered was apparently involved in a political row that turned violent, and was stabbed and left in a hallway. When help arrived, his body had vanished without a trace. It's believed that his apparition now lingers as the Phantom of Room Four…
More haunted days out nearby
North Norfolk boasts scores of recorded ghostly sightings and haunted buildings. Anne Boleyn allegedly rides through the National Trust's Blickling Estate carrying her head; there's a phantom in the library at Felbrigg Hall; and the screaming ghost of a drowned cockler is rumoured to haunt the seaside village of Stiffkey. According to Visit North Norfolk, Blakeney Tunnels are home to long-legged spidery creatures called 'hyter sprites'; there's a she-wolf at Castle Rising, and a poltergeist has been seen at Sandringham. Yikes.
---
Haunted places in the North of England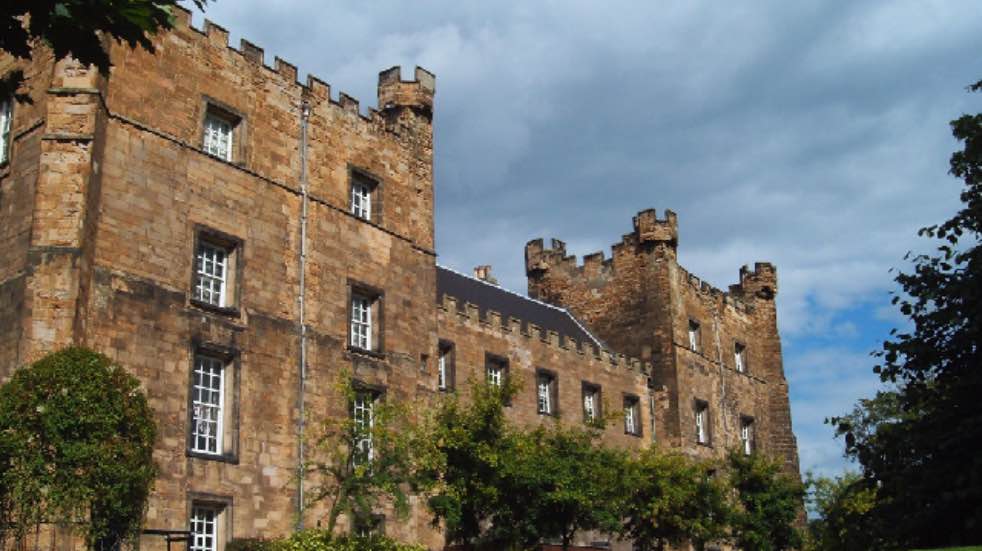 Lumley Castle, Durham
Standing proud for more than 600 years, Lumley Castle (above) dominates the County Durham landscape and is regarded as the most haunted place around. Of a number of ghosts, the most popular is Lady Lumley, who was apparently thrown down a well in the castle grounds by two priests. The castle was in the headlines for its alleged hauntings in 2005, when some of the Australian cricket team reported strange activity and refused to sleep on their own. One member of the team was so frightened, he fled the room and ran to the reception in his underwear. A mischievous spirit known as Black Jack also plays pranks on guests, like sliding glasses off the table and moving belongings, and there have been reports of children talking, screams and laughter originating from the top floor. Elizabethan banquets and murder-mystery weekends are regular events.
Whitby Abbey, Yorkshire
The skeleton of Yorkshire's Whitby Abbey looms over the town's harbour, its windows as empty as a skull's vacant stare. But peer closer and you might see the White Lady gazing out from those hollows, over the wizened old graves standing sentry below – a story and spectacle immortalised in Bram Stoker's Dracula. When the author visited Whitby in 1890, he was captivated by its crumbling Benedictine monastery, and even wrote down names from the cemetery to use in his novel. Around Halloween, Whitby Abbey's ruins are illuminated every evening, and it hosts a family-friendly treasure trail around Halloween. Braver souls can join the Whitby Ghost and Dracula Walk year-round.
York
If you love to meet the locals while travelling, you might think twice in York. Crowned the Most Haunted City in Europe by the International Ghost Research Foundation, its revenants include long-dead lovers, vengeful victims, as well as an entire battalion of Roman soldiers in its Treasurer's House. Among the log fires and craft ales of York's pubs, you might spy a spectre or two: The Golden Fleece Inn has 15 phantoms, while the Snickleway Inn boasts a basement poltergeist and a watchful child on its stairs. York's Theatre Royal is haunted by a lovesick nun, though she's considered a lucky charm for performers. Sign up for the nightly Ghost Trail of York – if you dare.
Throstle Hall, Lancashire
Stay in a cottage in the heart of 'witch country'. Pendleside is an area recognised mostly for the Pendle witch trials of 1612, which are among the most famous in English history. The 12 accused, who all lived in the area surrounding Pendle Hill, were charged with the murders of ten people by the use of witchcraft. Elsewhere, a 17th-century cottage, Throstle Hall, was unearthed a few years ago at the foot of the hill under a grass mound, complete with a sealed room and the remains of a cat skeleton bricked into the wall. Some believe it was buried alive to protect the cottage's inhabitants from evil spirits. Sweet dreams…
More haunted days out nearby
The unimprovably named Chillingham Castle in Northumberland is renowned for its intense paranormal activity, and offers popular nocturnal ghost tours. Samlesbury Hall in Lancashire is another favourite of TV ghost hunters, boasting spectres including a mournful White Lady and a history of witches.
---
Spooky places in Scotland & Northern Ireland

Mary King's Close, Edinburgh
Not so much haunted as eerily authentic, Mary King's Close is an entire neighbourhood hidden beneath Edinburgh's Royal Mile. The twisting labyrinth of streets and houses was concealed underground in the 18th century and used as the foundations for the city's Royal Exchange. Descending into this surreal, storied world is a real goose-pimple moment, especially given your company: the tours are led by costumed actors, who mix history with legends and laughs. Tales of true crimes and harsh living conditions abound – and then there's the child ghost of 'Annie', apparently a 17th-century plague victim. Her sad tale inspired one well-known psychic to buy her a doll because she was 'lonely'. It sparked a mass donation of dolls by well-wishing visitors – the sight of which is unnerving in itself.
Ballygally Castle Hotel, Antrim
On Ireland's Causeway Coast, the long-dead Lady Isabella Shaw apparently refuses to leave Ballygally Castle Hotel, placing a chilling twist on its otherwise warm hospitality. Dating back to the 17th century, the castle features a dramatic turret (now known as The Ghost Room) – from which the tormented lady of the house reportedly fell to her death. Sightings of her and other nocturnal miscreants have continued through the years.
More haunted days out nearby
Springhill in County Londonderry is a pretty, 17th-century house that's said to be home to several friendly apparitions, with stories of encounters with former inhabitants adding an intriguing layer to the property's rich history. Meanwhile, Scotland's battlefields exude a mournful beauty and palpable sense of history – try visiting the sites of slaughter at Glencoe or Culloden without feeling a chill wind at your neck…
---
Do more with Boundless
Boundless members get access to year-round deals on holidays, short breaks and days out. If you're working or retired from the public sector or civil service and not yet a member, discover more about Boundless membership here.