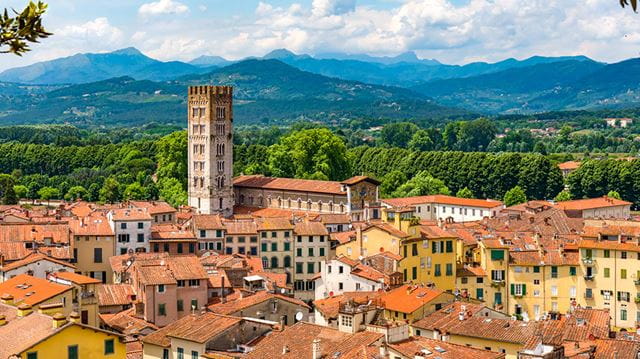 Holiday hotspots and bucket-list destinations may come and go, but the timeless appeal of Tuscany remains an all-year-round favourite.
Chianti and Siena are packed in summer, but the pace of life in autumn relaxes and the golden countryside opens out into panoramic vistas of vineyards, olive groves, valleys and hills, all dotted with medieval settlements. It's a perfect time to visit the region; here are some of the best reasons why.
See the (smaller) sights of Tuscany
Along with unmissable towns like Siena, San Gimignano and Greve, the provinces of Siena and Chianti are filled with picturesque towns and villages that, strung together, make for some great road trips. Etruscan settlements like Castellina tell fascinating stories, the imposing fortifications bearing witness to the town's historic role as a bastion of Florentine dominion in the 15th and 16th centuries, and the archaeological museum contextualising the history of the region absorbingly.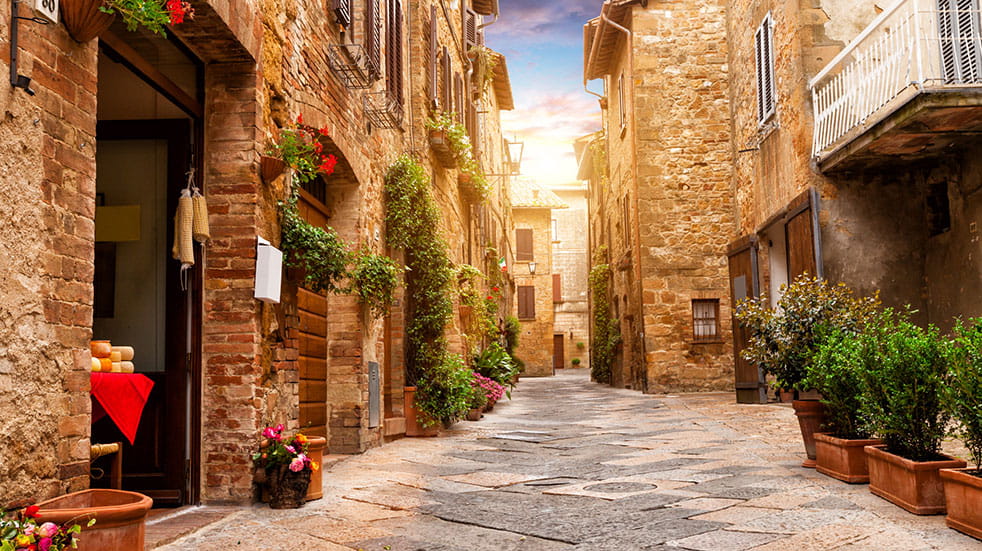 One of the most unsung towns to visit is 15th-century Pienza.
From Piazza Pio II's decorative themes and the tufa stone Duomo to the delightful hanging garden of the papal residence Palazzo Piccolomini and an arresting art collection at the Museo Diocesano, Pienza is a real beauty. And hilltop Monteriggioni, with its imposing 13th-century castle offering spectacular views across the lovely Colle Val d'Elsa, shouldn't be missed either.
---
Discover more of our expert travel advice
Five ideas for an autumn break in Spain
The quieter side of the Costa del Sol
Five short breaks in Europe's most beautiful gardens
Discover the European Art of Taste
Tuscan cuisine and the wines of Chianti are lauded as some of the best in Italy, where the raffia-wrapped Chianti wine bottle helped establish the wine long before the term 'wine buff' was invented. The initiative EAT – European Art of Taste – is promoting some of the best DOP (Designation of Origin) products in the province, including of course Chianti Classico olive oil and wine, and salumi and cheeses such as prosciutto and Pecorino.
Stand-out places to try and buy the latter include the Prosciuttificio Gozzi in Serre di Rapolano and Caseificio SOLP in Pienza, where the DOP produce is joined by regional specialities like milza, a pungent pâté made from spleen, herbs, spices and wine. It's better than it sounds, trust us. For liquid pleasures, Tenuta di Lilliano in Castellina and Felsina in Castelnuovo Berardenga, with their focus on Chianti Classico wine and rich, peppery olive oil, add reasons to visit the lovely nearby towns.
And throughout the region, markets are stuffed with autumnal goodies; Greve's monthly Pagliaio organic farmers' market on Piazza Matteotti is one of the biggest and best, and the town is also home to the fascinating Wine Museum. In Rapolano, the Grange Museum, dedicated to the region's farming and olive oil production, is equally absorbing.
Take a hike through the Tuscan hills
With cooler days, hiking in the hills and valleys of Tuscany is one of its most pleasurable activities – and it can be as strenuous or as easy as you want. Chianti's high uplands climb to an impressive 900m at Monte San Michele, the tallest peak. The range of marked trails available in the region covers everything from hikes of a few hours to a few days, and will usually bring you into contact with a beguiling mix of villages, castles and ancient roads dotted among the picture-postcard swathe of natural beauty spots.
The Radda Circuit and lengthier Lecchi Circuit in Chianti are just two of the satisfying walks that offer such mixes. But perhaps the best place to head is the lovely Monteriggioni, where 18 marked hikes form a circle between Colle di Val D'Elsa in the north and Siena in the south.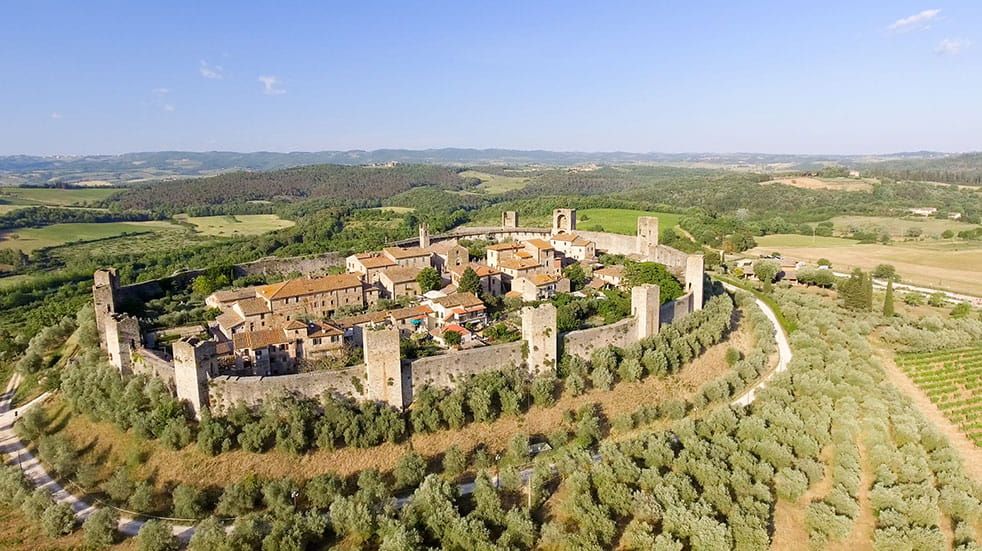 Hilltop Monteriggioni, with its imposing 13th-century castle, offers spectacular views.
Tuscany's thermal springs and spas
Sightseeing, wine-tasting and hiking aren't just some of Tuscany's treats; there are thermal springs and baths all over the province, most famously at the Terme di Saturnia and around the Montecatini Terme. Discovered back in 1387, the town's therapeutic waters became popular with ailing Tuscan grand dukes in the late 18th century.
Now, with the new wave of interest in alternative therapies, they're hot property once more. In Siena, the scene is smaller but quieter; at Terme Antica Querciolaia in Rapolano Terme, old and new are sensitively blended together to create first-class treatments in a gorgeous thermal spa. It includes milky pools contained in local white travertine stone baths that so impressed Garibaldi in the 19th century that he wrote 'I think I will remain here for a few days'.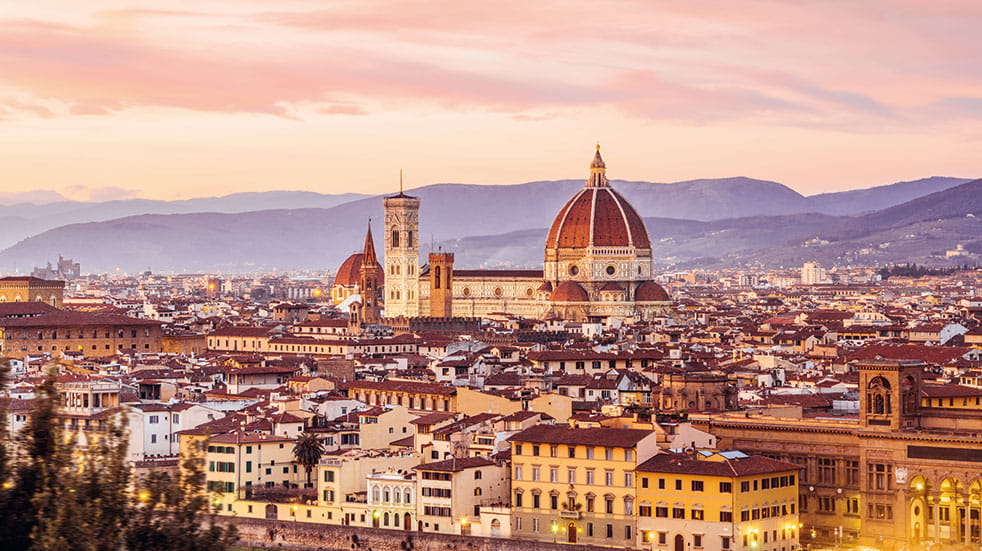 Admire the art and culture in the city of Florence, the capital of Tuscany.
Explore Tuscany with Travelsphere
The Treasures of Florence & Tuscany Travelsphere tour includes return flights from Heathrow, and has departures between April and October 2020.
Prices start from £873 per person, for 7 nights in a 4-star hotel. 15 meals are included (seven breakfasts, one light lunch, seven dinners and a welcome drink), with local food and wine tasting at Verrazzano Castle and the services of a Travelsphere Tour Manager and Specialist Guide. Overseas transfers, other transportation and porterage are included.
Highlights include:
Visit to the Leaning Tower of Pisa and Leonardo Da Vinci museum
Tour of medieval Lucca
Trip to the 'art city' of Florence
Night at Montecatini Opera Festival (subject to timetable and weather)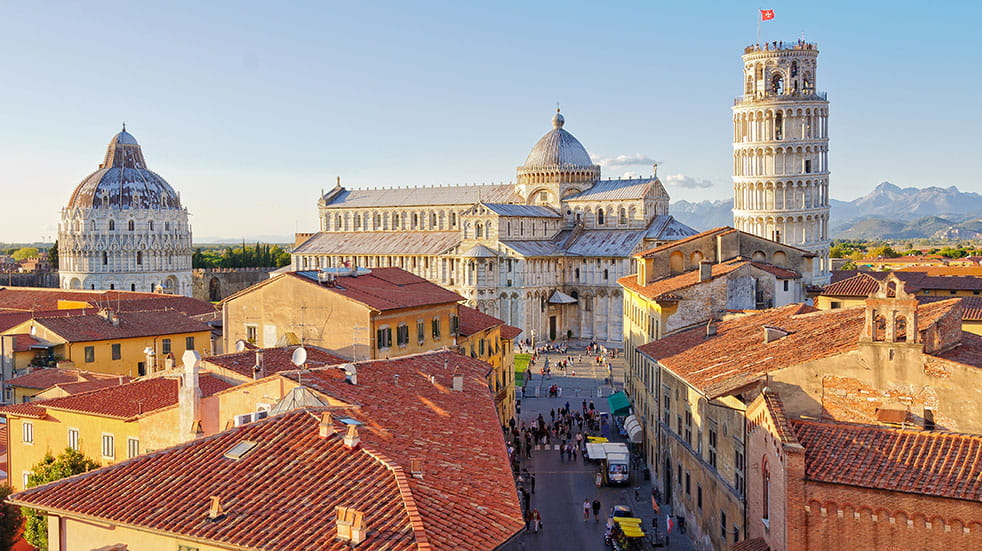 Explore Pisa with its famous leaning tower.