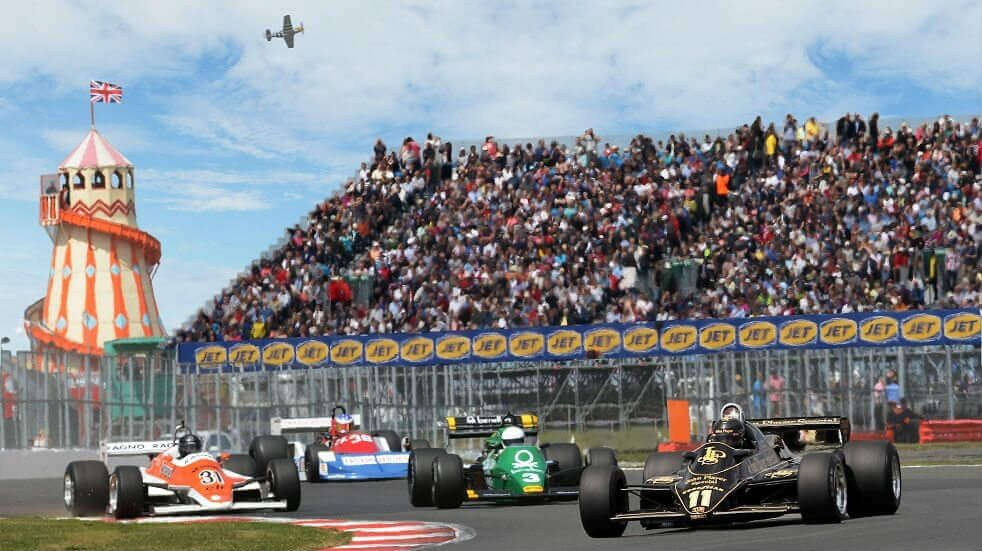 7.30am Friday 20 July to 6pm Sunday 22 July 2018
The Classic Vehicle Group and the Motorsports Group are once again planning to have a display area at this huge event which, in addition to racing, features live music, funfair, static displays, track parades and much more! We will again join forces with our Motorsports and Motorcycling groups to enable their members to be able to take advantage of the popular Car Club Package at this year's event.

This includes two adult general admission Event Tickets and an Infield Vehicle Display Pass, allowing you to display your vehicle within our own club display area. To take advantage of this offer, please download and complete the event registration form with your vehicle details (Form to be available on the website shortly), or, contact Dave Rosher directly. Once we have received your completed form, you will be sent the dedicated booking code which will enable you to buy discounted tickets and obtain the necessary infield pass directly from Silverstone (booking fee may apply).

Apply before 31 December 2017 and you will be eligible for the "Super Earlybird" discount at 2017 prices.

Apply before 31 March 2018 to be eligible for normal "Earlybird" discount.

** Final date for all car club applications to Silverstone is 31 May 2018 **
Click here>> To find out more about the event and how to get your "Earlybird" discount.

Price

Super Early Bird Car Club Display Packages
Prices are held at the 2017 level and are available until 31 December 2017
Friday - £43
Saturday - £71
Sunday - £60
2-Day Fri/Sat - £82
2-Day Sat/Sun - £94
3-Day Weekend - £99

Early Bird Car Club Display Packages
Available 1 January until 31 March 2018
Friday - £45
Saturday - £74
Sunday - £62
2-Day Fri/Sat - £92
2-Day Sat/Sun - £101
3-Day Weekend - £102

Standard Car Club Display Packages
Available 1 April until 31 May 2018
Friday - £52
Saturday - £78
Sunday - £67
2-Day Fri/Sat - £102
2-Day Sat/Sun - £112
3-Day Weekend - £120

Camping is available at Silverstone Woodlands campsite, within walking distance of Gate 15, just south of Club Corner.
Mains showers and toilets are provided in purpose built buildings, and other on-site facilities include a general store and the "Petrol Head" pub. Electrical hook up is also available to purchase. Camping tickets can be purchased at the same time as Event Tickets. Sleeping or camping inside the circuit venue is not permitted. For more information visit www.silverstoneclassic.com/camping
Silverstone Circuit, Towcester, Northants, NN12 8TN
Please log in to see contact details and entry form.
Not a member? Join today and save items for later.
Interested?
Use the link below and the event organiser will receive your contact details.