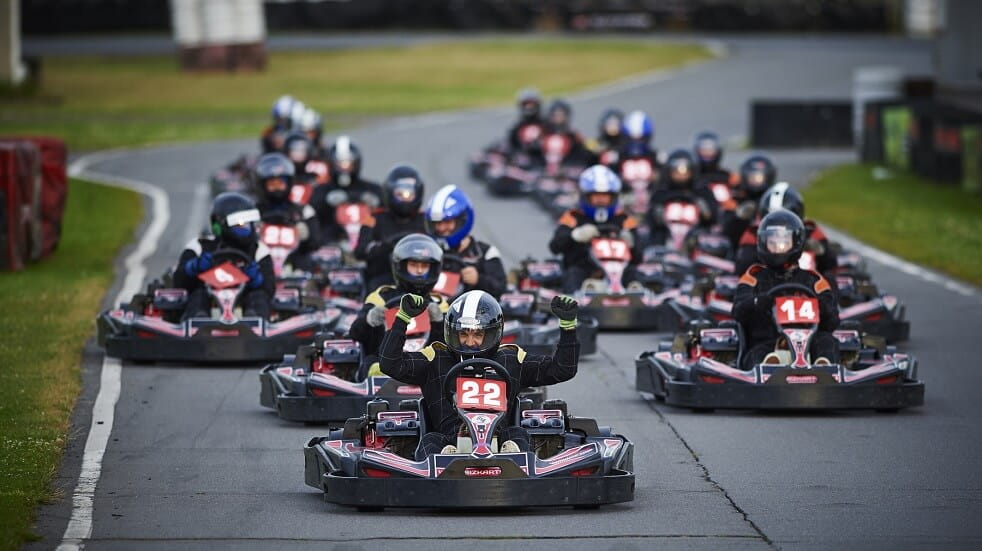 8.30am to 5.30pm, Monday 11 October 2021
Boundless Karting would like to welcome you to a morning and an afternoon karting event.
There are run as separate events this year and there will be no 2021 London Karting Championship due to the Covid-19 pandemic.
The Event is open to all Boundless and CSSC Members and their families and guests. All levels of experience are catered for so whether you are a beginner or a seasoned veteran you will find a challenge out there on the track.

At Rye House Raceway you can experience the thrills of driving on the 1000m International circuit where Lewis Hamilton and Jenson Button learnt their craft before becoming Formula 1 Drivers

Event Summary
Drivers: Minimum age 16: Drivers aged below 18 will need their parents or Guardians to sign the indemnity form at the circuit and be present at all times on the day.
Refreshments are available
Unfortunately spectators are currently not allowed to attend due to Covid-19 restrictions.

Event Reception
Drivers need to arrive by 8.30 am for a 9 am start
On arrival all Drivers and guests should report to the Event Organiser. Drivers will then be directed to 'Signing On' where they will 'be kitted out (free of charge) with racing overalls, a helmet and gloves (you may bring your own if you wish but they must be approved by the Circuit). Please wear comfortable and suitable clothing for the weather. Don't wear anything that would upset you if it became damaged or mucky, simple jeans and a T-shirt would be fine. If you do not have proper racing shoes then trainers are the next best thing and remember you will not be allowed to race in any footwear with open toes or heels.

Following reception it's off for a full Safety Briefing which all Drivers must attend.

Event Format : A series of Morning and afternoon Sprints.

After the safety briefing Drivers will be split into two Groups for a Practice/Qualifying session each. After the qualifying sessions each group will have 3 x 10 minute race which will determine which final race they will be in. Each group will then have a 20 minute final race giving each driver a total circuit time of 65 Minutes driving in the morning session. The afternoon will follow a similar pattern.

Trophies will be provided for the top three drivers in both the morning and afternoon event.
Please enjoy your days karting at Rye House circuit but please remember that all drivers must be free of alcohol, illegal substances or prescription medication.

Booking : Entry Forms can be obtained from emailing us or our Boundless web page. The entry form shows the various methods of payment.
Alternatively you can use our new Online Entry System by using this link which is currently being used in parallel with our old entry forms.
Price
The entry form shows the various methods of payment. As this is an all day event the entry fee is £100 for Members and £110 for Guests.

Check out our Facebook page.
Entries : Please send all completed Entry Forms to our email.
If paying directly into the Karting Group bank account then enter the first three letters of your Surname /Rye for reference on the payment form.
Rye House Raceway, Rye Road, Hoddesden, Herts, EN11 0EH
Please log in to see contact details.
Not a member? Join today and save items for later.
Interested?
If you'd like to attend this event please log in and use the button below to send the organiser your details.