Boundless magazine - Jan/Feb 20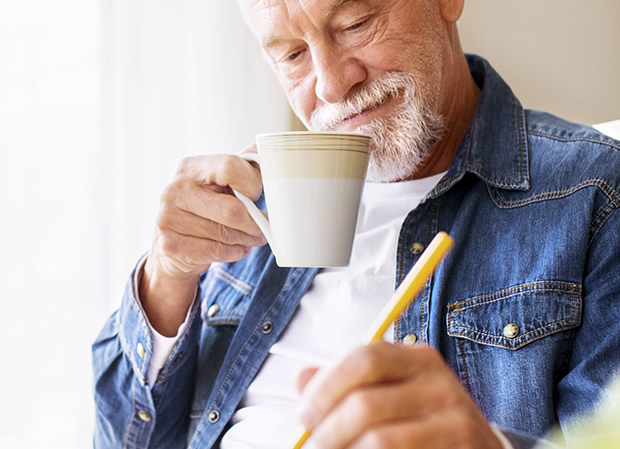 Answers
Crossword solution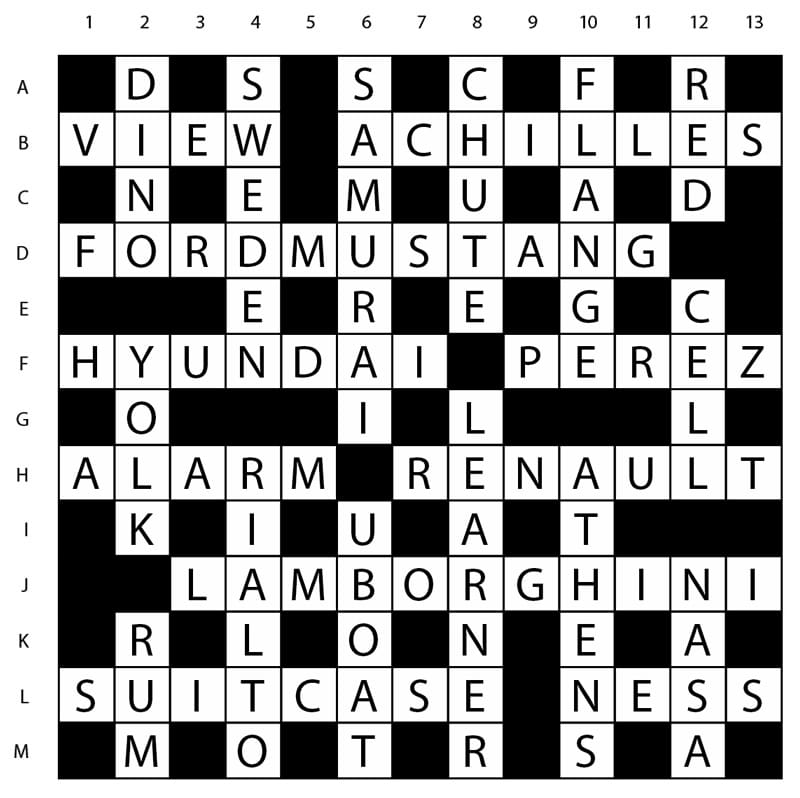 Across
| | |
| --- | --- |
| 7 | Panorama, or opinion (4) |
| 8 | Greek hero of the Trojan War (8) |
| 9 | Iconic US sports star (4,7) |
| 11 | South Korean car manufacturer that created the Tucson and the Tourer (7) |
| 13 | Sergio - - -, Mexican Formula 1 racer who drives for Racing Point (5) |
| 15 | Warning bell (5) |
| 17 | French car manufacturer inspired by the muses Clio and Thalia (7) |
| 20 | Italian manufacturer of high performance sports cars (11) |
| 23 | Travel bag (8) |
| 24 | Deep freshwater loch, the largest lake, in terms of volume, in the UK (4) |
Down
| | |
| --- | --- |
| 1 | Name shared by the Flintstones' pet and a Ferrari car (4) |
| 2 | Country associated with Saab and Volvo (6) |
| 3 | Professional warrior of Japan (7) |
| 4 | Sloping channel or slide (5) |
| 5 | Projecting rim on a train wheel (6) |
| 6 & 22D | Racehorse that won the Grand National three times and finished second twice (3,3) |
| 10 | Microscopic unit of an organism containing a nucleus (4) |
| 12 | Yellow part of an egg (4) |
| 14 | New driver (7) |
| 16 | Oldest bridge across the canal in Venice (6) |
| 18 | City that is the site of the Acropolis and the Agora (6) |
| 19 | Military submarine (1-4) |
| 21 | Agency responsible for the US space program (initials) (4) |
| 22 | See 6D |
Sudoku solution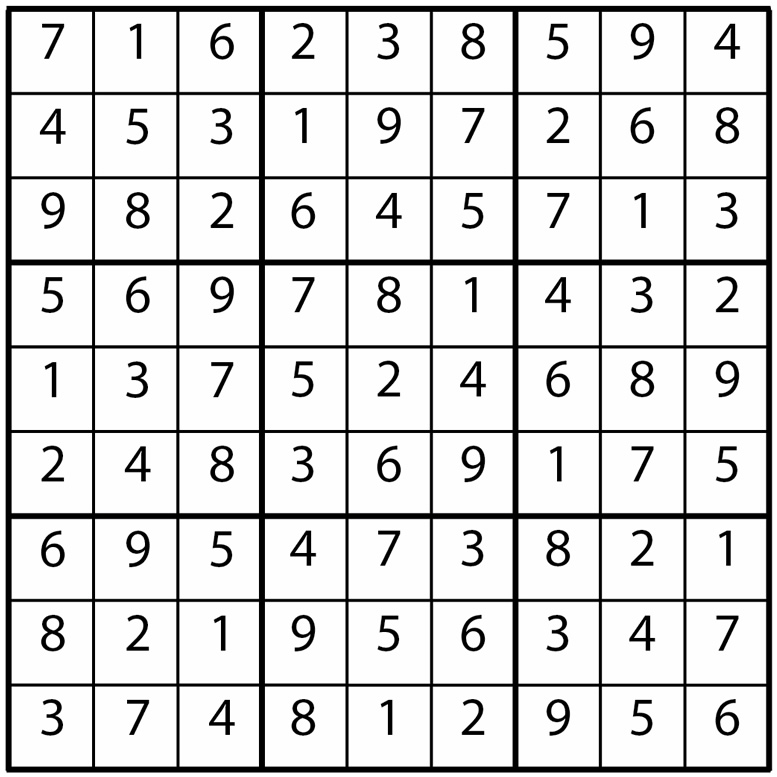 Word Wheel
How many words can you make using the letters in the word wheel?
Words must be four letters or more, each word must contain the central letter E. Plurals and proper nouns are not allowed. There is at least one nine-letter word.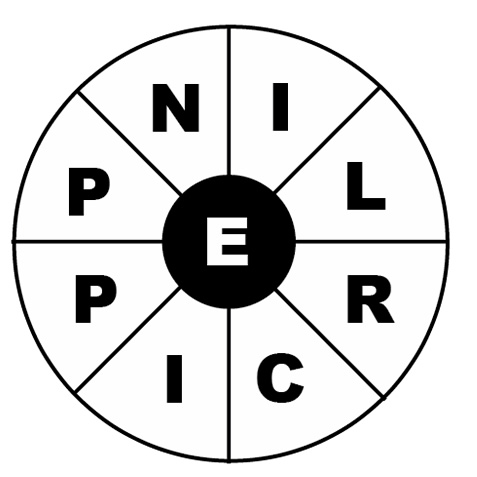 Solutions
Good Score: 13+
Excellent: 20+
9 letter word: Principle

Other words that can be found:
Ceil, cine, cire, cline, clipper, clippie, cripple, epic, icier, inlier, irenic, lien, lier, line, liner, linier, lipe, lippen, lippier, nice, nicer, nipper, nippier, nipple, pencil, penicil, peri, peril, pern, pier, pile, pincer, pine, pinier, pipe, piper, pipier, plie, plier, prep, price, prince, principe, rein, relic, repin, rice, riel, rile, ripe, ripen, ripple.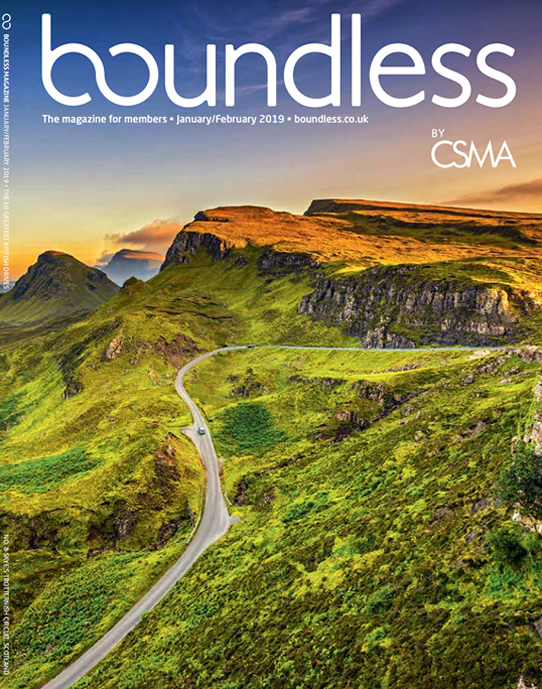 Boundless magazine
Previous quiz answers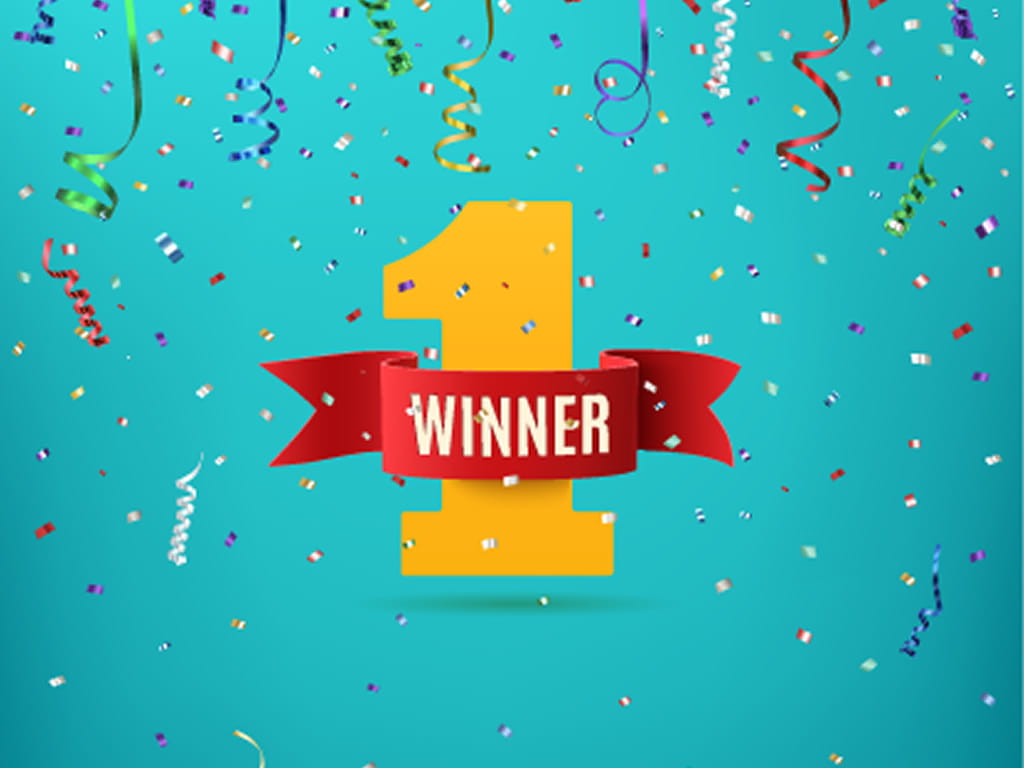 Competitions
From top tickets to books, gift cards to holidays, there's always a competition to enter so if you're feeling lucky, enter now!