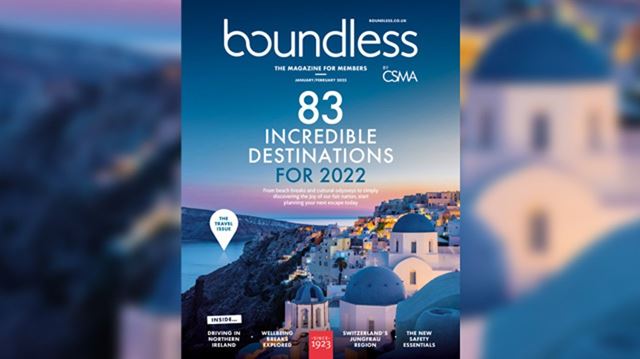 It's perhaps unwise to look ahead and attempt to predict how things will pan out. When I wrote the first draft of this letter, Bonfire Night was only just behind us and Christmas felt a mile off, but as we go to press the travel landscape is changing once more as a result of Covid. If some information in this issue seems out of date, please be assured that the magazine team has endeavoured to be as accurate as possible given the information available at the time. What we can be certain of is that by the time this reaches you, autumn will be a distant memory and you'll be turning your thoughts to 2022 – during which, hopefully, you'll be able to realise some of your Covid-thwarted dreams. Whatever happens, and whether your plans involve something wholly new and exciting or simply enjoying quality time with great friends and a good read, Boundless is here for you.
As with the last two new-year issues, we're focusing the entirety of this magazine on travel. We know that many of you are more mindful than ever of how your individual lifestyle choices can impact the wider environment so, with this in mind, we've featured a broad range of travel inspiration. This includes tantalising suggestions for UK breaks, a more eco-conscious trip to Switzerland's Jungfrau region, and advice about new travel essentials. Plus, is it actually possible to offset your carbon footprint? We find out.
And, lastly, a date for your diaries: we have already planned in the 2022 Boundless AGM, so please add Thursday 23 June to your calendars and join us at the The Clermont, Charing Cross to help shape your club. You can find more details on page 29. I look forward to seeing you there.
HEATHER GLANVILLE, ASSOCIATION CHAIR
Login and enjoy the read!