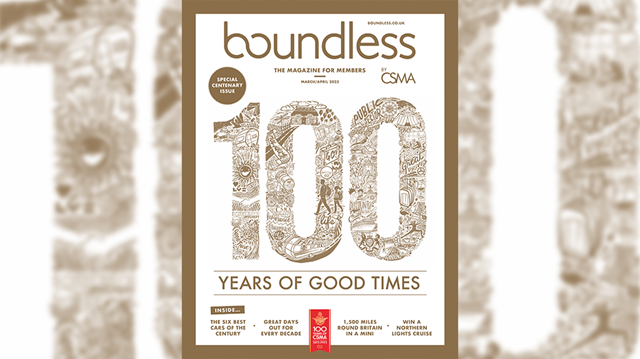 Picture this: there's a king on the throne, a Conservative prime minister in Downing Street and the world has not long recovered from a devastating pandemic. In other news, a pioneering club is offering its members unbeatable deals, inspiration and advice – helping them make the most of their free time. Welcome to 1923.
That club, of course, is Boundless – or rather, the CSMA as it was known back then. The Civil Service Motoring Association was founded by a group of car and motorcycle lovers in Whitehall to bring people together to share adventures in their free time. Since then, our club has evolved through social, political and digital revolutions, spreading out of London and embracing the whole public sector.
We are tremendously proud to share with you this special extended centenary issue, which celebrates our past – but also looks to the future. Our members' needs are changing all the time, and so are we. So, in this issue, you can walk back through our 100-year-timeline of club history (page 49), but also look forward to some brilliant days out with our Travels Through Time feature (page 85). You can reminisce about the best cars of yesteryear (page 122), or save money on tonight's supermarket shop (page 128).
Of course, a club is nothing without its members, and in this issue, you'll hear some of their stories. Some have been with us for decades – more than 75 years in one case – and have lived through a large part of our history. Whether you joined us years ago or just recently, thank you for being part of our community. Now, as ever, we are here to save you money, bring you ideas and advice, and help you share good times.
Happy 100th birthday, to all of us.
To view this latest edition of Boundless Magazine, please login.