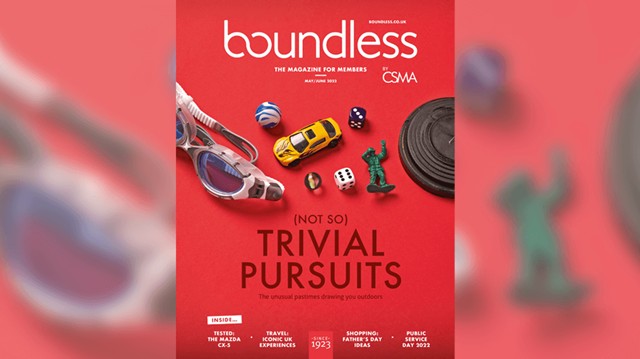 Here we are again, enjoying lighter evenings, milder days and the promise of another Public Service Day on 23 June, affording us an opportunity to recognise Britain's hardworking public sector. Last year's celebration culminated in a fantastic day of gratitude in honour of these essential workers. In our Now and then feature on page 62, we meet three pairs of public and civil servants – one former and one current – and hear how their experiences of similar roles compare and why they're so committed to serving our great nation.
Also in this issue, the magazine team puts the new Mazda CX-5 to the test on some winding Wiltshire roads, while natural history expert and broadcaster Gillian Burke introduces you to the joys of birdwatching in the latest instalment of Have a go at... Plus, you'll find Father's Day gift inspiration, great-value travel and the new telephone cloud explained in our Manual section.
Lastly, a gentle reminder that the Boundless AGM is also taking place on 23 June at The Clermont Charing Cross Hotel in London at 2:30pm. We look forward to welcoming you there.
Celebrating Public Service Day 23rd June
Celebrating the people who keep the nation moving every day
Public-service workers and civil servants work tirelessly – and often without recognition – to support communities around the country. From teachers to paramedics, and from council workers to the armed forces, we're proud to champion these extraordinary people and the importance of our vital public services. To commemorate Public Service Day 2022, we invited three pairs of former and present public-service workers and civil servants to share their inspirational stories.
Find this feature in our magazine and online at: Public Service Day: Celebrating two generations of extraordinary people
HEATHER GLANVILLE, ASSOCIATION CHAIR
Login and enjoy the read!