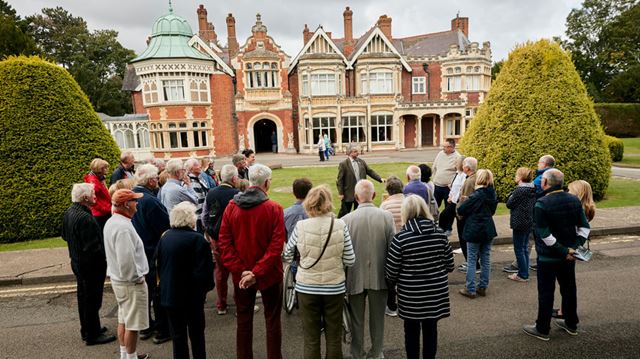 Edited versions of these letters feature in our January/February 2020 issue but are published here in full, along with replies where relevant.
If you'd like to contact us in response to any of these letters, or any other issue, you can email the Boundless magazine team at hello@boundlessmag.co.uk
Just what I needed in gloomy Jan
Thank you for sharing the delightful insights in your Jan/Feb issue, which offered ideas to reinvigorate and refocus after a seemingly endless festive period experienced amidst nondescript seasonal weather.
As a busy NHS nurse, I advocate self-care often, but forget about me and my family, so having read your issue I've just booked a short spring break and our annual school holiday camping trip. I now have things to look forward to and plans to make, all of which helps me pour from a full cup. Thank you for highlighting wellbeing in such a positive and constructive way.
Dawn Allen
---
Two sides of the coin
I thought the Navara (Nov/Dec issue) sounded quite a good vehicle. I drive a Land Rover Discovery Sport, which is reliable, comfortable and economical. It handles extremely well on country roads, is great off road, can happily wade through flooded roads (after checking depth!) and deep snow. Meeting the latest EU6 standards, its exhaust emissions and particulates are extremely low (as measured by MOT) and it can achieve 60+mpg on long journeys (if measuring from hot engine and straight into sixth). People shouldn't demonise all diesels when manufacturers have made significant progress in engine technology. Living in the remote parts of Cumbria it is a far more preferable vehicle to a small electric city car. In a measure of 'personal environmental impact', I bet we would probably have a better score than many people with small cars who live in cities.
Paul Ducksbury
---
David Cable (Your Views, Jan/Feb issue) is right to criticise the Navara article. The Financial Times recently reported that a third of new cars sold in Europe are SUVs. This is not because a third of families in Europe need 'extra room onboard' and for 'work and family life', to quote Dan Read. SUVs are the result of tax breaks. There are also exemptions from emissions and safety regulations. An emissions exemption by weight of vehicle means that manufacturers selling a higher proportion of SUVs have heavier fleets and can emit more CO2. In Germany in 2018, the car industry spent more on marketing SUVs than any other segment. It seems that SUVs like the Navara are the irresponsible choice of selfish road users and profitability for manufacturers.
A Duffin
---
Odometer observation
We've been travelling to the same place in central France two or three times a year for the past four years, taking exactly the same route and following the satnav. On each occasion the journey was about 412 miles – but last time it was 406 miles. Not very significant maybe, but there must have been a reason. The only difference to our previous trips was that just before we left the UK, I had new tyres fitted. Modern cars measure distance by counting the revolutions of the wheel and multiplying by a factor related to the diameter, and therefore the circumference, of the wheel. If the diameter is increased, even only very slightly from worn to new tread, more distance is travelled per wheel revolution and therefore fewer revolutions would be needed to travel a given distance. In conclusion, it seems that the odometer's accuracy depends on the condition of the tyres – worn tyres recording longer distances than new ones.
Mike Milchard
---
About your last issue...
The Jan/Feb issue of boundless inspired a few interesting thoughts. Regarding the Lone Ranger article (right): a big benefit of group travel is that skills and knowledge can be shared. There may be expertise in birds, animals, flora, history, foods, wine, etc. Also, there will be many more eyes to spot things of interest. In Where to Travel in 2020, Debbie Marshall observes that Guernsey has a slow pace of life. If you compare the islands of Guernsey and Coll off the west coast of Scotland, they have virtually the same land area. Guernsey has a population of around 63,000 and Coll's is about 200. Which has the slower pace of life?! And lastly, in regard to Jane Anderson's comments in the same feature: when visiting Braemar, do visit The Fife Arms hotel, which has recently been restored to a very high standard.
Bryce Reynard
---
Not the Vulcan again
When I worked at Boscombe Down in 1965, our house was under the take-off flight path of the Vulcan. Whilst I can appreciate the plane's beauty, my wife hates it because every time it took off, the house shook and – more importantly – our 17-month old son, a light sleeper at the best of times, awoke crying. Imagine her frustration, having just got him off to sleep and over comes the Vulcan.
Bob Nield
---
Griffin gets a thumbs-up
I've just taken ownership of a new car bought through Griffin. I am delighted with the car and the whole experience. The process was straightforward, the price great and they offered a most acceptable trade-in on my old car. The car was collected on the very day given when ordering several months ago. On collection there was a full handover and demo of all functions, a full tank of fuel and coffee. My grateful thanks to all.
Simon Porter
---
Ah yes, I remember Bob…
The letter from Robert Girvan reminiscing about his rallying days with his father, Bob (Jan/Feb issue), brought back vivid memories of the time Bob worked in North Staffordshire in the mid '60s. He had recently purchased a fairly old Morris Minor, which soon developed a familiar knocking sound (big ends). He had them replaced by a local garage, but on his way back from a weekend away, the knock returned. Bob rang our then Chairman, John Ritchie, seeking advice or help and John, myself (Secretary) and Alan Hughes (Treasurer) set out to tow Bob back to Stone from Craven Arms. The true spirit of the club kicked in and Bob's car was set upon by a small band of volunteers: engine stripped; crankshaft out and reground and new big end bearings fitted – and the old Minor was as good as new. Those were the days. I also remember competing against the Girvans in some Curtis Bennett Rallies, navigating for Alan H – they were stiff competition.
Roger Davis
---
The first of many…
In almost 40 years of membership, I had never been to one of the organised events available to members. However, I have broken my duck as my wife and I attended the AVRO Vulcan special event at Imperial War Museum Duxford last November. I am pleased to inform you that we had a lovely time. The organising team and all the staff involved deserve a big pat on the back for making the evening a great success. I'd be grateful if you'd pass on my thanks to those concerned. I am sure we will be attending many more events.
Robert Howell
---
No room at the Airbnb
Beverley Fearis thinks there is always room for one more Airbnb listing (Jan/Feb issue). No there isn't. I live in a small village in the Lake District National Park where there are about 30 properties listed on Airbnb and other sites. With only around 130 homes in the parish, how can this be sustainable? Of course, there have always been holiday homes in tourist areas and the rural economy is heavily dependent on the income from visitors, but online letting agencies have made the process of letting so easy that there is a danger of the vibrant small communities the tourists like to visit disappearing.
Neil Robson
---
A power of good?
This weekend, I'm being loaned a Hyundai Kona Electric (which has a lengthy waiting list) for three days by a local dealer. I'll be driving from my home in Burnley to Glasgow to visit my daughter and am advised that the Kona should make the 210-mile trip non-stop with plenty to spare. I've also obtained a Charge Place Scotland RFID card, which will allow me to charge the vehicle free in Scotland during the trip. I'll be keeping detailed notes as I am buying an electric car, but haven't made up my mind yet which car, due to availability, price etc. Watch this space.
Jim Dunlop

If you'd like to see how Jim got on, you can find out at boundless.co.uk/evtest where you'll find a Tesla review, too. Ed
---
In praise of Iceland
I thoroughly enjoyed the article on Iceland (Jan/Feb issue). I have happy memories of travelling there nearly 25 years ago with Discover the World's sister company Arctic Explorer. I'd urge anyone with a couple of weeks to spare to head out for the north of the country too. Highlights included skidoo rides on Vatnajökull, whale watching out of Húsavík, riding Icelandic horses at Ásbyrgi Canyon, experiencing 'Volcano Running' at Landmannalaugar, and watching birdlife around Lake Mývatn. Some things I vividly recall over and above the sights: even in August in the north, it was bitterly cold. Some of the fully equipped 4x4 vehicles the Scandinavians ship across for their annual touring trips cost more than an average three-bedroom house when you took in the modifications and survival gear packed in to them. The summer melt off the glaciers is enough to wash away even parts of the main coast road, so be flexible. Icelanders love moss. It seems to have a strange hold over them and makes even grown men poetically eulogise its colours and textures. A lot.
Martin Isaacs
---
Scottish standouts
More corking drives for you: Edinburgh to Moffat is terrific – once you've gone across the bypass that is. The A7 through the Scottish Borders is also an enjoyable drive from Edinburgh to Carlisle.
John Mullarky

Talk to us and win
Got an opinion or want to share a Boundless experience? You can write to the magazine by emailing hello@boundlessmag.co.uk or by post at Britannia House, 21 Station Street, Brighton BN1 4DE

Our star letter wins a mixed case of 12 bottles of wine
---
Thank you, Barrhead
We have just come back from a wonderful holiday in Madeira. We booked it through Barrhead Travel having seen their advert in Boundless magazine. They were excellent and all the arrangements went exactly to plan, so we were very pleased and would certainly use them again.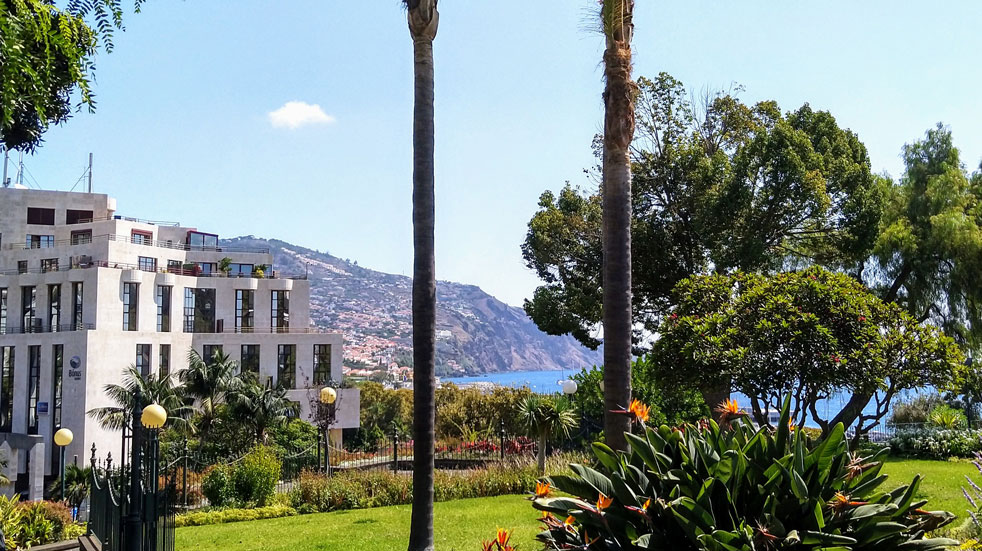 I am attaching a photo which I thought you might like to include in the photo page of the magazine. It was taken in Santa Catarina Park, in Funchal and shows what a lovely place Madeira is. The Bird of Paradise flowers are wonderful!
Iris Skilton
---
Fire escape
Further to Brian Young's letter about escaping a vehicle in the event of an emergency (Fire Escape Nov/Dec) I was always taught that the headrest should be used for this purpose and is the reason why there are points to the metal rods that go into the seat back.
Laura Thomas

We believe the official line is that while some headrests could possibly fulfil this purpose, that doesn't apply to all cars and isn't what they're there for. A specific emergency escape tool costs under £10.
---
More in relation to this month's letters
---
False advertising
Is it wise to ponder issues over which you have no control? For instance, why do heroes (and villains) in a certain space adventure franchise resort to sword-like weapons when technology states a quick blast with a laser side arm will do the trick?
Take SUVs. A recent television advertisement depicts an awakening car transporter driver who has missed the event of his SUV cargo nipping out overnight and making use of the local wooded area. The SUVs quietly take their place on the transporter as though no one is going to suspect as to what they have been up to. That perceived odd dent or scratch will be overlooked by the new owner, or so you hope.
If I was to part with £30k on a new vehicle and then proceeded to drive it through river beds, over rough terrain and any other appealing challenge, then expect the vehicle to escape damage from boulders, tree gouging, and whatever else is thrown at it, I think I would need a very good reason for doing so. Perhaps the urban challenge of avoiding potholes is my limit.
Rob Goodman
---
Long-forgotten memories
In the Nov/Dec issue, a couple of the articles activated some memory neurons.
First was the Vulcan bomber article: it revived memories of being in the Royal Naval Reserve at HMS Sussex in the early '70s, on an exercise in the North Sea with other RNR Minesweepers of the 10th MCM Squadron. Out of nowhere, a Vulcan appeared and passed very low overhead, making everyone on board duck their heads! What a noise and what a spectacle, it was certainly the highlight of that exercise.
Secondly, the article on Bletchley Park: I was a GPO apprentice in the late 60s and spent many informative weeks there during my three-year apprenticeship. I just wish I had been made aware at the time of what a crucial part the Park had played in WWII, so I could have found out about so much more of its fascinating history.
One other key memory of this great place was that I had the pleasure of watching the American moon landing on 20 July 1969 in Mansion House, crammed in with lots of other GPO trainees around a grainy old black and white TV.
Peter Brookshaw
---
Piloting the Vulcan
As a long-standing member of CSMA and an ex-Vulcan pilot, I thought you might be interested in this follow up.
The Vulcan article in the last CSMA magazine brought back many memories of my two tours at RAF Waddington on both the Mk 1 Vulcan and the Mk 2. Standing QRA on one of the four Vulcans, permanently on 15-minute standby armed with atomic weapons of both types, during the Cold War and the Cuban Missile crisis was, perhaps, the most demanding period of my RAF Career. On my second tour on the Mk 2s, we had gone from the boring high-level profiles, to the low-level sorties which were much more exciting for pilots but uncomfortable for the rear crew.
However, there were compensations in the form of overseas Lone Rangers in which crews took an aircraft to one of the many overseas bases we had in those days, carrying out Low Level sorties round Goose Bay being one, and practice bombing on the range at Akrotiri in Cyprus being another favourite. Our best Ranger came at the end of my second tour, when the New Zealand Aero Club in Nelson, South Island asked for a Vulcan to give a display at their open day. As Flight Commander, I nominated our crew for this demanding exercise, and travelling via Goose Bay, Offutt AFB, San Francisco, Hawaii and Pago Pago, we arrived in New Zealand at the RNZAF base Ohakea eight days later.
We could have done it in six, but of course it was necessary to recuperate in San Francisco and Hawaii after the long and exhausting journeys!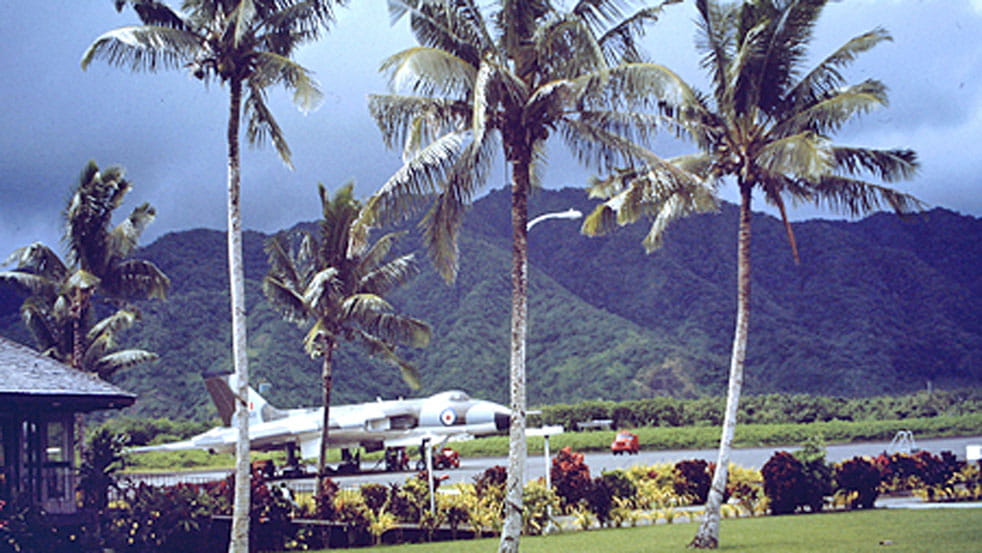 The Air show, (which can be seen on YouTube under 'Vulcan display in Nelson, New Zealand 1971') went well, and it was time to return to the UK continuing Westabout rather than by the unimaginative return trip East which had been suggested by the hierarchy. So, two nights stop in Sydney, a 10-minute stop in Darwin to refuel, and on to Singapore for a two-night stay. Well and truly refreshed, we had a night stop in Gan, a 20-minute refuelling stop in Masirah Island, and on to Cyprus where another two-night stop was needed to recover, and to organise the gathering of fruit to take home. On arrival back at Waddington, the Crew Chief asked me to stream the Brake parachute so the ground crew would not have to unpack it. This was the first and only time we had to stream the Chute, thanks to brilliant aerodynamics of the huge delta wing.
The previous article referred to the delightful handling qualities of the Vulcan, and I can entirely and enthusiastically agree. It was as easy to control as a Chipmunk, and the power for take-off never gave me a moments trepidation, unlike that of the Valiant, on which I was a co-pilot, whose take off distances were close to the end of short runways.
In conclusion, the Vulcan was one of the finest aircraft ever built by the British aircraft industry, an aircraft of rare beauty, and one that fully lived up to its promise
Bill Turnill

For more members' Vulcan memories, visit boundless.co.uk/vulcan-story.
---
Night rallies
I was really pleased to see your back-page piece with the photo of Barbara and Laurie rallying in 1981. I have many memories of the experience as I navigated for my father (also a Robert, but known as Bob) all across the Southern Counties in the late 60s and 70s, and competed against Barbara many times. We were based in Bristol but travelled as far as Farnborough week after week for the pleasure of solving mind-bending navigational instructions whilst simultaneously telling one's driver which way to go, driving round unknown roads in the middle of the night. And plodding across the pathless heaths around Farnborough looking for a Marshal hidden in the undergrowth. I was a teenager then and learnt to drive when Dad changed seats after a rally and let me drive home!
What is really a coincidence is that the other article on the Nissan in Wales talks about the mountain road beyond Rhayader. In the rallying days, the CSMA's flagship event was the Curtiss Bennett Rally, always based at Llandrindod Wells, and the piece de resistance was always the crossing of "the devil's staircase" as it was known, with stops at control points every mile, making the achievement of a 30mph average speed quite challenging.
Those were the days!
Robert Girvan
---
Age discrimination
Regarding Keith Parkin's letter (Nov/Dec issue). My wife purchased me an advanced driving course for my 80th birthday. After six runs of one hour with my superb mentor, I passed with a first! After a couple of months, I decided to attempt IAM RoadSmart's Masters test which I passed with distinction!
As a driver who has enjoyed a company car for almost 40 years, I have never had insurance in my own name, but have used my wife's car as a 'named driver'!
In September this year we bought a new vehicle and as an IAM member I applied to renew my wife's insurance with myself as the named driver! Neither of us have claimed in the last decade nor had points on licences. One company declined to quote, another quoted a four-figure sum! Fortunately, my wife's present insurer was willing to continue to insure us with a slight increase in premium.
Age discrimination is alive and kicking!
Mike Webber
---
Fresh air
Regarding the page 10 item in the July/August issue, maybe this war against diesel cars isn't so fresh. A BBC reporter last night (at last) introduced the greatest UK polluter: namely the cow. The greatest and in many ways the easiest reduction in pollution would be to electrify all main lines on our railway system. By not doing so, we find electric trains carrying, wait for it, diesel engines underneath them to run in the gaps of unwired lines (so-called Bi-mode). In southern Essex earlier this year (Shenfield to Southend) the 60-year-old – yes, 60-year-old – wires were replaced. There's still no wires in some of the Midlands and north of Edinburgh. So, government policy is in effect promoting diesel on the railway! What about the ULEZ extension in London? It's a bad idea in view of the above, and the fact that those of us with relatives within 1/2 a mile of the inside edge of the North Circular Road will be asked for £12.50 per day to visit them.
Austin Barklem
---
More on York
I enjoyed the article on York in the recent issue. We were there last month and I would like to add three more things to do. Firstly take the free guided walking tour (details from Tourist Information). This lasts about two hours and is full of interesting facts and history. Secondly, visit the York Art Gallery, a really hands-on place with an excellent section on ceramics. Finally, talk to the staff in the Jorvik Viking Centre; we learnt a lot about Viking dyestuffs that way.
Neil Hancox
---
Why the Navara?
I was horrified by the lead article in the latest edition of Boundless. Titled "A Star is Born" the article is nothing less than a promotion of potential gas guzzling ggrunt-mobiles!' Our roads are crowded enough as it is, and parking spaces, if you can find one, are often full of huge SUVs, which often take up more than one space, and that is if they are parked properly, which often they are not.
These trucks, along with other larger vehicles, drastically reduce visibility for 'ordinary' cars and now that you have made clear, even high-polluting options are cheaper from a tax point of view for company car drivers. It is almost impossible to judge the road ahead when following one of these monsters, and they are totally out of place in an urban environment.
In this day and age when we are all supposed to be considering ways of reducing our carbon foot print, and reducing emissions, I find the article irresponsible, environmentally thoughtless, and crass! The author Dan Reed should be ashamed of himself!
David Cable
We try to include a variety of different cars in our Great Drive stories, to reflect the broad range of requirements among members. Of course you're absolutely right that pickups occupy more road space than other cars, but this is often due to a genuine need for extra room on-board, especially for those who need a two-in-one car for work and family life. And being big isn't necessarily bad news for fuel economy and emissions – the Navara we borrowed is marginally more efficient than the equivalent Land Rover Discovery SUV, for example.
Dan Read
---
Blind spot
My wife and I spent a few days in Normandy in March this year. Among the sites we visited were the American War Cemetery in Coalville and the British War Cemetery in Ranville, the first town to be liberated. Here's one of the photos we took that day as a reminder of the sacrifices that were made. We were glad to have made the pilgrimage.
I've just taken another look at the May/June edition of Boundless, and read the article on the D-Day Landings with particular interest. And while D-Day was fundamentally important in the final defeat of Hitler's Germany, the article's claim that it is "Recognised as the beginning of the end of World War II", might be disputed by our, then, Soviet allies who might think that Stalingrad, or the tank battle at Kursk might be more appropriately entitled to that claim.
It's a reminder that too many of us still accept a Brit-centric view of history that ignores the contributions of others. Our current Brexit crisis is a reminder of that.
Mike White
---
Bletchley Park hook
The latest magazine article about the group visit to Bletchley Park was most interesting and I am sure that everyone will have enjoyed their time there.
Having Mike Chapman as the guide would have added even more to the visit because he is very informative and entertaining, as he is when he does his talks on cruise ships.
The work they did in WWII was amazing and certainly contributed significantly to us winning plus the story of 'Captain Ridley's shooting party' is an amusing opening to the story. However, the real start to their history was in 1914 with the appointment of 'Captain 'Blinker' Hall (later Admiral) and his guidance for Room 40 at the Old Admiralty Building in London.
Bletchley Park recognises this beginning in a small way, however, the work that was done in WWI by 'Blinker' created a truly formidable foundation for the codebreakers in WWII and has been little recognised because so many records were destroyed, probably in an effort to keep it all secret.
My recently published book U-Boat Enigmas: Royal Navy Salvage & Secrecy in WW1 reveals much of this work and also adds the importance of Salvaging the merchant ships which were initially savaged by the U-boats.
Tony Babb
---
More to see at Bletchley
I am a volunteer guide at The National Museum of Computing (TNMOC) located in Block-H at Bletchley Park. I read the report about your visit but was amazed to read that you didn't bother to walk up the hill to Block-H to see a working Enigma, Colossus and Bombe. These are fascinating devices which intrigue all who see them in action. Our guides are happy to spend time demonstrating these. Bear in mind that Colossus was built by Tommy Flowers at the Post Office, who were early CSMA members.
TNMOC is worth a visit in its own right, indeed more time could be spent there as most of the equipment works and can be seen in action. TNMOC has EDSAC, the world's 4th computer, and also the WITCH, the oldest original working computer in the world! Plenty of retro games including cabinet-type Space Invaders, Crazy Taxi, BBC Micros etc. At TNMOC you will hear how we 'really' won the war cracking the Lorenz cipher, and names of people who were equal to Turing in mental stature: Tutte, Newman, Tiltman, Flowers, Keene etc. You really missed a fantastic experience which deserves another visit.
Sheridan Williams
---
Vulcan engineers
Having read the details of the forthcoming Vulcan event at Duxford I am again disappointed that no mention of the ground engineers' contribution is made. The aircraft did not get airborne just because the pilot pushed the throttle forward. I served at RAF Waddington as a ground engineer when the Vulcan first entered service in 1956, later returning as a flight commander in second line servicing. A further posting took me back to Waddington as the senior engineer of 44(R) squadron.
Following this I moved to HQ Strike Command as the delegated engineering authority for the Vulcan which included the Falklands war. I know from personal experience the hard work and dedication the ground engineers put into getting aircraft airborne and they should be duly recognised for the importance of their role.
Sqn Ldr Peter Holman RAF (Ret'd)
---
Electric nightmares responses
I would like to provide a response to Karl W Smith's letter in the Nov/Dec issue:
Dear Karl,
As you have discovered, a computer is only as good as the person using it. Sadly, the complexity of modern cars means that it's far cheaper and easier to train a technician to use a computer to tell them what's wrong, than it is to train them on each individual system and model.
Unfortunately, most on-board computers on cars will remember faults even if the battery is disconnected, and disconnecting the battery can even cause faults on some cars, so you would still need to visit a garage to have the faults read and reset. For that reason, I purchased a manufacturers diagnostic computer to enable me to work more easily on my cars. It was not cheap, but at the price you were quoted by Ford just for the diagnostics, it would have paid for itself several times by now.
In your case, I would have looked at the fault code for the injector, and taking into account your advice that it is the second such incident, checked the wiring to the injectors for moisture or damage that could have caused a momentary fault, and checked the earthing points for similar problems. Only then if the fault persists would I start changing parts. And changing all four injectors because of a fault with one is excessive profiteering in my opinion. One new one and a good clean on the others would usually be sufficient.
David E Hague
---
Pushing the reset button
Regarding the letter from Karl W Smith (Nov/Dec 2019)
I have owned a Mazda 2TS since it was new in 2004. After a few years, the engine management light would go on/off at random intervals, sometimes staying on for days. During this time the vehicle ran impeccably, the only indication being a slight hiccup at the moment of on/off. A friend with the appropriate device reset it on several occasions. The last reset was approximately 8-10 years ago.
I shudder to think what I'd have been charged by a "Franchised Dealer" for all these resets. If it ain't broke, don't fix it. New cars?
Buy our computer and we'll give you a free car attached (With all the glitches as above built in).
Barry Stewart
---
Honda clutch conundrum
Just a question about the new Honda HRV Sport (manual) version. I bought back, in June, the above referenced vehicle from my local dealer, which after a period of about a month and approximately 1,400 miles the vehicle developed a clutch judder. The main dealer confirmed that there was a problem with the clutch and informed Honda UK who then asked the Dealer to remove the access the clutch and send them pictures of its condition.
The problem I have got is that if the reason is a burnt out clutch I will be liable for the cost of replacement. I have driven this vehicle in the same manner as I have driven my previous three Honda civics, all in excess of 40,00 miles, over 15 years. Has any other Boundless reader had a similar problem, if so, how was the problem dealt with?
Chas Burlison
---
Trucks and caravans
I feel compelled to respond to the letter from John Craig in the Nov/Dec edition of Boundless.
It would appear that, if a large vehicle is travelling at the permitted maximum speed at which the vehicle is governed and unable to exceed, except on a decline, but the driver is closing on traffic in its path, then that traffic is driving more slowly.
Please be advised, Mr Craig, that your car speedometer does not give an accurate reading of the vehicle's speed; it will not be achieving the speed indicated. You can easily confirm that by using a satnav and comparing the two.
You have two clear choices when confronted with such a situation as you experienced: either accelerate to a speed slightly above that of the lorry, or reduce your speed by one or two mph, thus allowing the commercial driver to continue unhindered. By doing so both you and the other driver are not likely to suffer road rage and, more importantly, exercising the courtesy desired on our roads.
I know that motoring can be very frustrating. I have been driving since 1947, in all classes of vehicles, except invalid carriages, dating from veterans of 1903 vintage to the present. This period includes 25 years in the Driving Test organisation and many more than that in teaching driving of numerous classes of vehicle, so I have some experience!
A bit of advice for all drivers. Please forget about taking learners on the motorways until one – very important – change in driving habits is observed and that is attitude. Until attitudes change and courtesy is shown to each other, driving standards will not change.
There have been sixteen editions of the Highway Code since first introduced in 1931. I wonder whether Mr Craig, and many, many other drivers, are aware of the changes to the rules of the road since 1931 or have any idea of the cost of a modern copy. Practise what it preaches and we will all be happier and, more to the point, safer drivers.
Ray Budd
---
Gap years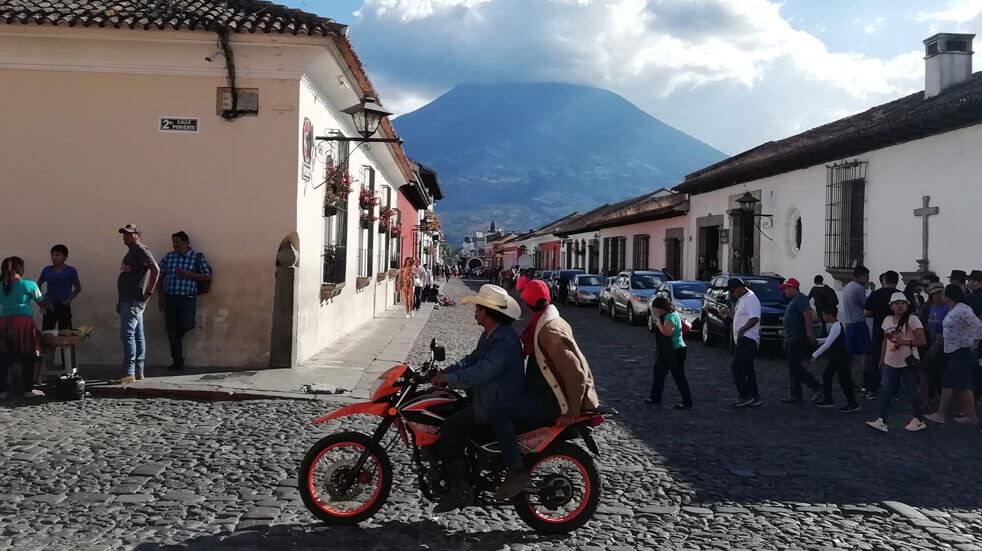 I was interested to read your Star Letter 'Mind The Gap' Nov/Dec issue and, in fact, would urge that travelling needn't wait for retirement either!
We too are mature travellers – in fact, serial gap year backpackers! The first time was in my early 30s with my (now) husband; second time in my early 40s with husband and a two- and third-year-old; third time aged 50 (this year) with the four of us again, girls now aged nine and 11 and temporarily extracted from primary school. Who knows what we'll plan when retirement comes?
I agree with Frank's ingredients for success (curiosity, flexibility, not wanting to grow old too quickly). If you feel the spark, then look for ways to make it happen. Think well, then act.
For additional inspiration, my warts-and-all blog ('book in short instalments') is at https://amandaspice.wixsite.com/travelswithspice and I'm on Instagram @travelswithspice – please take a look!
Amanda Spice