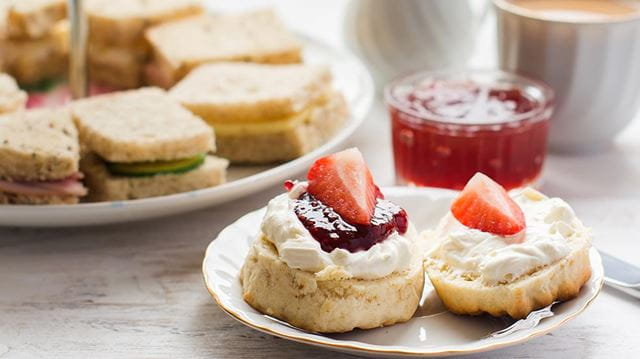 With the UK celebrating National Afternoon Tea Week from 10-16 August, thousands of people around the country will be tucking into this scrumptious summer staple of sandwiches (or other savoury snacks), scones with jam and clotted cream, and a refreshing pot of tea or coffee.
Throw in a spot of sunny weather, some fine china and a posh tablecloth, and you have a British tradition that's as idyllic as it is indulgent. And yet, despite its genteel composition, it's almost impossible to enjoy an afternoon tea without partaking in some fierce debate – about whether you should dollop jam or cream onto those scones first.
In an attempt to settle this argument once and for all, we raised the question on our social media channels, giving Boundless members the chance to have their say on the matter. Read on to find out the results of our survey, and to discover some of our favourite afternoon tea destinations. There's even a very special scone recipe for you to have a go at...
The history of afternoon tea
Catherine of Braganza brought some tea as part of her dowry when marrying Charles II (Credit: Getty Images)
Drinking tea for pleasure (as opposed to medicinal purposes) became popular in the UK in the 17th century – and all thanks to one woman. When Catherine of Braganza, daughter of Portugal's King John IV, married King Charles II in 1662, her dowry included some loose-leaf tea – a popular drink among the Portuguese aristocracy due to the country's trade links with China.
Catherine's status as the new queen brought her many admirers, many of whom emulated her sartorial style and social habits – including the drinking of tea. It was the start of a tradition that has continued through the centuries.
However, it wasn't until the 1840s that the concept of afternoon tea was introduced. With dinner often not being served until 9pm, Anna Russell, Duchess of Bedford and a lifelong friend of Queen Victoria, began requesting that "some tea, bread and butter and cake" be delivered to her private quarters to satiate her hunger pangs.
As the ritual caught on among the upper classes, so linen makers, silversmiths and other manufacturers began to make fine accessories specifically for the consumption of afternoon tea.
• Prepare the perfect summer picnic with our expert tips
What are the different types of afternoon tea?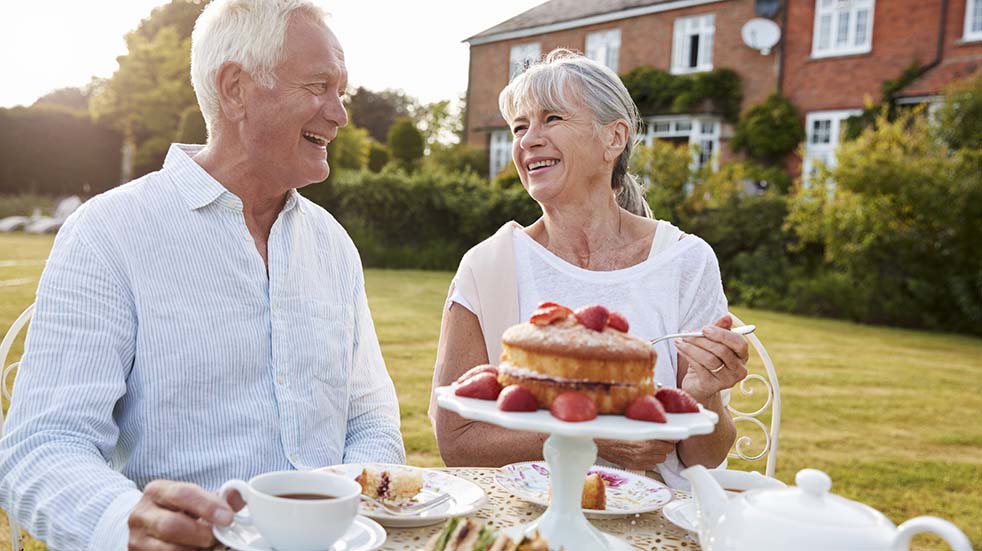 Afternoon tea has become a quintessential summer pastime among British people (Credit: Getty Images)
First up, it's worth mentioning that afternoon tea is not the same as high tea. As previously mentioned, afternoon tea – a light meal of sandwiches or savoury snacks, scones with jam and cream, and sweet pastries – has its roots in upper-class society. High tea, on the other hand, was traditionally a more conventional working-class supper that took its name from the tall kitchen table upon which it was eaten.
Nowadays, afternoon tea comes in many guises, depending on how much you're prepared to spend and how imaginative the chef is. Perhaps the most iconic afternoon tea of all is served at the Ritz in London – the only hotel in the UK to have a certified tea sommelier. As you sit among the elegant mirrors and glittering chandeliers, you'll be presented with finely cut sandwiches, freshly baked scones and exquisitely presented sweet pastries – all while being serenaded by a classical musician (prices from £53.50 per person).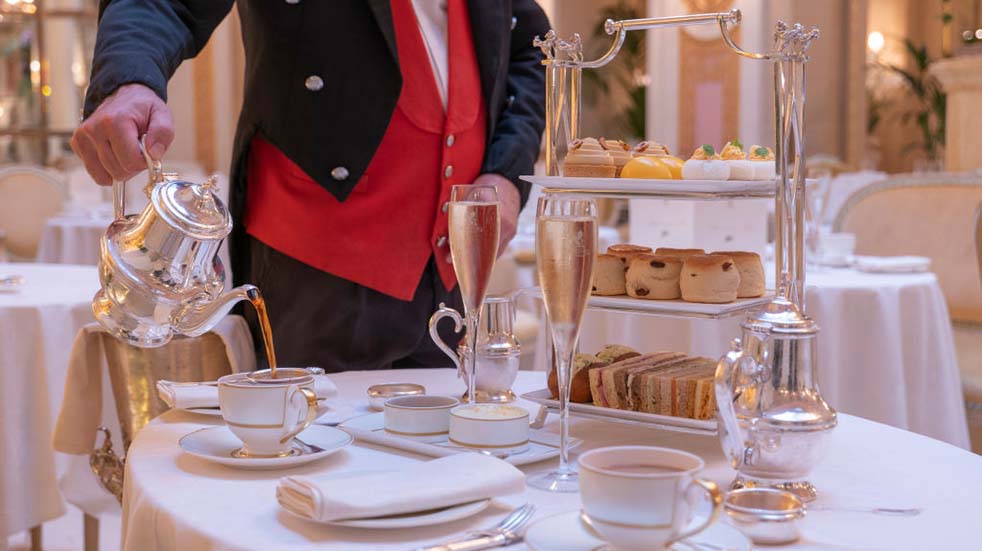 For a touch of extravagance, enjoy an afternoon tea at the Ritz (Credit: Getty Images)
Metro Deco – housed in a converted Art Deco furniture showroom in London – expands on the traditional theme by offering tea-infused cocktails as an accompaniment to the usual dainty sandwiches, scones and cakes (prices from £23.50 per person).
And digressing yet further from the conventional afternoon tea concept – but no less delicious – is the High Chai served up by Zindiya in Birmingham. You'll enjoy a range of authentic Indian treats, including crunchy bhel puri and spiced carrot cake, before whetting your whistle with a choice of freshly brewed Masala chai or Earl Grey (prices from £16.95 per person).
• Read BBC Good Food's guide to the best afternoon teas in the UK
Jam or cream first?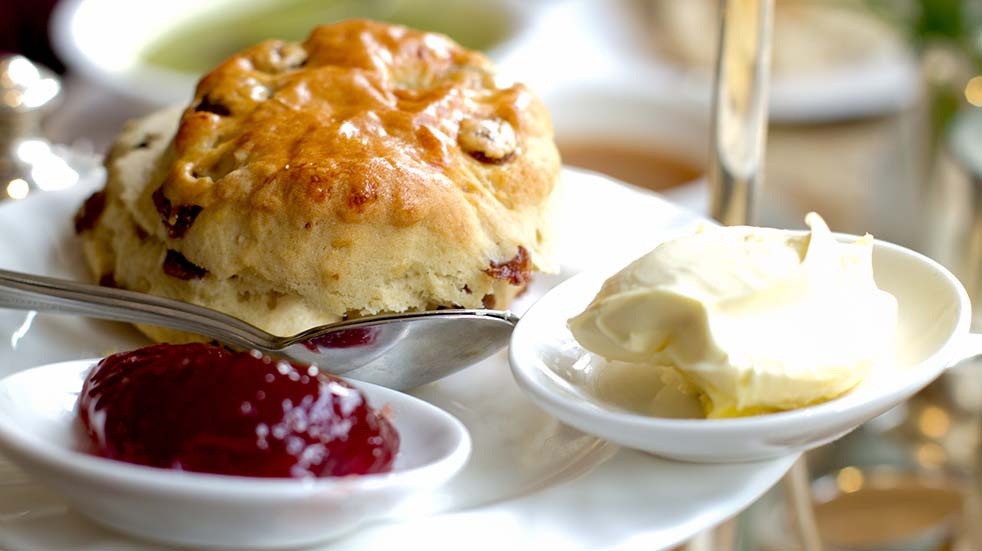 If there's one question that's guaranteed to cause a heated argument, it's whether you should put jam or cream on your scones first. Your opinion on the subject might depend on where you come from. In Devon, it's traditional to spread the cream on first before adding the jam, while Cornish people (and this particular writer – ahem) prefer to do it the other way around.
Since there's no unanimous agreement on the subject, we thought we'd try to settle the argument via a democratic poll, presented to Boundless members on social media.
The question 'How do you eat yours?' prompted a not inconsiderable response from the afternoon tea lovers among you, with both sides of the argument being well represented.
One member, John, asked: "Who would put jam on toast then butter? This is the same principle."
However, another member, Joy, pointed out the logic of doing it the other way around: "Jam first – it sticks the cream on!"
Then there was Debbie, who insisted that a third ingredient should be added to the mix. "There is only one way," she insisted. "Butter, jam, cream."
So, which side came out on top? The poll was close, but there was one clear winner – 66% of you voted for jam first and then cream, with 34% of you favouring the cream-first approach.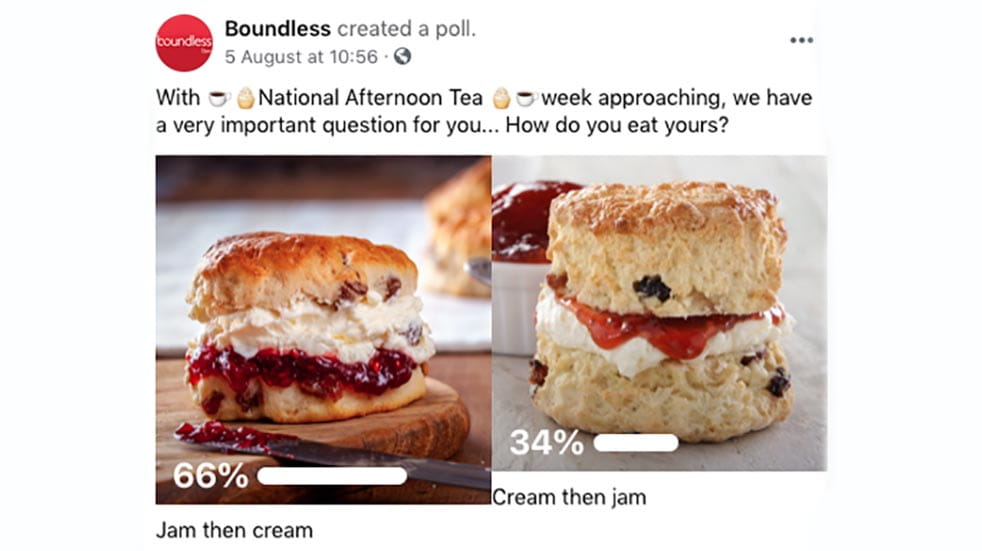 We daresay that won't be the end of the debate, though, and this particular argument is likely to rage on for generations to come. Just remember, folks – it all goes down the same way!
• Take a trip around the world with 10 authentic overseas recipes
Make some delicious Pimm's scones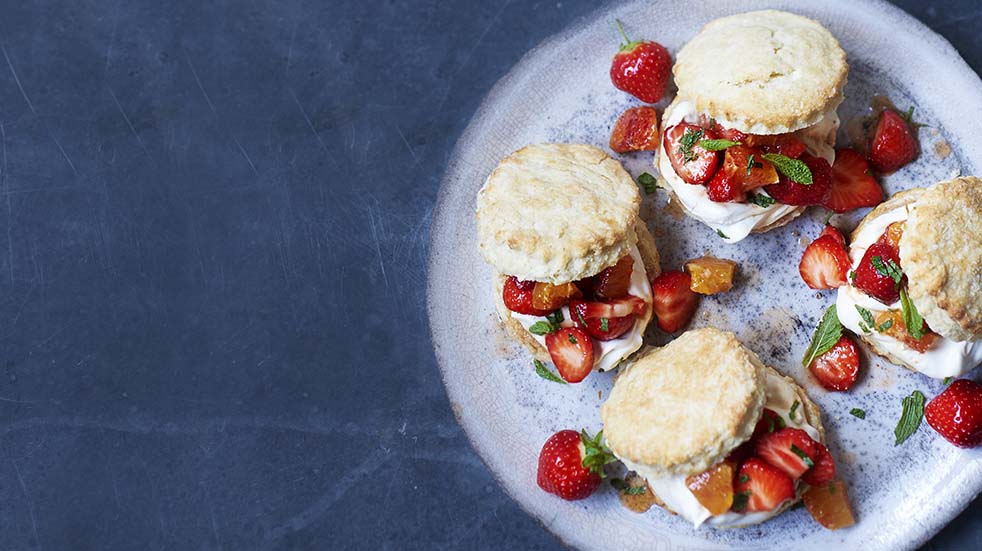 Scones, strawberries and a splash of Pimm's – could you possibly get more summery? (Credit: Jennifer Joyce / Victoria Allen)
Give your afternoon tea an alcoholic twist with these tasty, Pimm's-infused scones, as featured in BBC Good Food. This simple recipe will make eight scones – giving you enough for a second helping!
Prep: 45 mins plus 1 hr macerating
Cook: 10 mins
• 300g self-raising flour
• 1/2 tsp baking powder
• 70g cold butter, cut into small cubes
• 30g golden caster sugar
• Zest of 2 lemons
• 150ml buttermilk
• 2 tbsp full-fat milk
For the fruit
• 3 tbsp Pimm's
• 1 tbsp golden caster sugar
• 300g pack strawberries, hulled and sliced
• 1 large orange, cut into cubes
• Handful mint, leaves picked
For the cream
• 300ml double cream
• 2 tbsp icing sugar
• 50ml Pimm's
1 Heat oven to 220C/200C fan/gas 7. Cover a baking sheet with baking parchment. Put the flour and baking powder in a large bowl, add a pinch of salt, then rub in the butter with your fingertips until it is mostly incorporated – unlike pastry, you don't need to worry about rubbing the butter in too finely. Stir in the sugar and lemon zest. In a jug, mix the buttermilk with the milk. Make a well in the centre of the flour mixture, then pour in the liquid. Use a knife to bring the dough together.
2 Tip out onto a clean work surface and bring together with your hands. Patting is better than rolling so that you don't overwork the dough. Stamp out eight scones with a 7cm fluted cutter – you'll need to reshape the dough once from the trimmings. Put the scones on the baking sheet and bake on the top shelf for 10 mins until risen and the tops are golden. Cool on a wire rack.
3 Mix the Pimm's and caster sugar in a bowl. Stir in the fruit, cover and infuse in the fridge for 1 hr, then stir in the mint leaves.
4 In a large bowl, whisk the cream, icing sugar and Pimm's until the mix just holds its shape.
5 Halve the cooled scones. Top the bottom half with a spoonful of cream and a spoonful of fruit, drizzle over some of the syrup, then sandwich with the top half.
What do you think?
Are you a jam-first or cream-first person? Have your say by leaving us a comment on Facebook or Twitter.