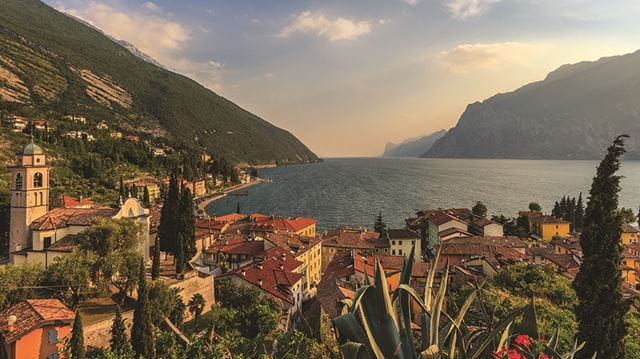 We know all the Italian cliches – cobbled streets and quaint piazzas lined with gelato shops and trattorias, where people sit sipping Aperol Spritzes in front of the sparkling turquoise sea.
Well, throw in layers of rugged, green-speckled mountains, 13th-century castle walls and fishing ports swimming in history, and you have Lake Garda – a vast, colourful area which is so helplessly charming that any attempt at avoiding obvious cliches is completely futile (in a very good way). Here's our run-down of why you should go (and why we're already looking up our next trip there).
---

1. It's perfect for cycling
Incredible scenery, smooth roads and a temperate, cool climate (yearly averages of 15ºC) make Lake Garda a utopia for cycling enthusiasts, and you can bike your way along pretty much any section of the lake.
I cycled a 15km stretch around the south-east corner of the lake, starting at Peschiera del Garda, gliding along the road past sprawling vineyards, lush green scenery and verdant campsites, before heading to the promenade at Lazise for a gentler amble. From Lazise, you can cycle car-free beside the lake all the way to Garda, passing through the various port towns and admiring water so vividly blue it looks Photoshopped.
For real enthusiasts it's possible to cycle round the whole thing in a day. At 160km it's not for the faint-hearted, but a clear route means it's more than doable for the ultra-active (you can count me out there).
---

2. It has a fascinating history
The history of Lake Garda is tainted with violent battles, as neighbouring countries fought for control over the land – most famously in the Battle of Solferino in 1859 (France and Sardinia against Austria), when thousands lost their lives. Now the remnants of its bloody past remain in the form of city walls and castles, which lie scattered across the area and dominate the towns of Torri del Benaco, Lazise, Malcesine [pictured] and Sirmione – where you'll also find the Grotte di Catullo, an ancient villa that's one of Northern Italy's most significant Roman sites.
---

3 Its beautiful little port towns
Where to start? Old narrow streets, historic defence walls and elegant cafes on the water characterise all of the towns scattered along the shores of the lake, but they each have their own personality. Bardolino, Garda, Riva, Sirmione and Malcesine are all popular, but my personal favourite was Lazise [pictured]. Here, brightly coloured buildings and the imposing, reddish-hued castle meet a maze of narrow streets where you can smell the freshly baked pizza, and the port is buzzing with people making the most of the waterside restaurants.
---

4. There are vineyards everywhere
The region is world-renowned for its wine heritage, and a visit here wouldn't be complete without a tasting or two. We visited the Masi Tenuta Canova vineyard, where you can take a guided tour and sample the likes of Masi's iconic Campofiorin, made with dried grapes. Set among the hills of Valpolicella, it's a remote, peaceful winery surrounded by mountains, and there's an atmospheric restaurant on site where you can enjoy fresh fish, meat and wine in a perfectly Italian setting.
---

5. You can drink shots of olive oil
It's not just wine the region is known for. Thanks to a unique microclimate, Lake Garda has a long history of producing olive oil, and over at the Turri mill near Bardolino you can learn all about the different varieties and how they're produced, before doing a few shots of each. Swallowing whole droplets of oil is surprisingly more pleasant than it sounds - think light, fruity aromas with a spicy kick – and the mill itself has a fascinating history which you'll learn all about during the tour.
---
6 You can ride a cable car up to the mountains
In the lakeside town of Malcesine sits the Monte Baldo cable car, a rotating gondola which carries visitors up the mountainside. The lift offers panoramic views over a forest of cedar trees on one side and an expanse of blue water on the other. At the top (1800m high) you can walk along to a spectacular viewpoint overlooking the surrounding mountains.
---
7. It's a mecca for adventure
For some serious hiking, the Dolomites are only a couple of hours drive away. Soaring to over 3000m, these vertical, pale-coloured peaks look almost otherworldly, jutting out with crags, spires and ledges to form a unique landscape which draws in explorers from across the world.
There's plenty to do on the lake itself too, not least surfing, sailing, waterskiing and windsurfing. For the latter it's best to head to the north, where constant winds make for ideal conditions.
---

8. The food is incredible
It's Italy, therefore the food is exceptional everywhere you go. Among the standout restaurants from our trip was El Rèfol in Garda, where salmon tagliatelle doused in rich, creamy sauce met its match with huge, fresh pizzas covered in just about any Italian topping you can think of. www.ristoranteelrefol.com
On the drinks front, you can't leave without trying a Hugo [pictured] – a light, refreshing concoction of elderflower, mint, Prosecco and soda water, which originates from South Tyrol, just north of here. For authentic Italian ice cream, Gelateria Cento Per Cento in Malcesine is especially good, with its soft, creamy swirled gelato infused with inventive flavours. Try the dark chocolate with raspberry for a burst of intensely rich, guilt-inducing pleasure.
---
Where to stay
We stayed at four-star Parc Hotel Paradiso, 3km from Peschiera del Garda. Set on a golf resort it's an especially popular choice for families, with two outdoor pools, a sports centre and spa all on site. It's a five-minute shuttle bus to Peschiera, a small fortress town on the shores of the Lake, made up of flower-bedecked bridges and bright turquoise canals, and from there you can explore the rest of Lake Garda via bus or ferry.
Thomson Lakes & Mountains (
thomsonlakes.co.uk
; 020 8939 0740) offers a week's full board at the four-star Parc Hotel Paradiso & Golf Resort in Peschiera del Garda from £739 per person (based on two sharing) including flights from Gatwick and resort transfer. Direct flights available from all major UK airports.