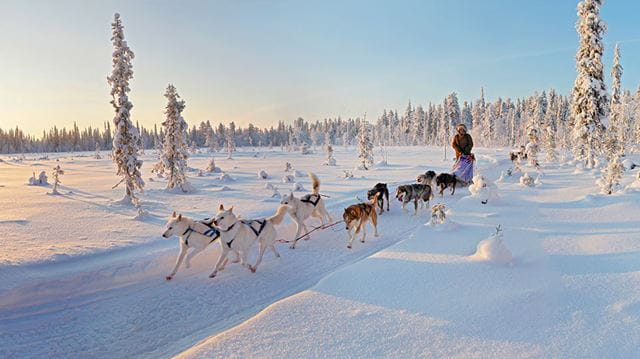 As its famous Icehotel readies to open for its 30th season, take a trip to see what other extraordinary sites Lapland has to offer.
When Yngve Bergqvist suggested building a hotel made of ice and snow to accommodate tourists during Swedish Lapland's long, dark winters, everyone thought he was bonkers. However, three decades and hundreds of thousands of happy guests later, it seems Bergqvist was as razor-sharp as the chisels used to create his brainchild.
This December, the Icehotel in Jukkasjärvi will open for its 30th season, enticing another stream of intrepid, thermal-clad adventurers to the northernmost reaches of Europe to spend the night in an ice-sculpted bedroom at -5ºC. From there, they will be perfectly placed to enjoy husky rides, snowmobiling, ice fishing, Nordic skiing and other exhilarating winter-wonderland pursuits. Oh, and to see Santa, of course. Admittedly the festive legend resides mainly in Finnish Lapland, but in the run-up to his big day is known to make appearances in other parts of the region.
Thank goodness, then, for his loyal, fast-flying reindeer, because Lapland is vast, stretching across northern Norway, Sweden, Finland and into the Kola Peninsula of Russia. Due to its location within the Arctic Circle, the sun hovers just above the horizon throughout most of winter to create a soft, pink glow over the frozen landscape, making every photograph you take Instagrammable. On the flip side, it gets dark very quickly, which takes some adjusting to, while the cold hits you like an iceberg the minute you step off the plane, your eyelashes and nostril hairs instantly crisping with frost.
---
Start planning your next holiday with these travel tips
Our pick of the best destinations for 2020
Boundless Members reveal their bucket list destinations
Book your next holiday sustainably
---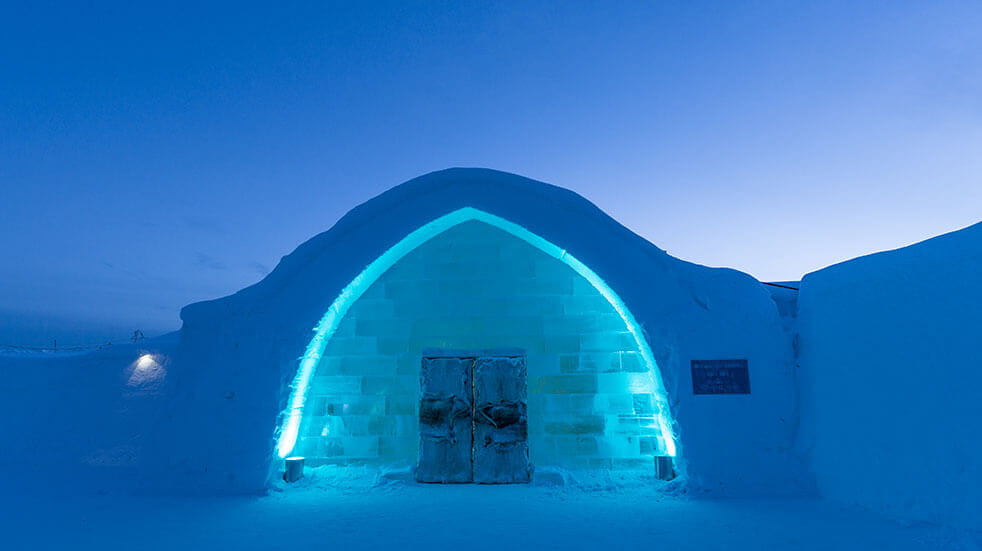 Lapland: islands bound by ice
My Lapland adventure begins at a bracing -28º in Sweden's Luleå archipelago, a cluster of more than 1,300 islands in the Bay of Bothnia. During the winter, this arm of the Baltic Sea freezes over to create a giant, glinting playground that's traversable by sledge or snowmobile. It's mid-January but it still feels festive, with every home illuminated by twinkling fairy lights. The 100 or so full-time archipelago residents – all Laplanders – deserve admiration for enduring such extreme conditions and remaining chirpy. They're a hardy bunch.
When our local guide, Tommy, arrives at our hotel – Pine Bay Lodge – that evening, he looks like he's just descended Everest, with icicles frozen into his fur-lined hood and long beard. Later, as he pulls our sleigh across the icy wilderness on his snowmobile, I realise he's made of stronger stuff than me. I'm clad toe-to-earlobe in thermals and wrapped in heavy blankets and reindeer skins, yet I still feel the chill – even in my eyeballs.
Just when I think I can stand it no more, we arrive at our restaurant for the night. The Aurora Hideaway is a tiny, glowing hut with a roasting fire and a table covered in tree lights, literally in the middle of the frozen sea. As we thaw out on red wine and hot soup, Tommy stands outside, barbecuing our beef to perfection while keeping an eye out for "the Lights".
Where to see the Northern Lights
Lapland is one of the best places to spy the aurora borealis, or Northern Lights – an experience that can be found on many bucket lists, and with good reason. Created by electrically charged particles from the sun colliding as they enter the earth's atmosphere, this incredible phenomenon is probably best described as an ethereal dancing light show. Don't be disappointed if you don't get to see it, though, as you'll still be treated to a breathtaking sky packed full of stars.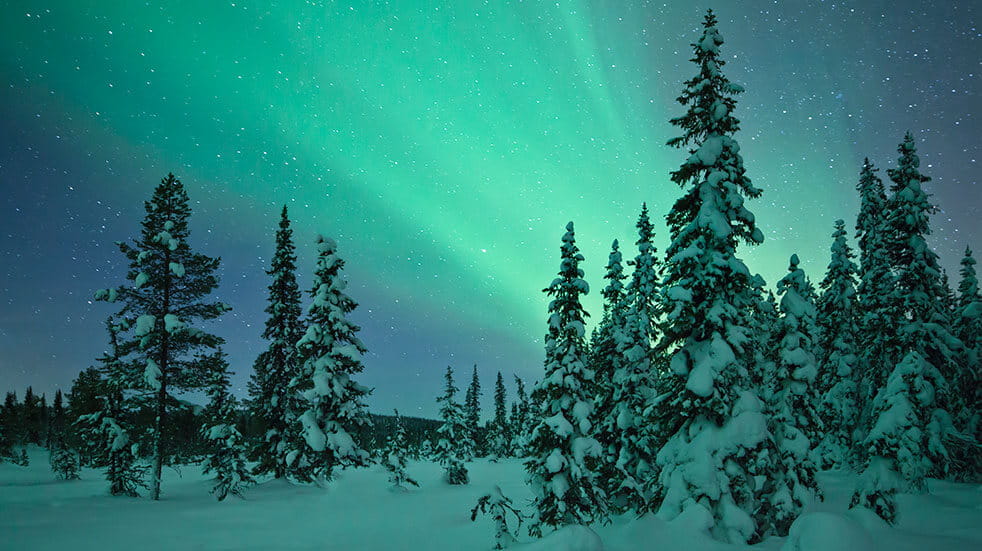 Equally stunning are the sunrises, as we discover the following morning when Tommy takes us on our next adventure – this time giving us control of the snowmobiles. No leisurely ride, this journey is undertaken at full throttle with numerous twists and turns, and we're thankful for our visored helmets – not because we're worried about coming off, but for the engine noise and the wind chill.
Only when we park up on the edge of a forest do I have a chance to properly take in the lunar-like landscape, the sun peaking shyly above the distant horizon and the wintry silence permeated only by the crunch of my snow boots. Tommy lights a fire and we all snuggle around it, tucking into delicious warmed cinnamon rolls and steaming hot chocolate. This is our introduction to the Swedish fika tradition – a cosy time to chat over a hot drink, which is factored into most of the winter activities here.
A dog sled ride around Lapland
Snowmobiling is fun, but the most exhilarating – and romantic – way to travel across the ice is yet to come. Just outside the city of Luleå, we join the Marchesoni family – they're the people behind Luleå Adventure – for a dog-sled ride through the local pine forests. As we glide between the trees, the wild-eyed huskies pulling tight on their harnesses, dusk sets in and the shy sun is replaced by a bold, bright moon that makes the snow sparkle like a Disney animation. It's truly magical.
Until Yngve Bergqvist hatched his 'crazy' idea to build an ice hotel, most tourists only came this far north during the mild summer months, when they indulged in hiking, fishing and white-water rafting. But his frozen hostelry has helped inspire people to come and explore Lapland's myriad winter charms. Whether it's the starkly beautiful moonlit landscapes, the thrill of speeding across frozen waters, or the enchanting remoteness of it all, this Arctic adventure will never leave you cold.
Lapland essentials
When to go to Lapland
Snow generally falls in Lapland between October and May, but some early-December trips to see Santa had to be cancelled last year due to a lack of the white stuff. Winter temperatures can dip below -25ºC, so the right clothes are vital.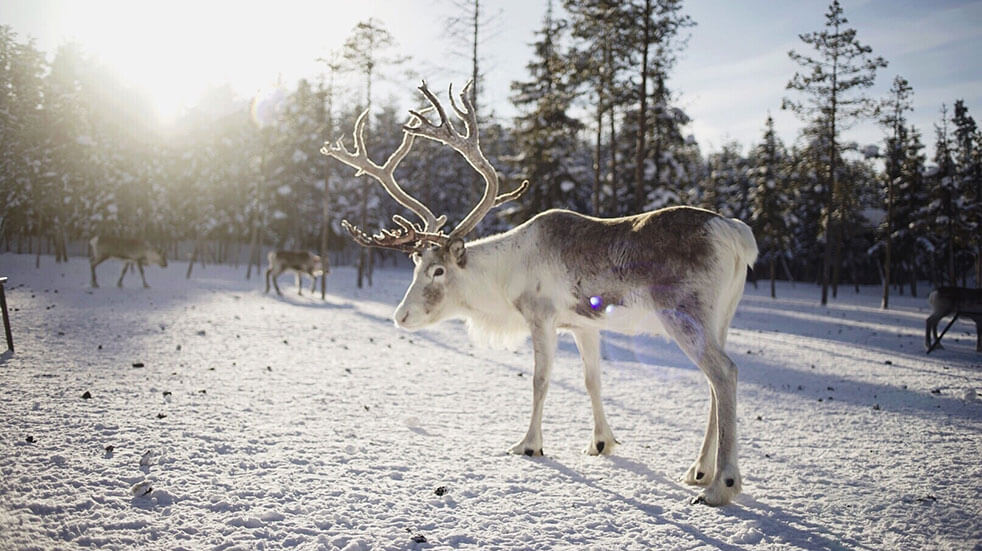 What to wear in Lapland
Invest in good-quality thermal base layers for your top and bottom, preferably made from Merino wool. Avoid cotton at all costs. On your top half, add a woolly jumper or fleece, then a waterproof insulated jacket. For your legs, wear jogging bottoms and a heavy outer layer, such as ski trousers. Make sure your feet stay warm and dry by packing woolly socks and good-quality winter boots – ideally waterproof and insulated. And also invest in a warm, windproof hat, thin inner gloves and a pair of high-quality winter gloves – not so thick that you can't take photos, though. Say yes to any additional clothing you're offered by your activity guides.
What else to pack for a Lapland trip
A head torch with a red setting will help your eyes adapt to the night sky. A decent camera, obviously – you'll also need a tripod and spare batteries, as they can drain quickly in the cold (as can smartphone batteries).
How to get to Lapland and getting around
Fly from the UK to Stockholm, Oslo or Helsinki, and pick up internal flights to airports close to the main activity centres – these include Kiruna, Abisko and Luleå in Sweden, Narvik and Tromsø in Norway, and Rovaniemi and Sodankylä in Finland. There are efficient train services too, although extreme weather causes occasional cancellations. The Arctic Circle Train runs from Stockholm all the way to Swedish and Norwegian Lapland, and in Norway the Nordland Railway runs from Trondheim as far north as Bodø above the Arctic Circle, with fabulous panoramic views of mountains, lakes and fjords along the way.
Essential Lapland experiences
Lapland's Icehotels
There are actually two Icehotels in Jukkasjärvi. The original, first built in 1989, melts when spring arrives and is then rebuilt in the winter. The second, Icehotel 365, opened in 2016 and, thanks to solar energy, can welcome guests year-round. Both hotels are sculpted out of ice sourced from the neighbouring Torne river. With temperatures inside the hotels kept at between -5 and -7ºC, guests are given expedition-style sleeping bags to cope with the chilly conditions. They are also advised to sleep in thermals, a hat, warm socks and a mid-layer jumper.
However, if you don't fancy braving the cold, don't worry as there are heated bedrooms available too. Each year, artists from across the world are invited to create sculptures from ice and snow, and non-guests can take daytime tours to see them – it's worth doing. There are also smaller Icehotels in Norway and Finland.
Lapland Sami culture
Lapland is home to the indigenous Sami people – historically, nomadic reindeer herders who have their own language, traditions and folklore. Some still rely on reindeer for their livelihoods, but might supplement this through tourism. Whether it's a reindeer ride or an overnight wilderness adventure with a Sami guide, there are many Lapland adventures that enable you to experience this culture first-hand.
The Northern Lights
The aurora borealis is most prominent between September and April. For a better chance of witnessing this extraordinary phenomenon, sign up for a tour. These range from small group expeditions in 4x4 trucks to dog-sledding and snowmobiling trips. You can even experience the Lights from the comfort of a hot tub, while many hotels will wake you up if they appear while you're sleeping (on request).
One of the best places to view them is the Abisko National Park, home to the Aurora Sky Station. However you choose to view the Lights, book early as a lot of tourists come to Lapland for this reason.
---
Do more with Boundless
Enjoy a magical Christmas break in Lapland with Barrhead Travel. As the countdown to Christmas begins, there could be nothing more magical than visiting a true winter wonderland. Experience a special festive family break in Lapland, filled with experiences that you'll never forget.
Stay in cabin accommodation in Davvi Arctic Lodge for four nights from 25 November 2019 for £1,025 per person, with 50% off the per person price for the first child sharing with two full-paying adults and a cost of £929 for a second child. Return flights, full board accommodation, a host of experiences and more are included.
And find more holidays and experiences in Lapland with Best Served Scandinavia and Santa's Lapland.