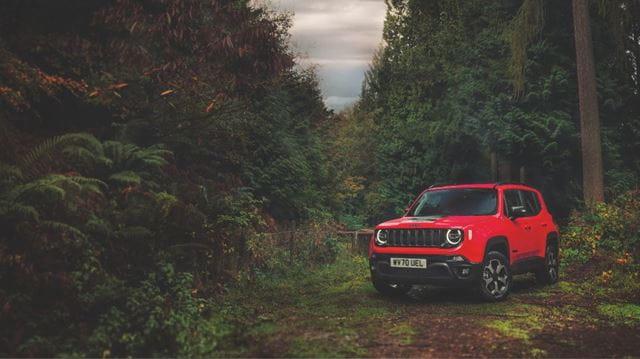 Believe it or not, there are over 70,000 species of animals, plants, fungi and swampy little organisms in the United Kingdom. Today, though, we're on the lookout for just five of them.
But not just any five – these are some of Britain's biggest wild beasts, from our largest land mammal to our most sizeable marine residents. All of which can be found within 200 miles or so of each other, along a broad sweep of the West Country. So that's where we're heading: for a self-drive safari behind the wheel of an electrified off-roader.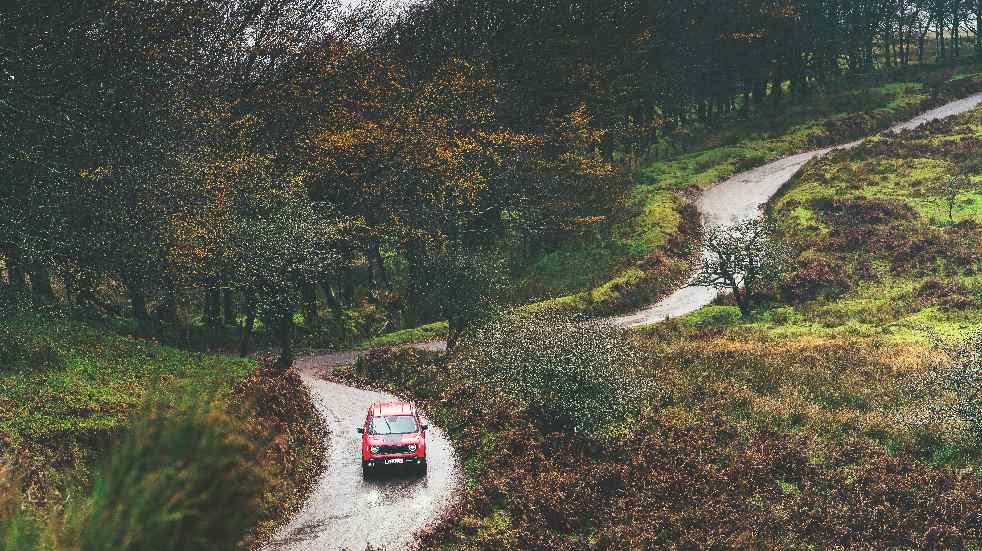 Jeep can trace its routes right back to World War II, when it was GI Joe's runabout and one of the most important instruments in the Allied victory. With its square-jawed styling and BBQ-style grille it remains an American icon, although these days Jeep is part of the Fiat Chrysler Group. And the car we have here, the Renegade, is its pocket-sized, European-minded SUV. This version – the all-new 4xe – is actually Jeep's first plug-in hybrid (PHEV), combining a 1.3-litre turbocharged petrol engine with batteries and an electric motor.
The 4xe, like all PHEVs, is able to blend both powertrains at once, using the e-motor to boost the power and efficiency of the combustion engine. But you can also choose for yourself. After a full charge – in as little as 100 minutes with a home charger – Jeep claims it can travel up to 26 miles on electric power alone. Our idea, then, is to use petrol power for the motorways and B-roads while saving battery life for slipping quietly through the wildlife reserves, wetlands and woodlands our Big Five call home.
With me is nature writer and fellow West Countryman Pete Dommett. While I'm responsible for the transport carrying us on our quest, he'll lead us into the wild and help to track down the animals, starting with one of the most furtive...
---
In search of wild boar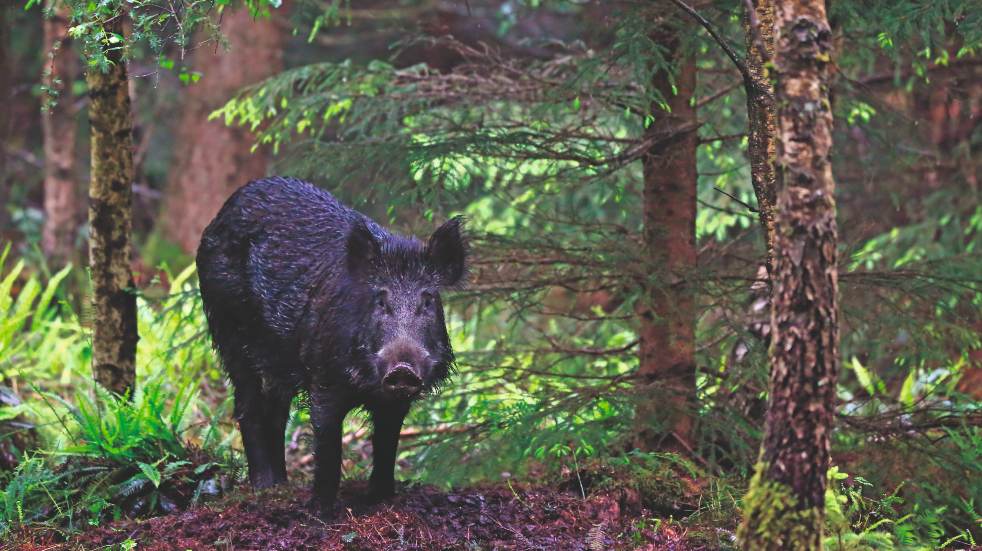 Pete Dommett: Our journey begins before dawn, in the dark, damp depths of the Forest of Dean in Gloucestershire. As the Renegade's bright white headlights pierce through the rain, the signs of our first big beast are everywhere. All along the roadside, the soft green turf has been given a thoroughly good going over. Wild boar at work.
These beasts vanished from Britain centuries back. But, 20 years ago, a number of them escaped (or were deliberately released) from local farms to rewild this woodland. Now, with a population of around 1,500 animals, seeing one should be straightforward, surely?
We find a wallow – a shallow bowl of mud pockmarked with trotter tracks – and a tree trunk turned scratching post, barkless and buffed to a shine by a bristly backside, but no boar. Until, climbing an old spoil heap behind a long-exhausted coal mine, we spot a lone, charcoal-black male quietly weaving his way through the trees below. It's an astonishing sight, but also appears completely natural. Wild boar are back where they belong.
---
A power-sharing arrangement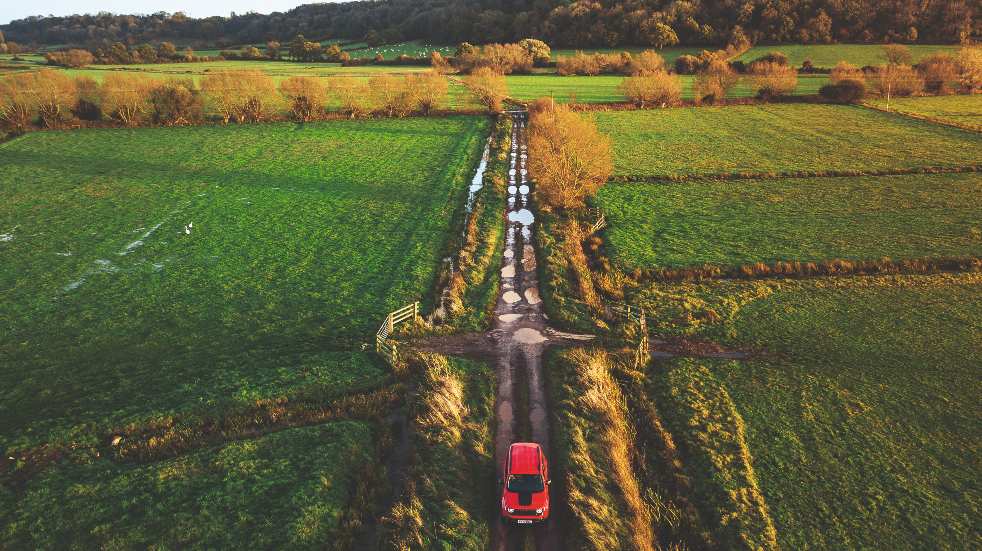 Dan Read Leaving the brooding forest, we cross the old Severn Bridge and turn south in murky half-light. The Jeep's in 'E-Save' mode, which rests the 11.4kWh battery while the petrol engine takes over.
By harvesting energy while braking or coasting, the 4xe gradually replenishes the battery as you drive (although it's more efficient to plug in), so by the time we reach our next destination we've topped up to 80%. To charge it any more, we'd have to plug it in. We switch to pure electric mode; the thrashy hum of the engine is replaced by the eerie whir of the 60hp e-motor.
---
On the levels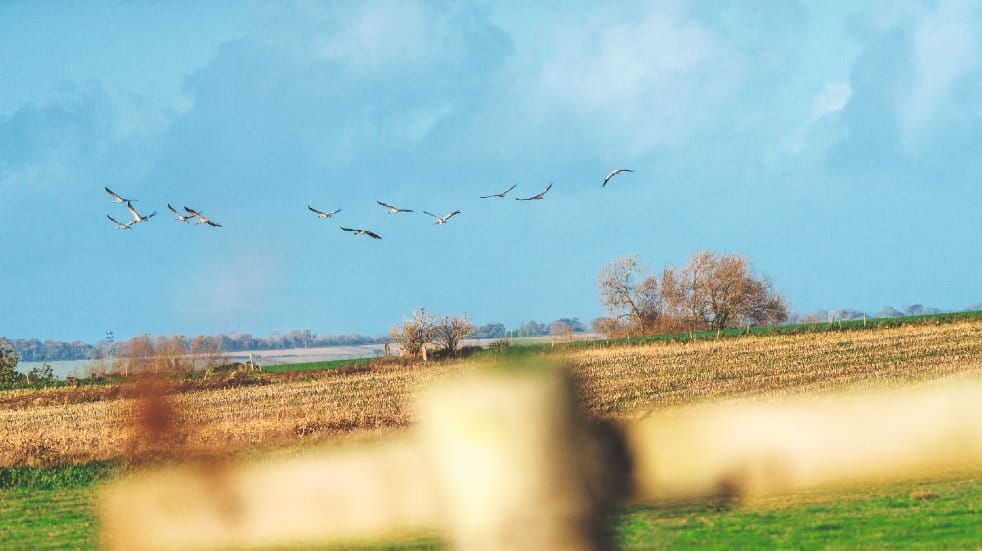 PD: The Somerset Levels: a vast, liquid landscape of reedbeds, marshland and wet meadows. This is crane country, thanks to the release of nearly 100 birds into the area by the Great Crane Project between 2010 and 2014. In winter, they gather together in large groups, or 'herds', to feed on the flooded fields.
In the shadow of Burrow Mump – a natural knoll that sprouts up from the otherwise endlessly flat vista – a footpath takes us across Aller Moor and towards a cluster of 30 cranes. Even from a distance, these graceful, grey birds are obviously huge, standing more than a metre tall.
We watch them quietly for a while then, all at once, the cranes lift off on wide, dark-fingered wings, their long legs and necks outstretched. As they treat us to a glorious fly-by, their distinctive bugling calls fill the air. It's an echo of an earlier era, but also the herald of a bright new future for these fabulous birds.
---
Next stop, Exmoor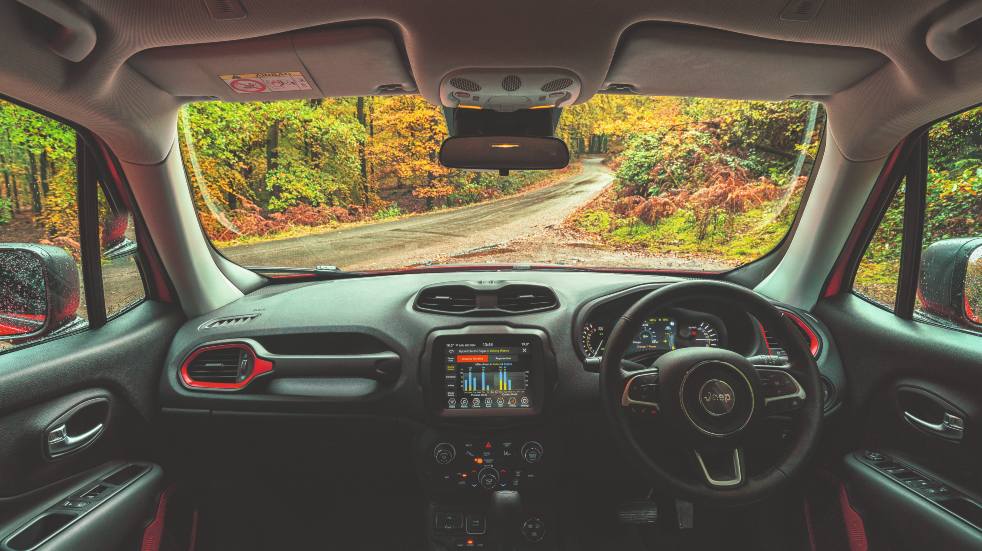 DR: The flatlands are good news for energy consumption but, as we drive westwards to hilly Exmoor, our fuel gauge drops alarmingly. The 4xe has a tiny tank – a victim of the space required for the battery, and the flipside of carrying around two power sources. So we fill up in Wheddon Cross, our Jeep looking far too shiny beside a farmy old Land Rover at the pumps. Time to get mucky.
PD: It's the rutting season for red deer, when testosterone-fuelled stags clash antlers in a battle to win the right to mate with a harem of hinds. But, to be honest, nobody looks in the mood this morning.
Maybe it's the weather. We've followed Daphne Brace from Exmoor Wildlife Safaris along waterlogged lanes, through dripping valleys and up on to the moor that, today, is thoroughly soaked in a miserable drizzle.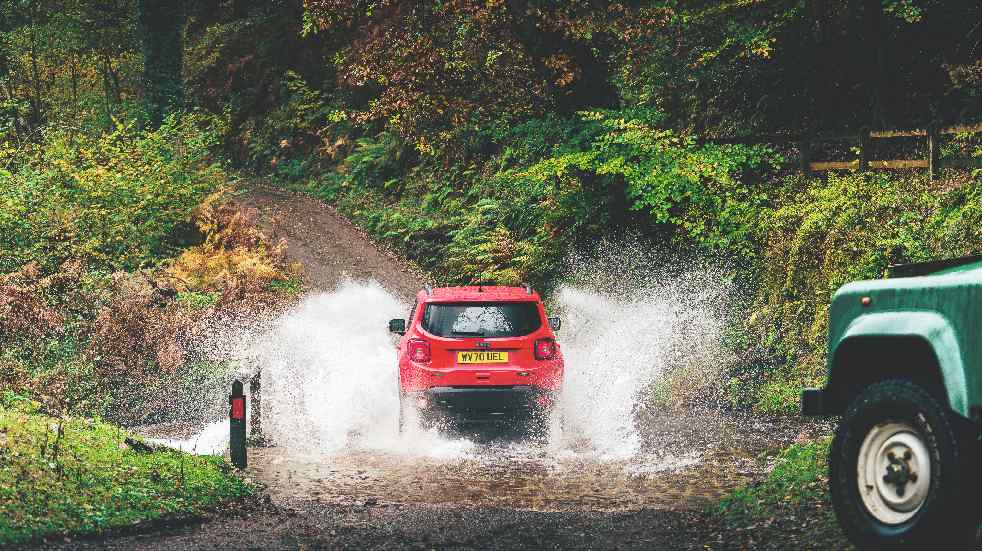 DR: Standing beside her beloved, no-nonsense Defender, Daphne casts a sceptical eye over the Renegade. "Bit of a toy, isn't it?" she says. But while I'll admit it's a little fancy in Colorado Red with a black bonnet stripe, it's still a Jeep, and does the things a Jeep is supposed to do.
It comes on knobbly-ish mud-and-sand tyres and has a pretty robust four-wheel-drive system – the engine drives the front wheels while the e-motor drives the rear ones. Just as well on the mulchy lanes and steep climbs around here. The Renegade also has a wading depth of half a metre, and we might need it. Looks like Noah himself has ordered the weather.
---
Who will be king?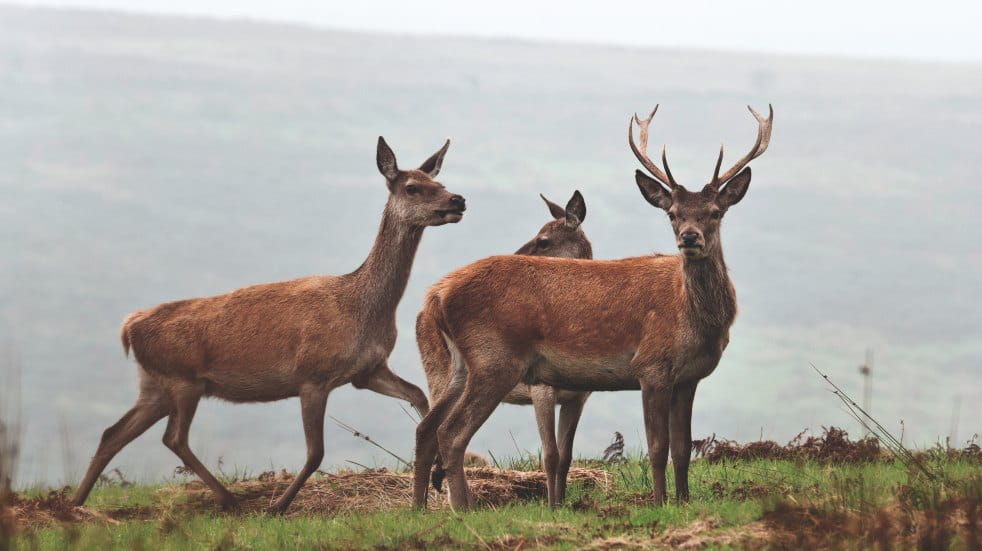 PD: Even through mizzle and with the help of binoculars, seeing the UK's largest native land mammal is always a thrill. "The dominant stag has gone," Daphne reveals. "And that means the hinds are up for grabs."
On the hillside, several stags surround a group of conker-coloured females. One particularly impressive beast sits among the purple bracken, chewing nonchalantly like a gunslinger in a Western saloon bar. I try to count the points on his antlers to determine his status – Royal, Imperial or Monarch – but he's too far away to tell. Even so, I'm betting on him being the new lord of the manor here soon.
DR: Over the moor the road stretches enticingly into the distance; a slick black line through the rusty autumnal heather. Pooling its combustion and battery power the 4xe makes 240hp and goes from a standstill to 62mph in 7.1 seconds. Yet it never feels as fast as the stats suggest. After the initial silky, electric getaway the engine fires up with some commotion, as if rudely awakened from a deep sleep. Better to accept a more stately pace and use as little power as possible. It actually becomes a bit of a game, and you could nerd out for hours on the energy consumption graphs and other on-board readouts. Or maybe that's just me.
---
Come in, number four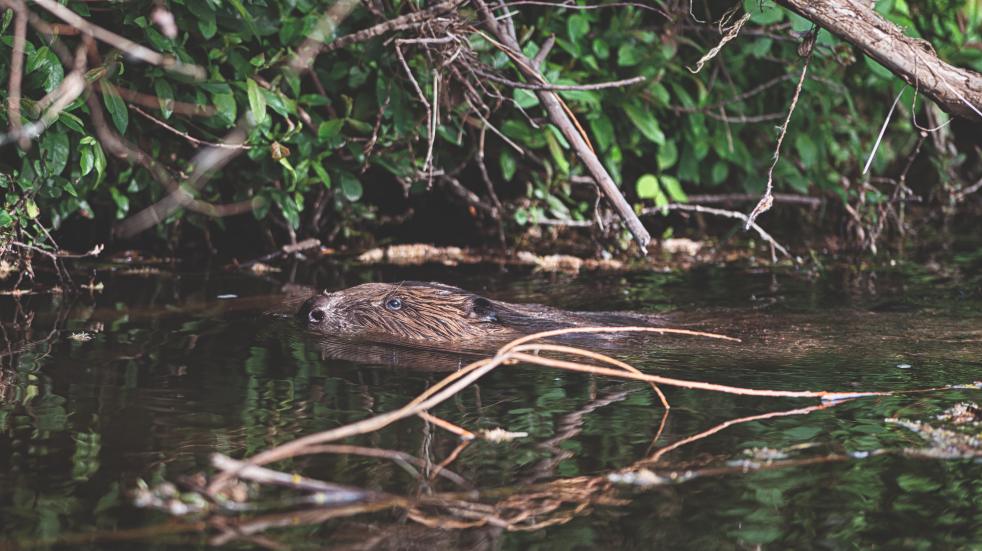 PD: We carry on, towards Devon and the River Otter. But rather than searching for the river's eponymous animal, we've come here to see its thriving population of beavers.
It sounds unbelievable – even sparking a fake news story in a local paper that the river's name was to be changed to the River Beaver – but these once-native rodents were discovered in 2014 (their origins are unknown). After a five-year study proved their positive impact on the local environment, the beavers have now been granted permanent residence here.
Like the boar in Gloucestershire, the beavers' existence is easy to see. A willow stump has been chiselled away to a pencil point; a pile of logs and sticks jammed up against a riverside tree is probably last summer's lodge. Alas the beavers themselves remain elusive.
But just as we think about giving up, a splash in the water catches my eye. An otter turns to look directly at us, as if to say: "Well, what did you expect?"
---
From land to sea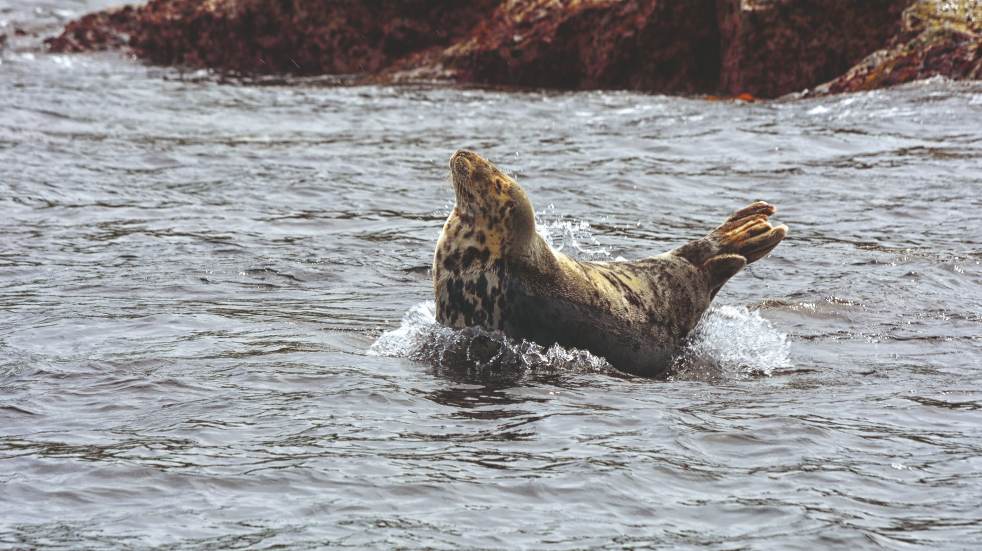 DR: Beaverless, we continue deeper into the West Country, across a foggy Bodmin Moor, while wondering if we'd spend £32,000 on a plug-in Jeep. Even more for this top-spec Trailhawk model.
Firstly, while £32,000 is a lot for a Renegade – you can have the entry-level petrol version for £23,150 – it's about average for a well-equipped PHEV of this size. Besides, you'll be saving on running costs.
PHEVs sell well to company car drivers, thanks to the tax breaks afforded by the fuel economy and an all-electric range capable of the average commute. But Jeeps sell well to people whose average commute is more likely to be up a mountain than to a meeting. Or, indeed, to those who spend their weekends on really wild road trips in search of weird and wonderful animals. It's worked for us.
---
Three out of five ain't bad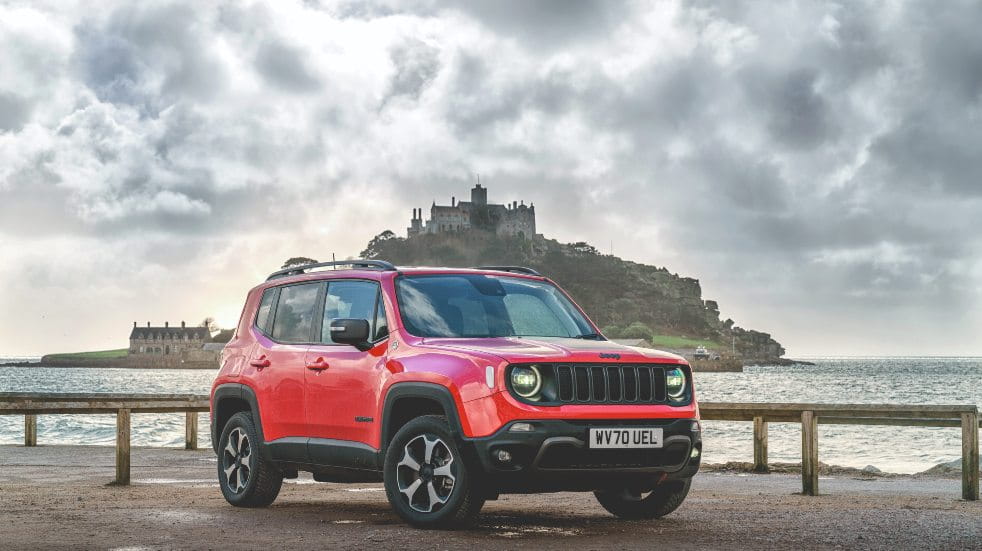 PD: Could there be a more fitting finale to our south-west safari than to sail along the stunning Cornish coastline playing a friendly game of Spot the Fin? However, when we arrive at Albert Pier in Penzance, Duncan Jones is shaking his head: a storm is a-brewin'. With business partner Hannah, Duncan runs Marine Discovery – an environmentally minded marine wildlife-watching outfit. From their 10m sailing catamaran, you can enjoy close encounters with all sorts of ocean-going creatures while minimising any possible disturbance – a bit like we did earlier with the Jeep in quiet electric mode.
But not today. Not in this weather. Instead, we console ourselves by watching the seals of St Clement's Isle, about 400m off Mousehole harbour. Most are sheltering on this rocky outcrop, but one brave soul is 'bottling' close to shore: resting in quiet repose in the growing swell, her pale snout pointing skywards. Seeing the dolphins and porpoises we'd hoped for will have to wait for now. Still, every safari should leave something to come back for.
---
The Big Five
Wild boar, Forest of Dean, Gloucestershire
The forest's ancient woodland is managed by Forestry England. Its advice is to watch wild boar from a distance. Keep to forest paths, don't tempt animals closer with food and keep dogs on leads. Animals are most often encountered at dawn and dusk – you may also see fallow deer and birds of prey. forestryengland.uk/the-forest-of-dean
Common cranes, Somerset Levels
Winter flocks of cranes, plus other wetland birds, are mostly seen on Aller Moor, Stan Moor and the RSPB's West Sedgemoor Reserve. Walking the River Parrett Trail from Burrowbridge to Oath takes you through this part of the Levels. The birds are easily disturbed so keep your distance: take a spotting scope or binoculars. thegreatcraneproject.org.uk
Red deer, Exmoor, Somerset and North Devon
Exmoor is home to around 3,500 red deer. Exmoor Wildlife Safaris (the longest-running wildlife watching operator in the area) runs guided tours to see them, starting at £35 per person for a three-hour trip. Look out for Exmoor ponies, Highland cattle and moorland birds, too. exmoorwildlifesafaris.co.uk
Marine wildlife, West Cornwall
The seals of St Clement's Isle can be easily seen from Mousehole harbour. Marine Discovery offers a range of wildlife watching boat trips, departing from Penzance. The most popular is the threehour Ocean Discovery (Adults £40/Children £30). You may also see seabirds, grey seals, dolphins, porpoises and minke whales. marinediscovery.co.uk
Beavers, East Devon
A two-mile footpath runs alongside the River Otter from the village of Otterton to the sea at Budleigh Salterton (the last mile is suitable for buggies and wheelchairs). Your best chance of a sighting is on an early summer evening in the section just north of Otterton. You might also spot kingfishers, otters, brown trout and dippers. devonwildlifetrust.org
---
Safari route highlights
Forest of Dean
We based our boar search west of Ruspidge, in a small patch of the 42 square miles of mixed woodlands.
Burrowbridge
In the heart of the Somerset levels, Burrow Mump looks over the village and reeks of history – it's been linked with King Alfred the Great.
Exford
A picture-perfect village in the middle of the moor, with two good pubs and plenty of accommodation.
Penzance
Where the road runs out and ocean adventures begin – recent sightings near here include minke whales and blue-fin tuna.
Photos by Lewis Harrison-Pinder
---
Save money with Boundless
Boundless members can get amazing discounts on a range of products, from motoring services and insurance to holidays and outdoor gear – and all for just £ per year. To sign up, visit our membership page.