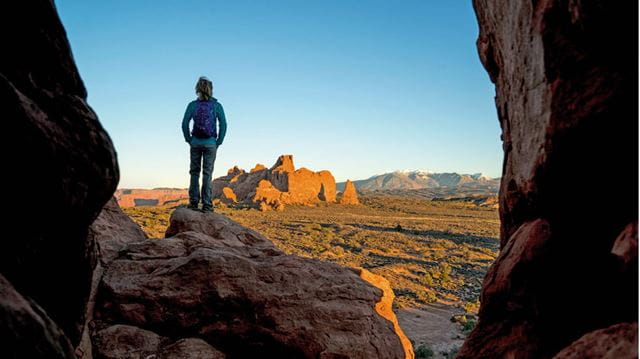 Discover the advantages of a solo holiday by hitching a lift with a group trip through the American West.
I didn't think group trips were for me. I usually go on holiday by myself, or opt for city breaks with friends. But friends and partners aren't always available, or don't share your travel goals – I find the older I get, the more I want to do what I want to do...
I'm not alone – the trend for solo holidays is growing, according to ABTA's 2018 Holiday Habits Report. It found that more than one in six people had chosen to go on holiday by themselves in the preceding 12 months, almost three times as many as in 2011. More people are seeking out experiences that offer the benefit of other people's expertise and organisation, without charging supplements for travelling alone, and with the option for company when you want it.
I've wanted to see the American West for a long time, but it's daunting: where to start? Where to stay? Out of thousands of square miles across some of the country's largest states, how to find the good stuff? When a friend and group trip advocate recently signed up for yet another adventure, I questioned my logic. A fan of guide books but loose itineraries, was I ready to relinquish control?
After a quick google, I find a National Parks road trip with highly recommended company G Adventures, taking in seven states in two weeks, with 20 people. I'd expected it to take me a lifetime to see all the things on the itinerary. I'm sold.
---
More tips and destinations for your solo travel trip
Our experts' tips for where to holiday in 2020
Why more people are taking gap years later in life
The destinations that should be on every traveller's wishlist this year
---
Exploring the west of the US
After gathering at the meeting point in Las Vegas, the nearest international airport, we head out for dinner so we can start getting to know each other. There are the usual questions – where are you from? What do you do in real life? Have you been here before? Mingling a bit also helps with deciding who to sit next to when we get on the bus early the next morning. It's a cross between a mini bus and a luxury coach, with WiFi, and we'll be spending a lot of time in it over the next 14 days.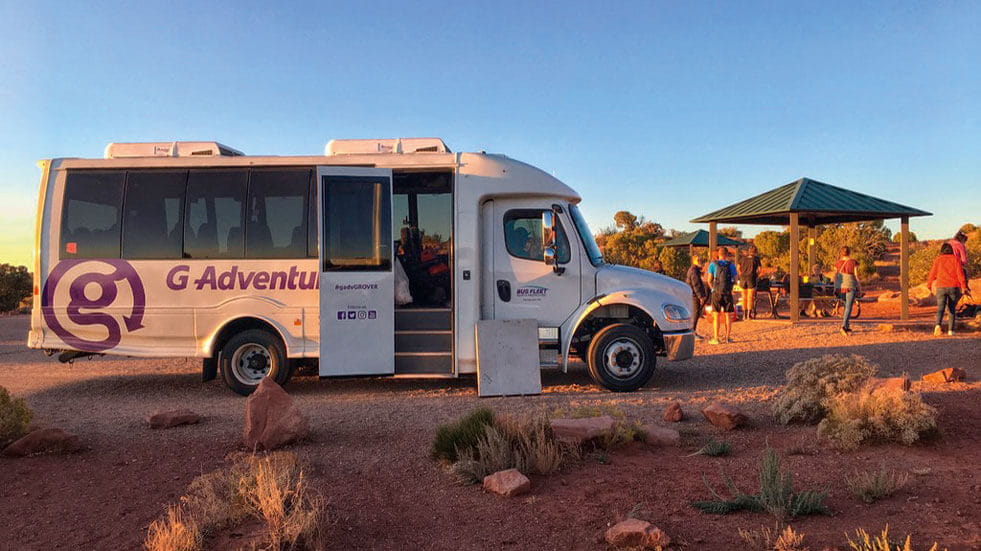 My fellow travellers are a mixed group from all over the world – New Zealand to Germany to Wales. As always, being British is an advantage when everyone else speaks English. Our CEO (Chief Experience Officer), Sarah, has done this trip many times and is enthusiastic and knowledgeable about the people, history and geology of the landscapes we pass through. Everything about the trip feels well planned, with a focus on authenticity and local flavour, so you don't feel like you're seeing the tourist's view.
How to get along on a group holiday
You meet all sorts of people on a group trip. You're unlikely to become friends with all of them, but there's an immediate camaraderie in sharing an experience like this. Some are veterans of group trips, but for many, like me, this is the first. Everyone's made to feel part of the group, and there are getting-to-know-you games around the campfire to help things along. Some have already been together for a week, as they started in Los Angeles – you can choose how long you want to travel for, depending on your time and budget.
Almost everyone has signed up on their own; there are only two sets of friends. A few people have partners at home who either don't like travelling, lack the appetite for camping in October, or couldn't get the time off. We've all signed up for an outdoorsy adventure, so we immediately have something in common.
Sabrina, from Germany, chose to do a group trip because it took the stress out of planning. She works full-time and says, "It was just so much to plan, so it's great that it's all taken care of. Next year I'm thinking of doing a similar trip in Cambodia." Max, from the Netherlands, was drawn to the locations our trip covered. "This one seemed like good value and went to loads of National Parks."
Our first stop is Zion – a National Park that immediately offers up some of the awe-inspiring landscapes I've been hoping for and have seen in films starring Clint Eastwood or Robert Redford. We will also see Bryce Canyon, Arches, Grand Teton, Yellowstone and Glacier National Parks – a dizzying array of desert canyons, natural amphitheatres, otherworldly rock formations, hot springs, waterfalls, snow-capped mountains reflected in crystalline lakes and exciting wildlife.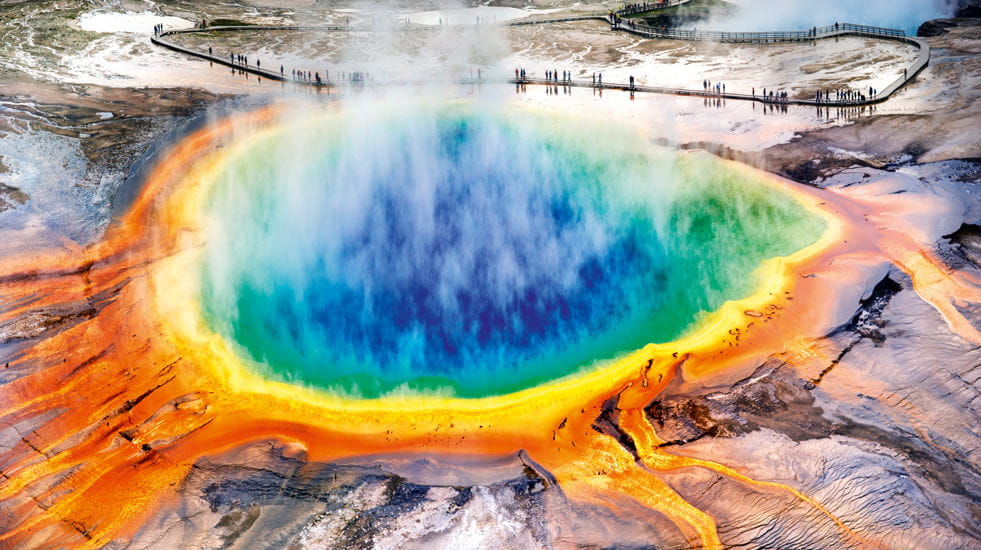 It's an energetic trip, with activities such as hiking, horse riding, soaking in hot springs and white-water rafting to choose from, although you don't have to do anything you don't want to. Walking is also a great way to get to know people, as it seems easier to chat. We hike in small to medium-size groups, depending on speed and how often you want to stop and take pictures. You shouldn't hike alone in bear country, and Sarah is quick to give us a crash course in what to do if one should cross our path. We share nervous glances as well as mixed feelings about wanting to meet one.
Accommodation is handpicked, and even pit stops on the long drives are at breathtaking viewpoints, authentic rest stops with rustic charm or in small towns. Most of the cooking is done at camp, with a rota. When it's not your turn to cook or do the dishes, you're free to relax – maybe by a river or while watching the sun set – or socialise with the others. There's a real sense of togetherness as everyone helps themselves and gets stuck in, taking a beer from the drinks cooler. It feels like summer camp for grown-ups, and conversation flows as everyone reflects on what we've seen that day or on our other travels. Meals are hearty, and having them included helps keep the cost down.
A few times when we stay nearer civilisation, we head into town for a 'family' dinner, or break into groups and seek out recommended places to try the local fare. (Bison burger? Yes please.) It's a far cry from eating alone in a restaurant with a book...
Make the most of a road trip
A huge benefit of a group trip is that someone else does all the navigating and driving, while you watch the view change outside the huge windows or chat with your fellow travellers (with the occasional sing-along thrown in), without worrying about directions or remembering to drive on the wrong side of the road. Being on a bus also removes the temptation to break the relatively low speed limits.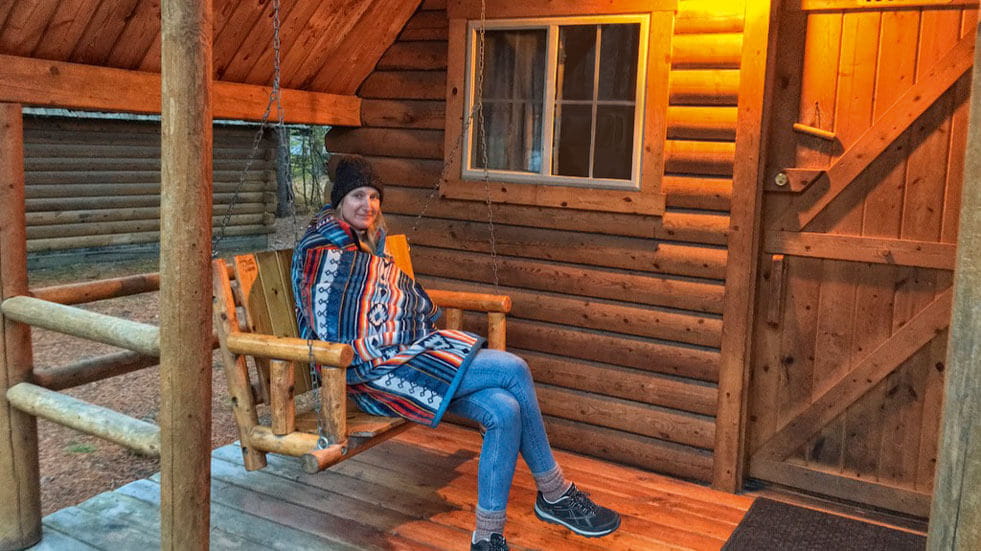 It's important to have the right attitude when you sign up for a trip with complete strangers – as they say, the more you put in, the more you get out. That said, considering we're a group who signed up for what was predominantly a camping trip, you've never seen happier faces than when it snows and we're put up in a huge log cabin instead.
Ultimately, tour companies want you to have a good time, so this kind of holiday is character-building without being an endurance test. At worst you'll spend a few days or weeks with people you'll never have to see again, but you'll see some incredible sights along the way and go home with some good stories. At best, you'll have such a good time that it might change the way you travel. What have you got to lose? Like many of the new friends I've met on this trip, I know I'll start planning the next one as soon as I get home...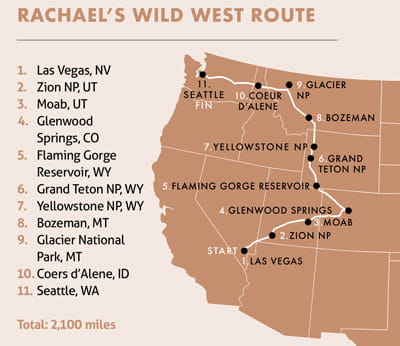 Tips for successful group travel
1. Take time out
Make a good playlist and download some podcasts or audio books. Even if you and your fellow travellers hit it off, there will be times when you want some time to yourself, so pack some noise-cancelling headphones and enjoy some alone time even when you're on a bus with 20 people.
2. Go with the right attitude
It's a good idea to accept that not everything might be exactly as you want it, but the positives outweigh the negatives. Going with the flow is key to a successful trip.
3. Choose your bus buddy wisely
Whoever you sit down next to when you first board the bus will most likely be who you sit with for the duration of the trip – and share a tent or motel room with – so try to chat to as many people as possible over the first dinner and suss out who you might get along with the best.
Do more with Boundless: no single supplement charges with Just You
If you'd like to travel as an individual and enjoy the company of others, with someone else organising all the details, Just You is the ideal solution.
Travel with G Adventures
Rachael's trip, the USA Road Trip: Northwest National Parks is from the G Adventures range of 18 to 30-somethings tours. If you're aged 40 or over, there are a few similar trips open to all ages:
Hiking the Best of the West's National Parks trip: some beautiful hikes over 15 days, a great way to explore the parks.
National Parks of the US trip, part of the Classic collection, over 15 days.
National Parks of the American West, part of the National Geographic Journeys collection. This includes great experiences such as dining at a native Navajo food truck, visiting Lowell Observatory for a tour of the giant telescopes, and learning about the giant trees in Sequoia National Park with an expert.
The best single-traveller trips for 2020
Inspired to go solo on your next holiday? Travel expert Beverley Fearis rounds up five of this year's best trips for one.
1. Go island hopping in Croatia with solo travel specialist Just You on board the 20-cabin MS Eos
Starting in the medieval town of Trogir, you'll cruise the Adriatic, stopping off to explore lush vineyards, Roman ruins, Gothic cathedrals, and national parks with cascading waterfalls. Highlights include Zlatni Rat, regarded as Croatia's most beautiful beach, and Zadar's incredible Sea Organ, giant stone steps that magically turn waves into hypnotic music. As the sun sets, you'll watch a stunning solar-powered light show created by the same architect.
This eight-day Croatian Island Explorer calls at Hvar, Brac, Zlarin and Split and costs from £2,049 including return flights from London Gatwick or Manchester. Saturday departures from 2 May to 3 October 2020.
---
2. Take a trip of a lifetime to Brazil on a 12-day tour with Solos Holidays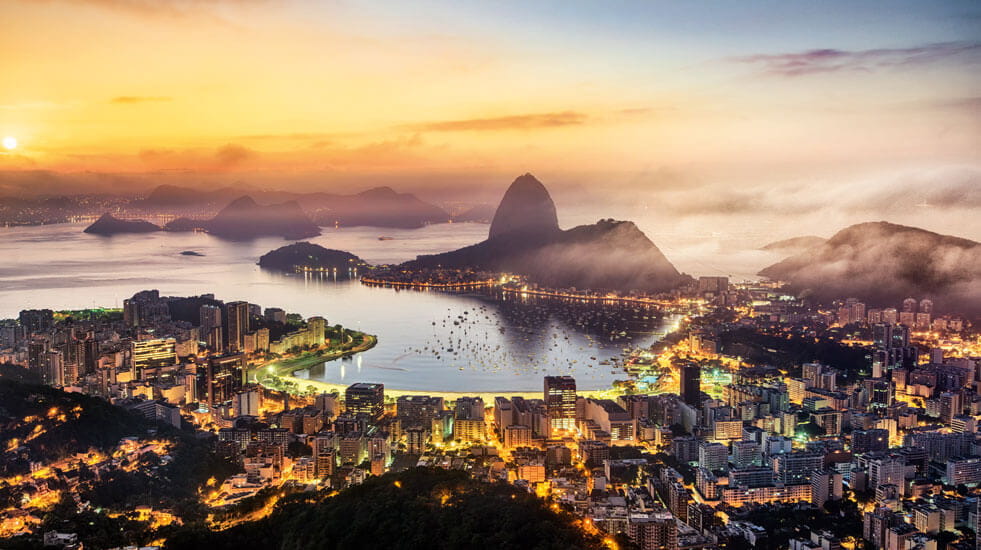 New for 2020, the tour will take you to four different regions, starting at Rio de Janeiro and ending up in Salvador, showcasing the best of this fascinating country. Iconic views and adventures await at every turn: a cable car ride up Rio's Sugarloaf Mountain, a train ride to the feet of the Christ the Redeemer statue, a glass elevator trip for spectacular views of Iguazu Falls, hiking and fishing in the Amazon, a sea turtle sanctuary tour and a swim in the South Atlantic Ocean at Guarajuba Beach.
This 12-night Best of Brazil tour, departing 4 May 2020, costs from £4,985 including fights from Heathrow, internal flights, breakfasts, most dinners, two lunches, sightseeing and services of a guide.
---
3. Hop across to France for a plant-and-culture-filled short break with escorted tours specialist Leger Holidays
On its four-day [Rouen & Monet's Garden tour, specifically for solo travellers, you'll travel by coach to the picturesque medieval city of Rouen, where you'll stay for three nights. From here, you'll visit Versailles to explore its beautiful gardens (entrance to the chateau is extra) and to Giverny, the home of Claude Monet from 1883 until his death in 1926. Restored to the artist's original designs, the gardens inspired some his most famous paintings.
This four-day tour costs from £399, including coach travel (with door-to-door service or local pick-up and drop-off points) and three nights board with breakfast in a three-star hotel. Departs 24 April or 29 October 2020.
---
4. Sail down Portugal's Douro River on an all-inclusive river cruise holiday with Saga Holidays
This eight-day cruise includes entertainment and social activities along the way. In Porto, you'll visit one of the city's port cellars, at Lamego you'll see the Sanctuary of Nossa Senhora dos Remédios, reached by 700 ornate steps above the city (you'll walk down them, not up…) and you'll tour the gardens of Mateus Palace, pictured on the Mateus rosé wine label. You'll even get to pop across into Spain to explore UNESCO-listed Salamanca, topped off with a flamenco show.
This eight-day all-inclusive Douro Discovery for Solo Travellers tour costs from £1,629, including flights and a VIP UK door-to-door travel service at either end of your trip. Departs 18 November 2020.
---
5. Join a guided walking tour on the Isle of Wight with HF Holidays
From your country house base, an experienced guide will you on two wonderful walks, following in the footsteps of Tennyson, JB Priestley and Lewis Carroll. There's a choice of three different walks each day, depending on your fitness, but all taking in the island's beautiful coastal and rural landscapes.
The Isle of Wight Guided Walking for Solos Holiday costs £345, departing 27 June 2020, including en-suite full board accommodation and transport to walks. Travel to and from the island is not included.
Holiday details and prices correct at time of printing but may be subject to change.