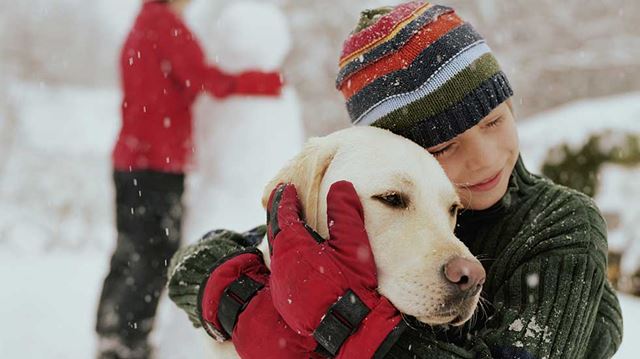 Winter is a time of long, dark nights and adverse weather conditions – and these things can be a health risk, both to you and your pets.
This is why it's important to take the necessary measures to keep your home, your pets and yourself protected during this difficult time of year. Here – with the help of our partner LV= insurance – we bring you some useful tips for winter preparation.
Protect your home

Jobs to do outside your home this winter
Clearing gutters and drains after the autumnal leaf-drop can prevent blockages and damage through freezing later on in the season. It's also wise to treat or paint any exterior wood before the wet weather really kicks in to avoid irreparable damage.

Cut down any overgrown branches and foliage that could cause damage or blockages if they fell during extreme weather conditions, and consider storing away garden furniture. Finally, assess your roof tiles as best as you can from the ground – call in an expert if needs be.
Jobs to do inside your home this winter
Inspect your windows and exterior doors to make sure they're draught-proof to reduce the risk of damage and help reduce your energy usage. Check your loft insulation and replace it if necessary.

Be sure to have flues and chimneys cleaned before lighting any fires – and it's also prudent to arrange a boiler service before the cold weather hits to avoid any issues with hot water and central heating. Test your smoke and carbon monoxide detectors, and lastly ensure that your home insurance policy is up to date in case anything goes awry.
Protect your pets

Make them visible
From reflective strips on collars and leads, to high-vis dog vests and harnesses, help your precious pets stay visible on dark nights.
Don't overheat them
Overheating is just as much of a danger to your pets as being too cold, so move their tanks, cages, vivariums and any other pet home away from radiators and fires.
Go easy on the salt
Remember to rinse off pet paws with warm water after icy outings, as the rock salt that's often used to thaw our streets can sting.
Break out the scales
Weight is a good indication of health, and winter coats can sometimes add deceptive bulk to your pets, so be sure to weigh them regularly.
Avoid antifreeze
According to Cats Protection, just a tiny amount of this can kill a cat. And wouldn't you know it, felines and canines love the taste – so be extra-vigilant.
Save money on home and pet insurance with LV=
Boundless members get an exclusive discount on LV= home insurance general public prices on lv.com and through the LV= call centre – click here to find out more.
Get a lower premium on your pet insurance
LV= discounts for Boundless members include a lower premium on pet insurance. Click here to find out more.
Photos: Getty Images